Coming off his best outing, Bettis tops it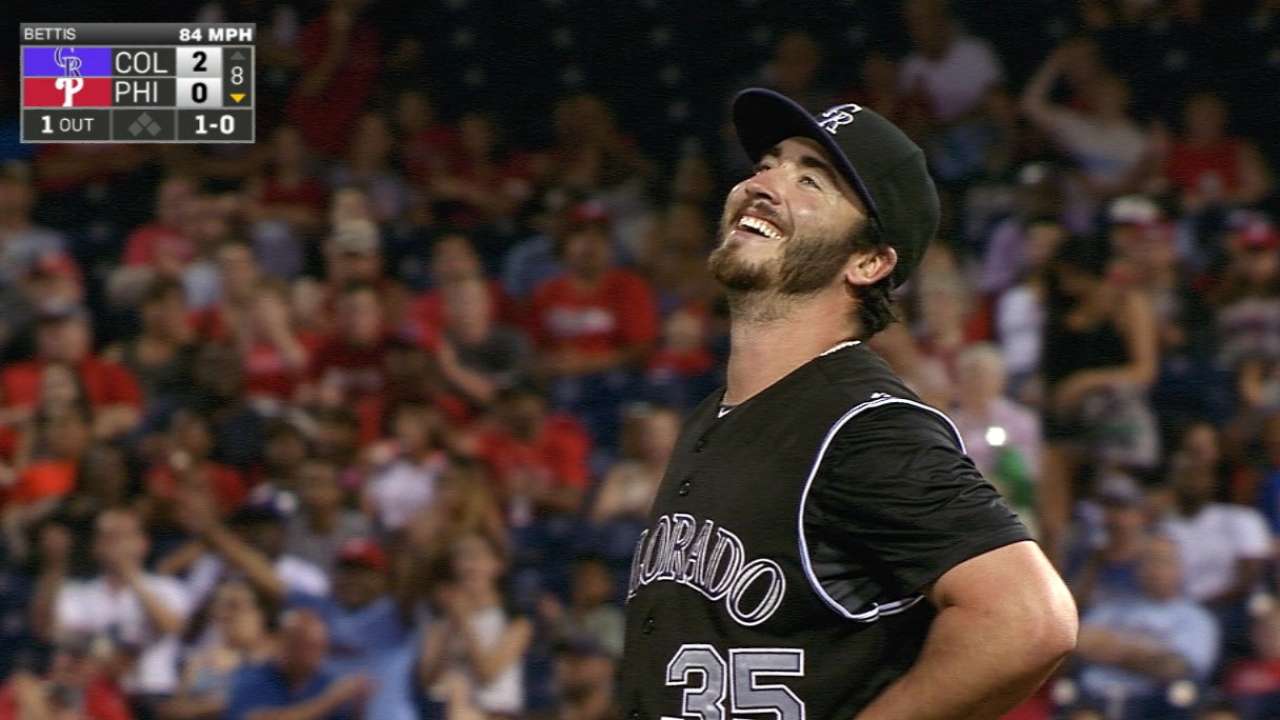 PHILADELPHIA -- If Rockies pitcher Chad Bettis is awful in warmups, look out.
An awful bullpen before Sunday's start against the Giants preceded a performance in which he took a shutout into the ninth. Of Friday night's pregame bullpen, Bettis said, "This was by tenfold worse. Coming into the game, there was nothing that was working for me."
Evidently, all he needs to hear is, "Play ball." Bettis carried a perfect game into the seventh and a no-hitter into the eighth. He threw eight scoreless, two-hit innings as the Rockies beat the Phillies, 4-1.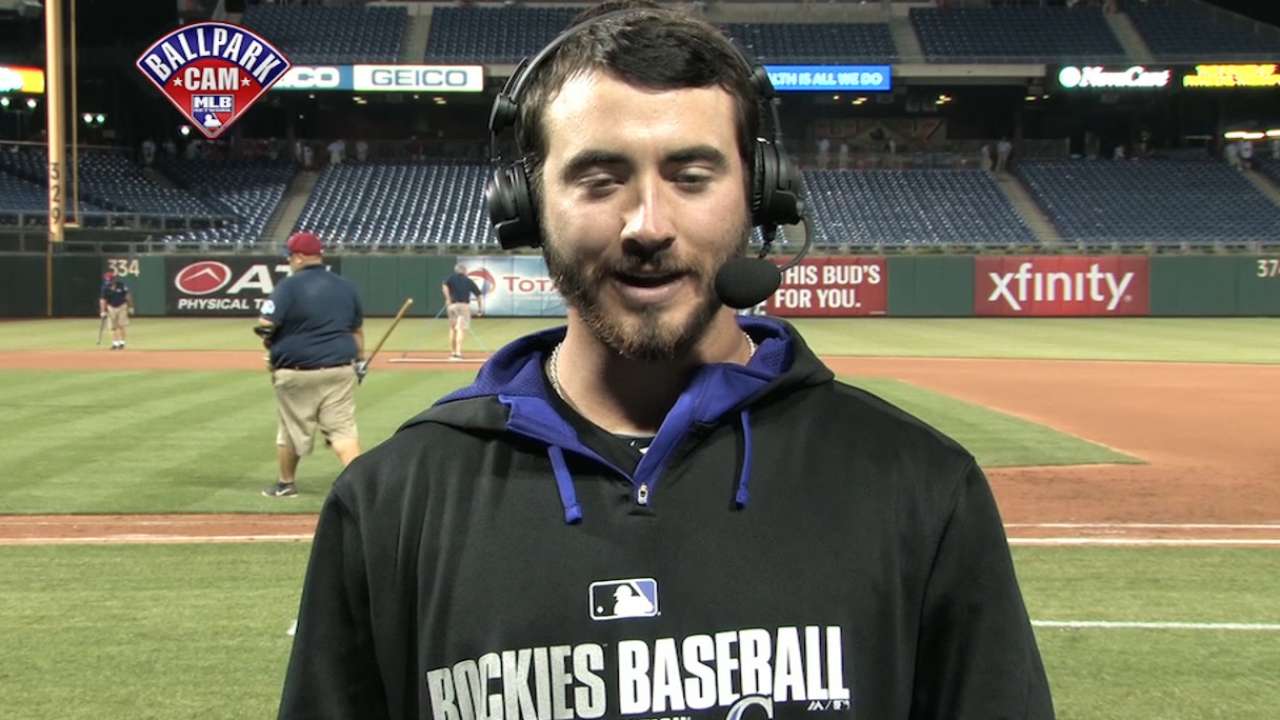 In Sunday's game against the Giants, Bettis tired in the ninth and gave up two runs, but still took the victory. Against the Phillies, Bettis had a 2-0 lead when Cody Asche finally rolled a single through the shortstop hole -- vacated because Troy Tulowitzki was on the other side of second base in a shift.
"Initially, I thought it was right at 'Tulo' -- perfect, here we go," Bettis said. "Then I turned around and looked and I was like, 'Aw, man.'"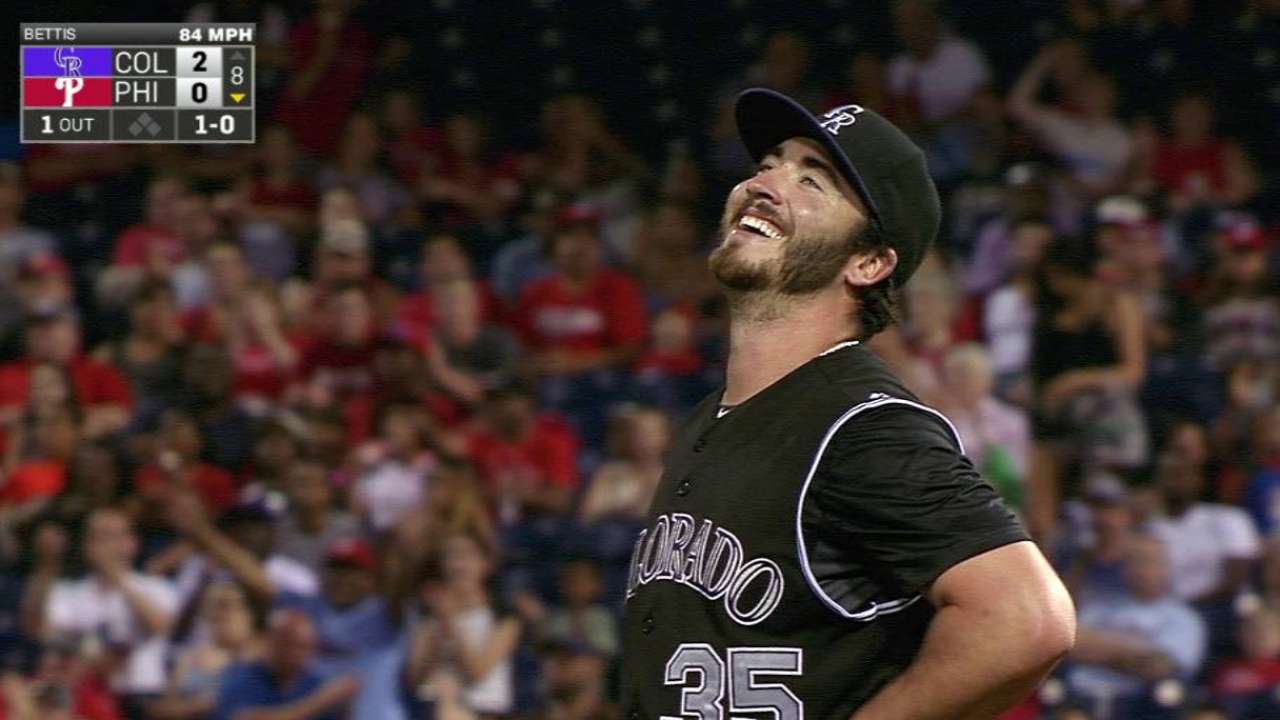 But to blame the shift for ruining a possible no-hitter would be to discount its role in giving Bettis a chance. Odubel Herrera's sixth-inning liner that second baseman DJ LeMahieu grabbed in the outfield grass in right field and several Tulowitzki plays on the second-base side prevented hits.
"They had some really hard-hit balls at people," Bettis said.
With Asche on base, Carlos Ruiz added a two-out single. But Bettis fanned pinch-hitter Darin Ruf on a check-swing at a bouncing cutter -- the only such pitch Bettis used all night.
Tulowitzki's error in the seventh, on a grounder that Bettis deflected and against speedy Phillies leadoff man Ben Revere, ended the perfect-game bid. But nothing shook Bettis.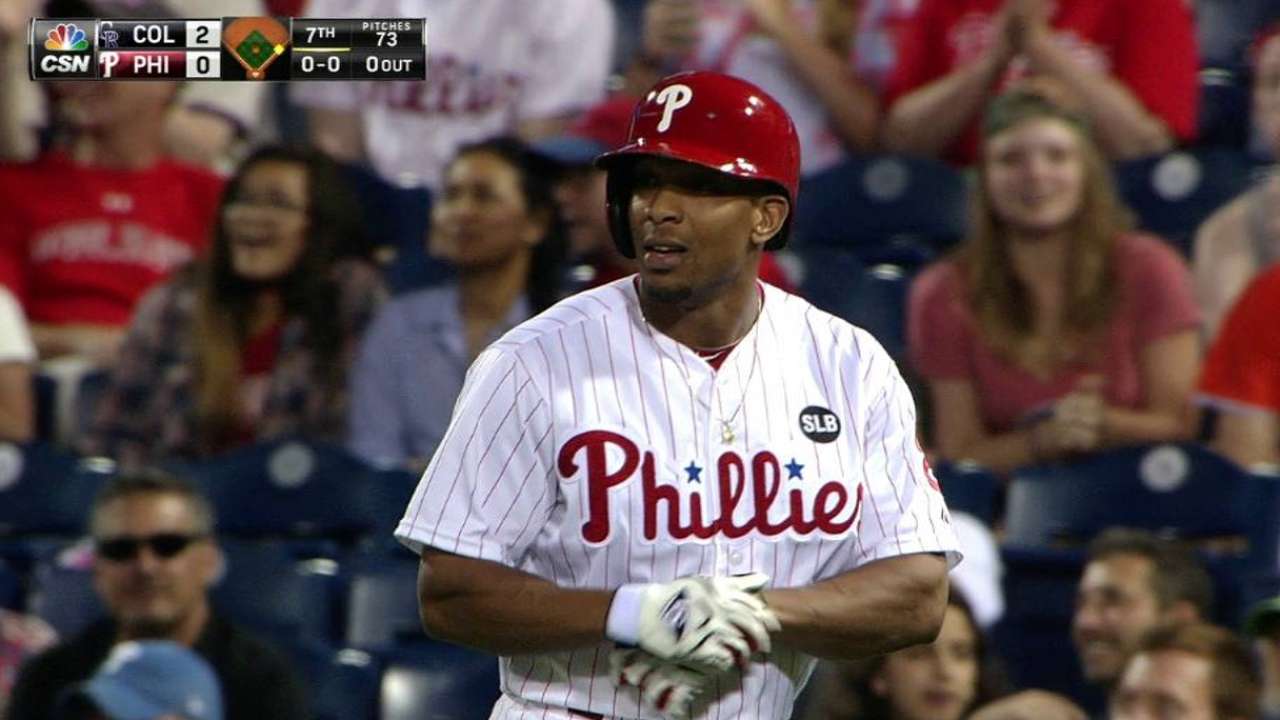 Bettis baffled the Phils with sinkers and changeups, which took care of both sides of home plate.
"He was coming off his best outing, and he topped even that one," Rockies manager Walt Weiss said. "He commanded the fastball and threw his secondary pitches for strikes whenever he wanted."
Bettis has come a long way for a pitcher who struggled as a reliever last year (0-2, 9.12 ERA in 21 games). He wasn't allowed into competition early in Spring Training as the Rockies' pitching coaches -- Steve Foster, with director of pitching operations Mark Wiley, bullpen coach Darren Holmes and special instructor Pedro Astacio helping -- had Bettis rebuild his motion so his momentum would go straight to the plate.
Bettis began the year finishing his remake with Triple-A Albuquerque pitching coach Darryl Scott. Bettis went 2-2 with a 3.97 ERA in six starts, and found his groove in his last two Triple-A starts, before the Rockies summoned him.
"The guy's got great stuff, he works hard and does a lot of homework -- watched a lot, making sure he's mentally and physically ready," said Brandon Barnes, who made multiple rangy plays, including one on Ryan Howard against the wall in center.
Thomas Harding is a reporter for MLB.com. Follow him on Twitter @harding_at_mlb, and like his Facebook page. This story was not subject to the approval of Major League Baseball or its clubs.