Asche breaks up no-no trying to punish Rox's shift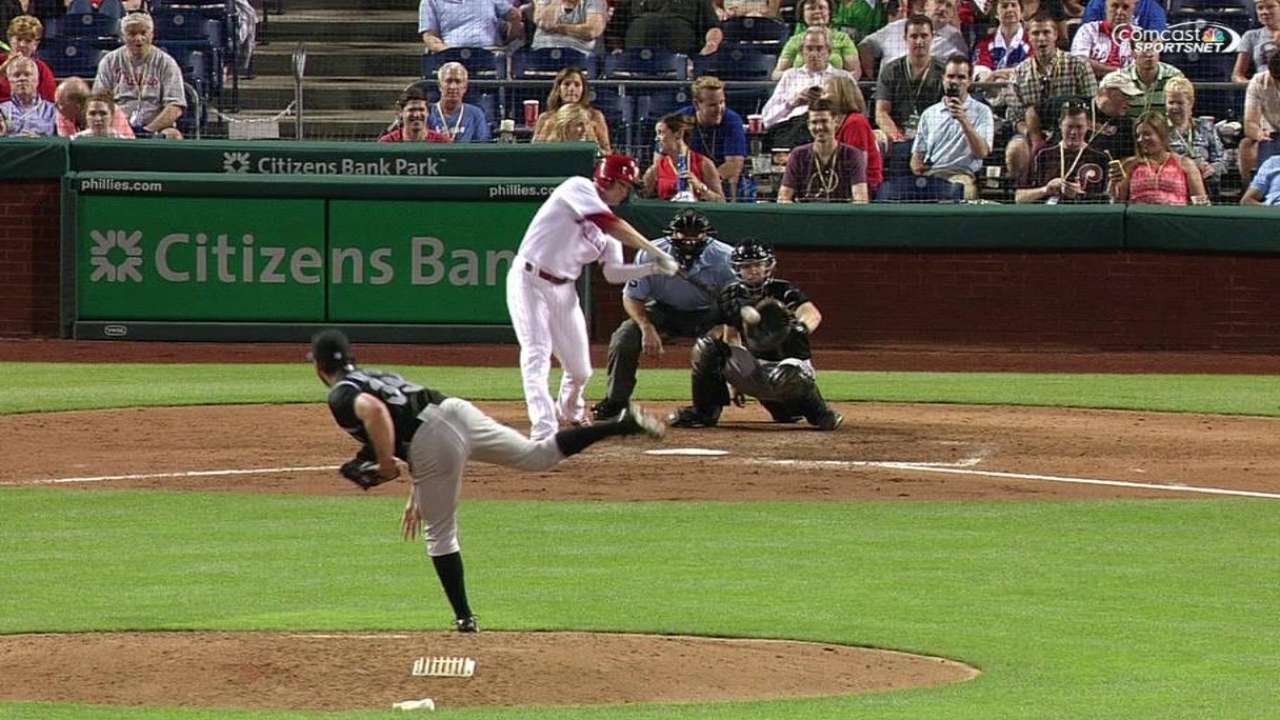 PHILADELPHIA -- Cody Asche had plenty of things to be nervous about in the Phillies' 4-1 loss.
Yesterday, Asche was a Minor Leaguer. Last month, he was a third baseman. And a few hours ago, he and his teammates were in danger of combining to tally zero hits over nine innings. But none of this troubled Asche.
He came up to the plate in the eighth inning with a zero burning a hole in the Phillies' hit column. He stood in the batter's box and slapped a ball to the opposite field into the shift-vacated shortstop slot, breaking up Rockies pitcher Chad Bettis' no-hitter after 7 1/3 innings.
When asked after the game whether or not he felt jitters batting with all the pressure on him and his teammates to break up the no-hitter, Asche answered quite succinctly.
"No," Asche said. "Not one bit."
This sentiment stayed consistent with what he had said before the game. Despite all the talk that centered around the difficulty of the transition from third base to left field, Asche said he wasn't nervous to play his first Major League game as an outfielder. And though he sort of reneged on that after the game by saying he did feel a little anxious during his first few at-bats, he said he collected himself and felt comfortable.
"I was a little jittery maybe the first hitter or so," he said. "But once I got some sweat going, I got some balls hit in the air that I could see. It's baseball."
Only one ball was hit in play in Asche's direction -- a sinking line drive off the bat of DJ LeMahieu -- and he played it cleanly to execute the out.
As for his hit, Asche said it was able to happen because he was actively trying to punish the Rockies for shifting on him, saying this was easily the most drastic shift he had personally encountered all season.
Phillies manager Ryne Sandberg said this wasn't just true of Asche, but of his team as a whole.
"That's the most shift I've seen on our whole lineup," Sandberg said. "I think even [on] Freddy Galvis [the Rockies] had a modified shift. They were playing some odds there and some drastic defense."
However, that shift played straight into the plans of Asche.
"I was trying to [hit the ball the other way] all night," he said. "I just did it the last time. A shift like that can't go unnoticed."
Nick Suss is an associate reporter for MLB.com. This story was not subject to the approval of Major League Baseball or its clubs.