Cubs search for late-game improvement
Chicago allows three runs in 8th to give Kansas City lead, aims to bounce back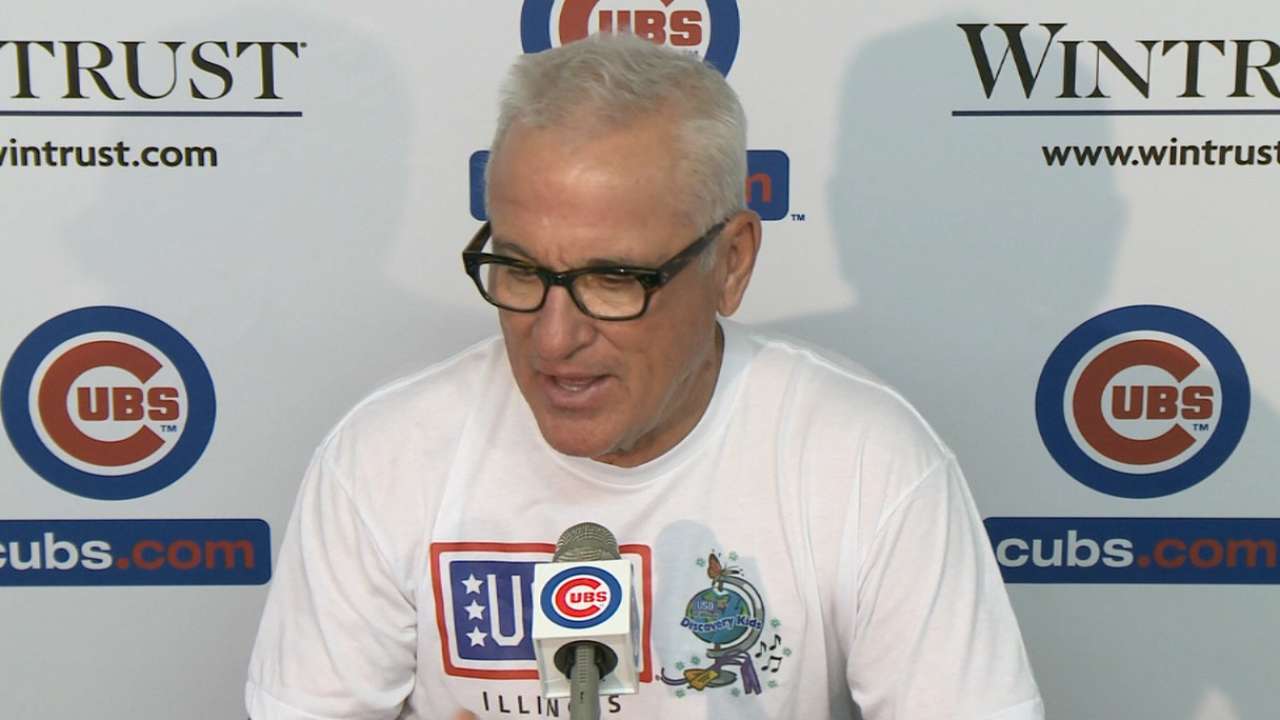 CHICAGO -- The difference between where the Cubs are and where the Royals are was clear in the eighth inning Friday.
Kansas City scored three runs in the eighth to snap a 4-4 tie, taking advantage of a leadoff walk issued by Pedro Strop and an error by center fielder Dexter Fowler. Royals reliever Wade Davis then struck out the side in the Chicago eighth, and the Royals went on to win, 8-4.
"We played well today, and then we broke down at the end," Cubs manager Joe Maddon said. "They showed why they went to the World Series last year, and we showed why we're not ready yet. We've got to get beyond that moment."
The Royals' bullpen is the best in the Majors, boasting a 1.85 ERA. The Cubs are ranked 22nd, and their weaknesses showed.
"We didn't make pitches," Maddon said. "We have to make pitches when it's necessary. We didn't do that. That put us in that particular bind. It was such a great game for 7 2/3 innings. I thought we were going to pull it off."
Neither Strop nor Maddon nor the 32,209 at Wrigley Field were happy when the right-hander walked Mike Moustakas to start the Royals' eighth. Lorenzo Cain followed with a double over Fowler in center. Eric Hosmer was intentionally walked, and two outs later, two runs scored on an error by Fowler, who fumbled Omar Infante's ball to center.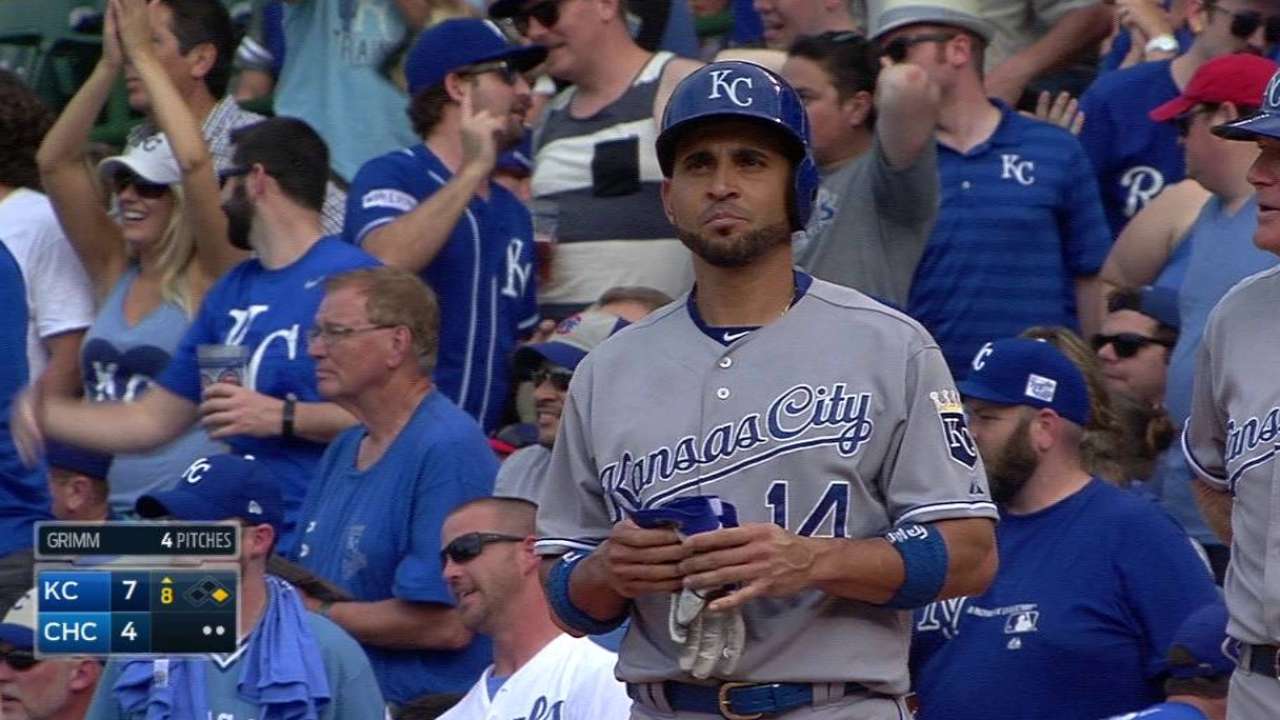 While Fowler was watching video with coaches after the game, Strop tried to figure out what happened.
"It's always a bad thing, a leadoff walk when the game's on the line, tie ballgame in the eighth inning," Strop said. "The walk is a big issue. You've got to be able to get those outs.
"I'm just trying to get my tempo and rhythm and get everything back on track to help the team win," Strop said. "I feel like I'm not doing it right now."
It simply comes down to better execution.
"You cannot make the physical or mental mistakes, and you've got to make pitches in order to beat good teams late," Maddon said. "You have to have that will to beat them, and you do that by repeating fundamentals and techniques and having good at-bats."
Maddon said he'll try to focus on the positives from the game. How do the Cubs get to where the Royals are? By taking care of the late innings, Maddon said.
"We pretty much gave that game to them in the latter part," Maddon said. "In moments like this, my thoughts turn to how high we bounce after the fall. Let's see how high we bounce [Saturday]."
Carrie Muskat is a reporter for MLB.com. She writes a blog, Muskat Ramblings. You can follow her on Twitter @CarrieMuskat and listen to her podcast. This story was not subject to the approval of Major League Baseball or its clubs.