White Sox to rely on Webb out of bullpen
Ventura says recent callup has 'got to be available' on busy road trip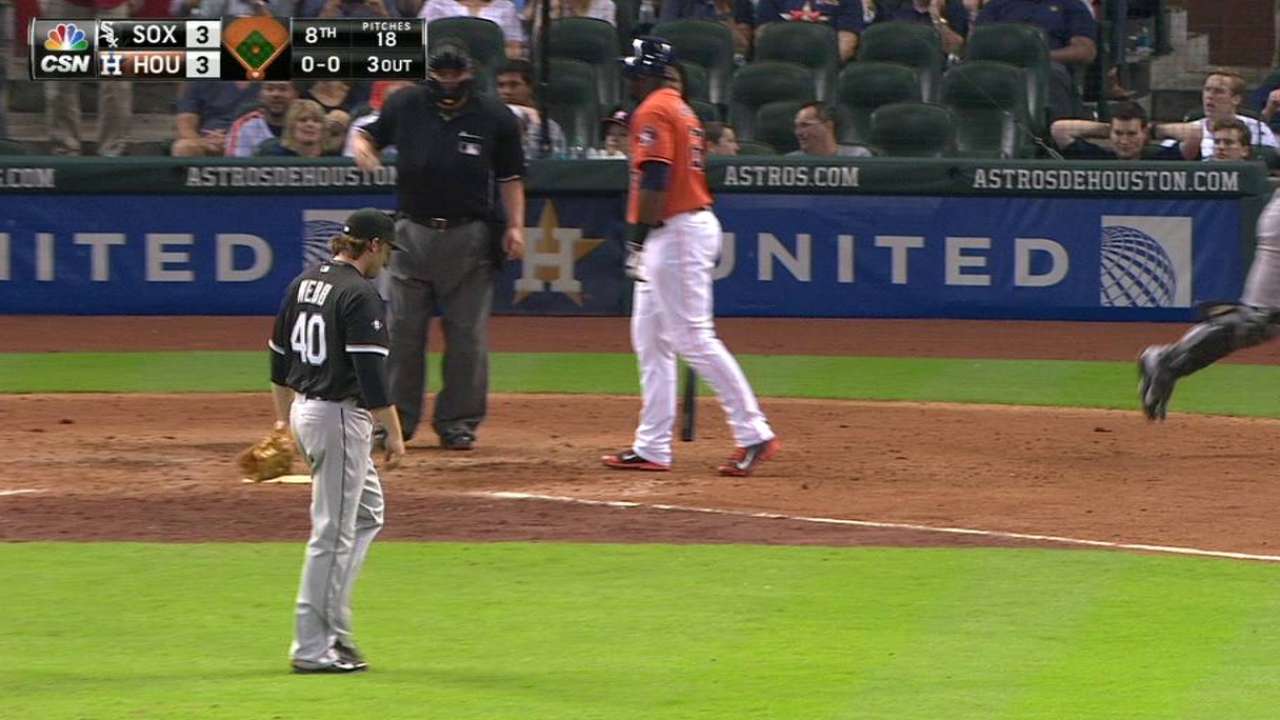 HOUSTON -- Receiving a callup the day before a doubleheader isn't the most ideal way for a reliever to make his way back to the Majors.
For White Sox right-hander Daniel Webb, he had no idea if his return to the big leagues before Chicago's double dip in Baltimore would be anything resembling a permanent one.
"I wasn't sure when I first got there," said Webb, who tossed 1 2/3 innings of scoreless ball in the 6-3 White Sox victory over the Astros on Friday. "I didn't know what was going to happen. [Manager] Robin [Ventura] told me I was available for both games, so kind of a good indicator, but I had no idea what was going on."
Ventura was clear: Webb isn't on the roster as a placeholder or a fill-in, with the White Sox relying on so many arms in playing 15 games in 14 days entering this weekend's series at Minute Maid Park.
"He's not coming up here just to sit. The kind of games we've had already on this road trip, plus the doubleheader, he's got to be available. We've had some guys go multiple days in a row, so he will definitely get in there," Ventura said. "Having Webby, you're looking at a guy who might be more of a situational guy, who would get an inning, and you don't have to sit there and hopefully get him three or four innings."
Webb spent all of last season at the big league level, throwing 67 2/3 innings. A poor spring and some offseason bullpen signings relegated him to a Minor League role to start the 2015 campaign.
He wants to carve out a regular role again, and he's made a few tweaks with his motion to gain what he hopes is better consistency in his command.
"This year, [I'm] working on trying to get angle with my fastball, staying consistent in my delivery and throwing the ball downhill," Webb said. "Limiting the walks has always been the biggest thing I need to do."
Webb issued 42 walks in 57 appearances last year, giving him a pedestrian 1.49 WHIP along with a 3.99 ERA. The righty made his season debut Thursday, pitching a perfect inning during the second game of a doubleheader -- a 6-3 loss in Baltimore.
Chris Abshire is a contributor to MLB.com. This story was not subject to the approval of Major League Baseball or its clubs.