Rodriguez to get another start with Red Sox
Boston going with six-man rotation during stretch of 20 games in 20 days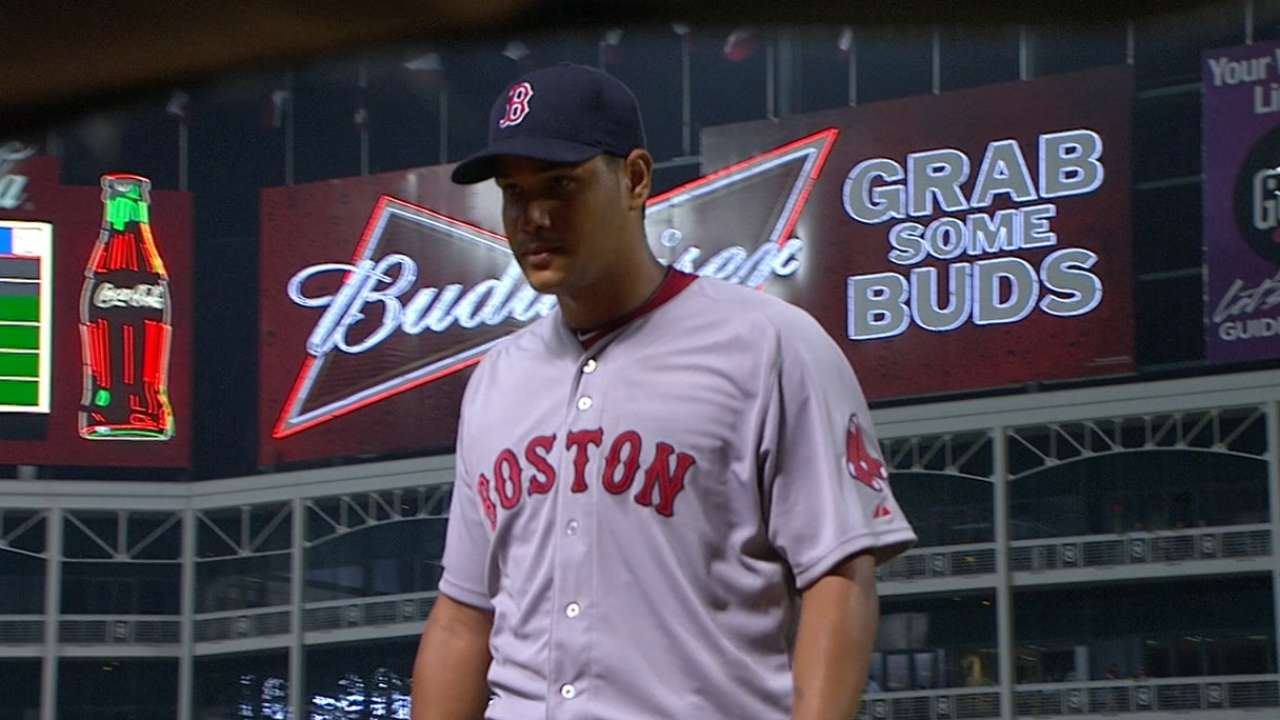 ARLINGTON -- Eduardo Rodriguez's sterling Major League debut Thursday earned him plenty of fanfare, and it also left no doubt as to whether the Red Sox will give him another start.
Manager John Farrell said Friday he plans to throw Rodriguez on Wednesday when the Red Sox play the Twins at Fenway Park. That means Boston is holding true to its plan to use a six-man rotation 11 games into its stretch of 20 games in 20 days.
Rodriguez earned the win in Thursday's 5-1 victory against the Rangers, throwing 7 2/3 scoreless innings. The lefty allowed only three hits and had seven strikeouts, but the trait Farrell was most impressed with seems to be intangible.
"It looks like he's a guy who's been here for five or six years, the way he pitched and the way he went about his work," Farrell said.
It doesn't hurt Rodriguez that his battery mate is Blake Swihart, who got used to catching Rodriguez in the Minors. Rodriguez, 22, and Swihart, 23, represent a big part of the organization's future. Rodriguez is the fourth-ranked prospect in Boston's system according to MLBPipeline.com.
"I don't know that you can ever replace young, talented, healthy players," Farrell said.
Farrell, though, noted he doesn't plan to use a six-man rotation after the 20-game stretch ends June 7. The New York Mets announced they plan to use a six-man rotation into at least August, but the situations aren't quite the same -- the Red Sox have a more veteran staff and, most importantly, play in the American League.
"I'm not a fan of it," Farrell said. "I know there's merit to it for short periods. Our goal is to get back to a five-man rotation and a full bench. In the National League it's a little different because you've always got the extra position player as it stands. In this case, we need that initial position player."
Worth noting
• Red Sox shortstop Xander Bogaerts was back in the lineup Friday after leaving Thursday's game in the fourth inning. Bogearts was hit by a pitch on the left wrist in the second inning Thursday, but the injury was only a minor bruise. Bogaerts will wear a protective pad on his left wrist.
• Hanley Ramirez's sixth-inning homer Thursday gave him three home runs in his first four career games at Globe Life Park. It was Ramirez's first homer in May and his 11th this season.
Cody Stavenhagen is an associate reporter for MLB.com. This story was not subject to the approval of Major League Baseball or its clubs.