Gyorko hoping to find the form he had in 2013
Padres second baseman determined to earn more playing time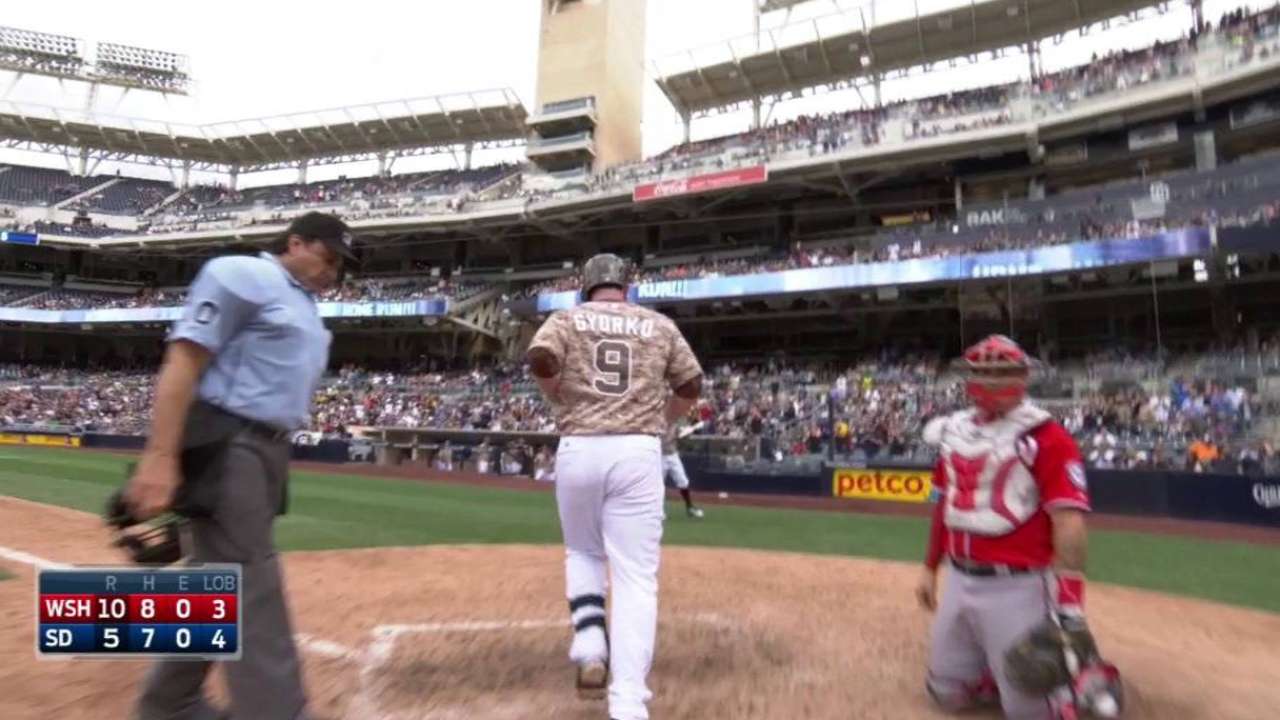 SAN DIEGO -- With the Padres' impressive offseason, the future is bright in their eyes. But Jedd Gyorko would like to spin the time machine the other way.
"I think the 2013 Jedd Gyorko is in there,'' manager Bud Black said.
Gyorko was in the lineup Friday night against the Pittsburgh Pirates and went 2-for-3 with a walk in San Diego's 6-2 walk-off win.
"I'm just trying to take advantage of the opportunities when I get them,'' Gyorko said.
As an everyday player in 2013 he paced the Padres with 63 RBIs and all Major League rookies with 23 home runs.
Then came last year. The Padres signed Gyorko to a $35 million contract extension, but he was restricted to 111 games because of plantar fasciitis. Gyorko's batting average plummeted to .210, with 10 homers.
"It was the injury and [pitchers] made adjustments,'' Black said.
Which brings us to this season, with Gyorko still hoping he can find that magic of two years ago.
Entering Friday he was hitting .200 with two homers and nine RBIs, which translates into no longer being a regular. He has a club-high 24 starts at second base, but Cory Spangenberg (17) and Yangervis Solarte (nine) have curtailed Gyorko's appearances.
"He is in a role he isn't familiar with and its tough because he's built to play,'' Black said. "In his mind, he should be playing. That is how players feel and that's great.
"But he gets it. He knows what his performance is. He understands why we did that, but he thinks he can help us win every night.''
Friday night brought another start and just maybe another step closer to 2103. Through 21 May games, Gyorko is hitting .264 (14-for-53).
"The swing is feeling pretty good and I'm starting to square up some balls,'' Gyorko said.
But he admits being a square peg trying to squeeze into a round hole.
"It has been adjustment, being on bench more than ever before,'' he said. "I'm trying to figure out how to pinch-hit effectively and get ready for that one at-bat or a double switch.''
Can he regain his 2013 form?
"I only have 105 at-bats and I usually get 500-600 a season so I'm really just scratching the surface of the season,'' he said. "I'm just looking forward to the next game, the next opportunity to do what I can.''
Jay Paris is an associate reporter for MLB.com. This story was not subject to the approval of Major League Baseball or its clubs.