Mariners dealt another 'tough loss' with Paxton on DL
Starter suffered strained tendon in finger Thursday vs. Indians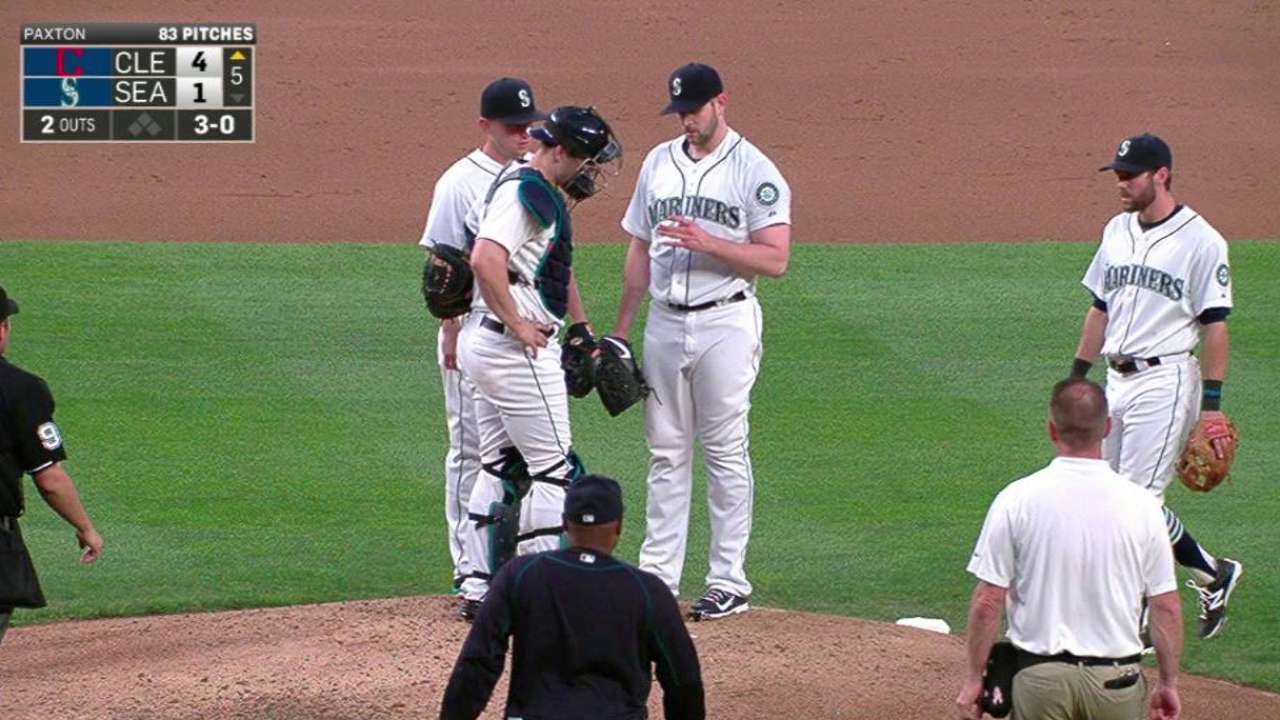 SEATTLE -- Frustration has taken over for elation once again when it comes to emerging left-hander James Paxton and the Mariners.
Paxton has blossomed into a dependable and often dominant starter for Seattle over the last two seasons, but for the second consecutive year, an injury has obstructed the momentum. Paxton was placed on the 15-day disabled list on Friday because of a strained tendon in the middle finger of his pitching hand sustained during Thursday night's 5-3 loss to the Cleveland Indians. Similar injuries often take multiple weeks and sometimes months to heal.
Paxton saw team doctor Edward Khalfayan on Friday and was waiting to consult with him again prior to Friday night's game.
"We're going to go over it and make a plan going forward," Paxton said. "Right now, I don't know anything more than I did last night, but I'll know more pretty soon here."
The Mariners recalled reliever Dominic Leone from Triple-A Tacoma in the corresponding roster move, but they have not revealed who will replace Paxton in the starting rotation when his next turn comes up next Tuesday, July 2, at home against the Yankees.
Left-hander Mike Montgomery and righty Justin Germano are possible options to call up from Triple-A. The Mariners also could decide to stretch out reliever Tom Wilhelmsen for a spot start, and Wilhelmsen could conceivably get to the 60-70 pitch range Tuesday and build his pitch count up from there. The team did not say if it was pursuing possibilities outside of the organization.
Paxton was removed in the fifth inning of Thursday night's game after feeling soreness in the finger on a 2-0 pitch to Brandon Moss. He threw one more pitch, another ball, before being visited by athletic trainer Rob Nodine and taken out of the game.
It was another huge disappointment for Paxton and his team. The lefty, who began the season as the club's No. 2 starter, had been sterling for almost all of May, putting together five straight starts in which he pitched at least six innings and gave up two earned runs or fewer. Prior to taking the loss on Thursday to fall to 3-3 with a 3.70 ERA this year, he hadn't lost since April 25.
Last year, Paxton turned in two excellent starts in early April before an oblique strain kept him out of the rotation until Aug. 2. He finished with a 6-4 record and a 3.04 ERA in 74 innings.
Adding to the frustration is the fact that the team's No. 3 starter, Hisashi Iwakuma, remains on the DL because of a lat strain and setback in rehab, and is also several weeks away from returning to the rotation.
"It's a tough loss, obviously," Mariners manager Lloyd McClendon said Friday. "To think that we've lost our No. 2 and No. 3 starters, that's tough. But in this game, nobody feels sorry for you. You have to make the adjustments, you have to take the stand that the next man up, you know, let's go. We just have to figure out who's the next man."
Doug Miller is a reporter for MLB.com. This story was not subject to the approval of Major League Baseball or its clubs.