2015 season's been a 'frustrating' ride for Kennedy
Justin Upton first Major Leaguer to 10-homer, 10-steal plateau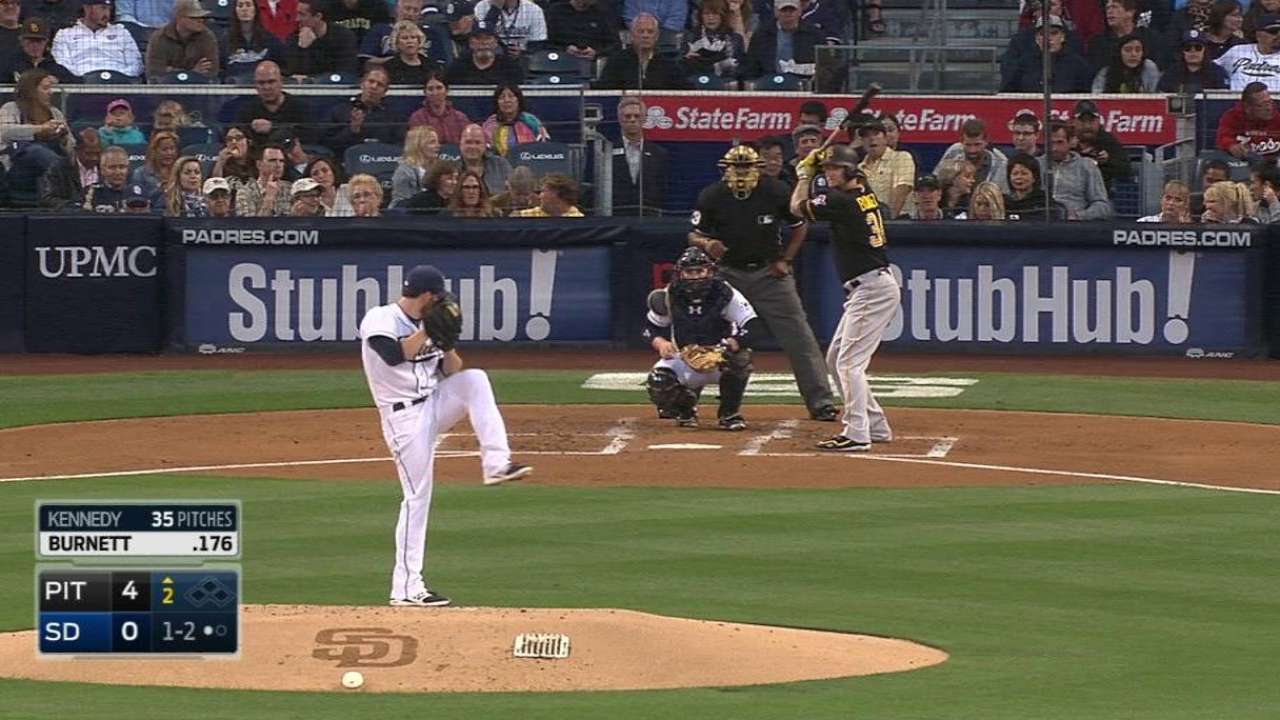 Bill Center, longtime sportswriter for U-T San Diego, is an employee of the Padres.
Describing Ian Kennedy's season thus far as a "roller coaster," Padres manager Bud Black called the right-handed starting pitcher's outing against the Pirates on Thursday night as "a severe bump in the road."
Kennedy allowed seven runs on seven hits -- including three home runs -- in 3 2/3 innings Thursday. He issued two walks with five strikeouts in his shortest non-injury outing of the season.
The three homers allowed by Kennedy on Thursday swelled his season total for homers to 12 in just 39 innings -- or 2.77 per nine innings. And those 12 homers have accounted for 23 runs.
Kennedy is now 2-5 on the season with a 7.15 ERA in eight starts.
In seven starts since coming off the disabled list April 25 (left hamstring strain), Kennedy has allowed 31 runs on 44 hits in 36 2/3 innings -- an ERA of 7.61.
Thursday's start followed a two-run, six-inning outing against the Dodgers in Los Angeles on May 23. In his two outings before that, Kennedy allowed 11 runs on 11 hits and seven walks in a total of 9 2/3 innings.
In two starts May 1 and 6, Kennedy allowed three runs on 10 hits over 13 innings. However, on April 25, against the Dodgers at Petco Park in his first start off the disabled list, Kennedy allowed eight runs, including three homers, in 4 1/3 innings.
Again, roller coaster is an apt description of Kennedy's season.
"My command was all over the place," said Kennedy. "It's really, really frustrating."
Kennedy's bad outing Thursday ended a streak of nine straight quality starts by Padres starting pitchers.
But Kennedy is not the only San Diego pitcher giving up home runs. The Padres have allowed a Major League-leading 66 homers in 438 1/3 innings -- an average of 1.36 per nine innings. Last year, San Diego gave up 117 homers for the entire season. This year, the Padres are on a 218-homer pace.
James Shields has allowed a Major League-leading 15 homers in in 62 1/3 innings.
From the scorebook
• Left fielder Justin Upton is the first player in the Major Leagues to reach the 10-home run (12 actually) and 10-stolen base plateau this season. He was 2-for-3 with a walk and a stolen base Thursday night.
Upton is hitting .333 this month (32-for-96), with four doubles, six homers, nine steals, 19 runs scored and 23 RBIs in 26 games.
• Third baseman Will Middlebrooks was 3-for-4 Thursday. It was his second three-hit game of the season and the 10th of his career. Middlebrooks is hitting .327 (18-for-55) over his past 14 games. He has hit safely in 10 of those 14 games.
• Black said first baseman Yonder Alonso could return from the disabled list as soon as next Monday. Alonso has been on the disabled list since May 8 with a bone bruise of the right scapula. Alonso was 1-for-5 with three walks Wednesday and Thursday nights in his first two rehab games with high Class A Lake Elsinore. Alonso will transfer to Triple-A El Paso for three games starting Friday. When he was injured, Alonso was hitting .333 with a .427 on-base percentage -- both top-five figures in the National League.
• Center fielder Will Venable is hitting .462 (6-for-13) with runners in scoring position over his past 17 games.