Kipnis sets May franchise mark as hits keep coming
'He's attacking every game,' Francona says of Indians second baseman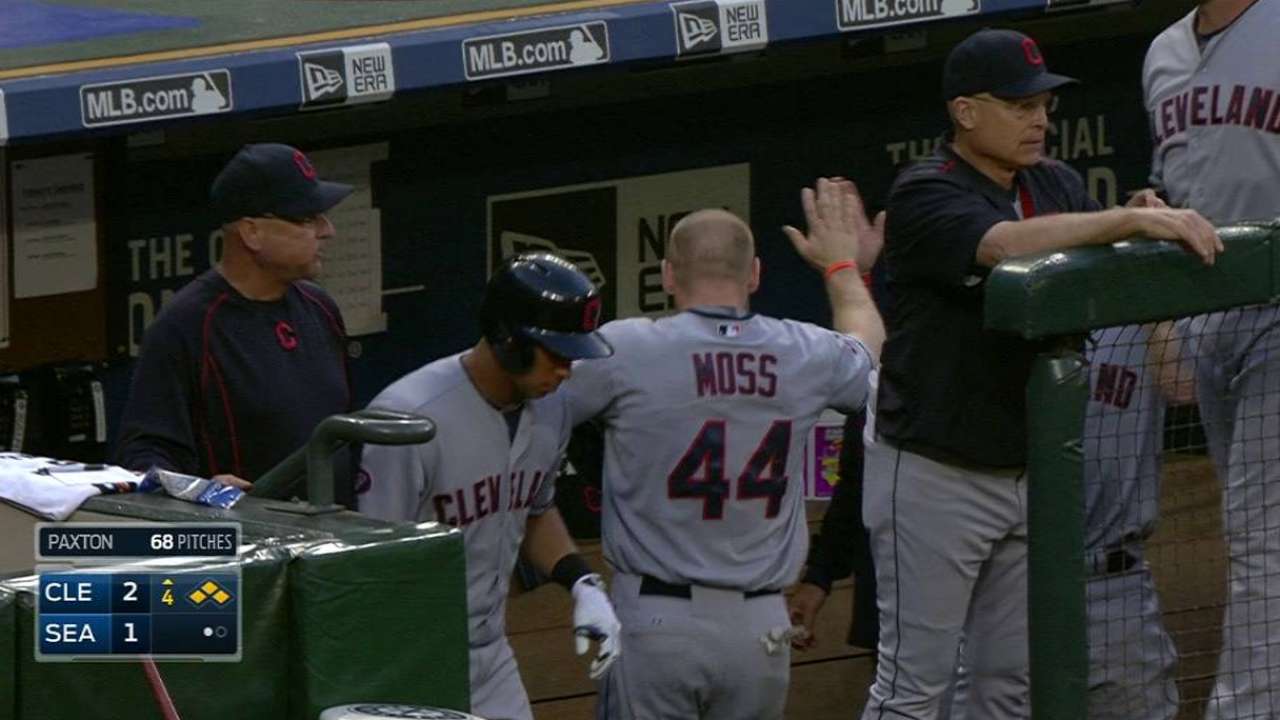 SEATTLE -- To say that Jason Kipnis has enjoyed a good May would be a vast understatement. Even calling it a great month would not do it justice. What the Indians second baseman has done over the past four weeks has been historic.
"I have no words for it," Indians outfielder Brandon Moss said fter the Indians' 5-3 win over the Mariners. "I'm surprised it's not being talked about more throughout baseball. I know he gets his credit, but I've never seen anything like it. And, I mean, I really haven't."
Kipnis collected two hits Thursday to give him 15 multi-hit games and 48 total hits this month. The 48 hits represent the most in the month of May by a Cleveland batter since at least 1914, surpassing Bobby Avila's 1954 record of 47.
For only the 15th time since at least 1914, an Indians batter has at least 48 hits and 28 runs scored in one month. Before Kipnis this month, the last two Cleveland hitters to accomplish that feat were Roberto Alomar (September 2000) and Lou Boudreau (August 1948). Kipnis has a chance to become the first Cleveland player since August 1938 (Jeff Heath) to have 50 hits and 30 runs in one month.
Kipnis is the first Indians batter to have 48 hits, 28 runs and 20 extra-base hits in a month since July 1936, when four players (Earl Averill, Odell Hale, Roy Weatherly and Hal Trosky) achieved the feat.
Overall this month, Kipnis has turned in a .449/.532/.738 slash line to go along with four homers, three triples, 13 doubles, 14 walks and 16 RBIs.
"All winter, I think I kept telling you that he was going to come out with a vengeance," Indians manager Terry Francona said. "And that's exactly what it looks like. He's attacking every game. He's in the middle of everything."
Kipnis' 48 hits are the most in a single month in the Majors since Melky Cabrera had 51 in May 2012, and he's the first player to have 48 hits and 28 runs since Lance Berkman (49 hits and 31 runs) in May 2008. If Kipnis reaches 50 hits and 30 runs, he will be the first to do so since Jimmy Rollins in September 2005, and the first to achieve the feat in the American League since Derek Jeter in August 1998.
"I have never seen a guy consistently, day in and day out, stay within themselves and stay with an approach and do the things he does," Moss said. "I feel like I've seen 70 line drives to left field from him. And then, they'll hang an offspeed pitch and it's a double in the gap or it's a homer. I'm very impressed.
"It goes without saying how hard it is to do what he's doing. I've never seen anything like it -- the amount of line drives."
Jordan Bastian is a reporter for MLB.com. Read his blog, Major League Bastian, follow him on Twitter @MLBastian and listen to his podcast. This story was not subject to the approval of Major League Baseball or its clubs.