Burnett finds vintage form in final season
Pirates pitcher wins fifth straight, overcomes defense's miscues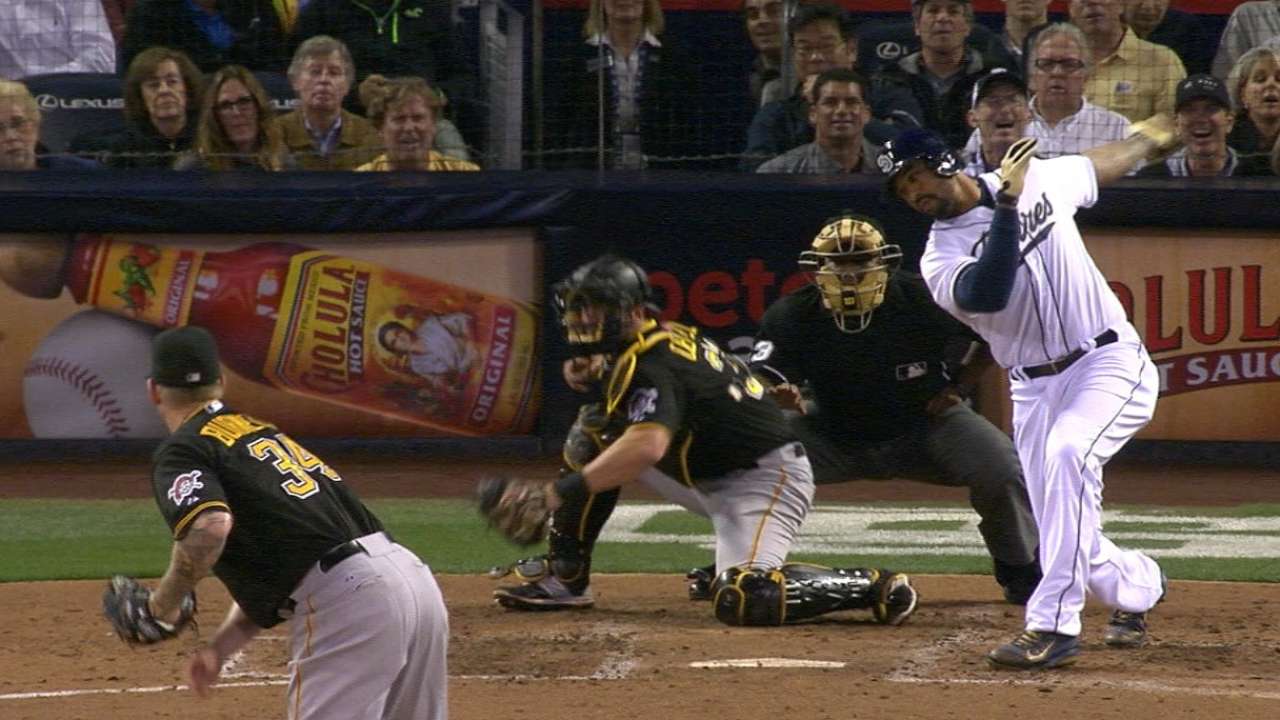 SAN DIEGO -- A.J. Burnett is having a May to remember. The Pirates have won seven in a row and their starters are 7-0 with 2.39 ERA during that run.
Burnett has made six starts this month and is 5-0 with wins in each of his last five starts. He was only as good as he had to be Thursday night in an 11-5 win over the Padres at Petco Park.
It was Burnett's 160th career win, fifth most among active players. The 38-year-old has said this will be his last season.
Burnett allowed five runs -- four of them earned -- the same numbers, precisely, as his last six starts combined.
"He's had a great start to the season. I think this was his 10th start," Pirates manager Clint Hurdle said about his right-hander, back for the second time with the club. "We complicated things in the fourth and the fifth [defensively] or there's no telling what the line would have ended up. It was what is was."
The Pirates jumped all over Padres starter Ian Kennedy to take a 7-0 lead before even one out was recorded in the third inning. Burnett sailed into the fourth working on a one-hit shutout, but shortstop Jung Ho Kang made a poor decision trying to nab Justin Upton at third on a Derek Norris grounder, instead of taking the sure out at first with a seven-run lead. Upton beat the throw and scored a batter later.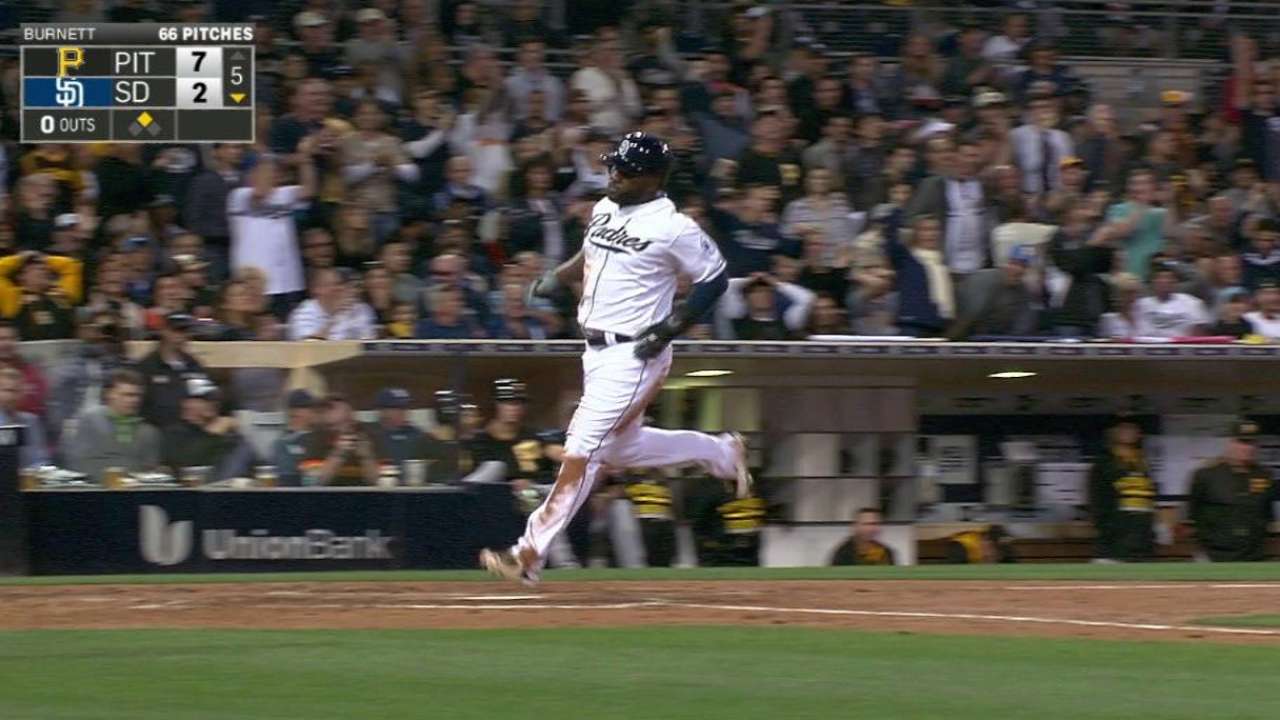 And in the fifth, the Padres scored a couple of additional runs when second baseman Neil Walker and catcher Francisco Cervelli made throwing errors on the same play.
At that point, the Padres closed the gap to 7-4, and had runners on first and second with no one out. Burnett dug in and worked out of the inning without further incident. That's what the good ones do.
"I'm throwing the same stuff I threw when I was here before, or even last year," said Burnett, who has sandwiched his two stints with the Pirates around pitching the 2014 season for the Phillies. "People are saying I'm doing more because I'm executing more. The difference between the last couple of years and this year is that I'm executing more pitches than I'm not, that's the bottom line. I'm just sticking to the things I do."
To be sure, Burnett has been a big-game pitcher before. He won Game 2 of the 2009 World Series for the Yankees at Yankee Stadium, beating Pedro Martinez, finishing a now-Hall of Fame career at the time for the Phillies. That was after Cliff Lee defeated CC Sabathia in Game 1. No doubt, without Burnett's seven innings of one-run, four-hit ball that night, the Yankees don't go on to win the Series in six games.
Again, that's what big-game pitchers do.
"It's tough, the game speeds up on you," he said. "I've been playing for a while and it still speeds up. We talk about one pitch a lot and how you have to immediately forget about the last pitch no matter what's happened. It sounds very simple, but that's what you tell yourself a million times out there. You just have to erase it. I try to go one pitch at a time and just focus on [the catcher] back there."
Barry M. Bloom is a national reporter for MLB.com and writes an MLBlog, Boomskie on Baseball. Follow @boomskie on Twitter. This story was not subject to the approval of Major League Baseball or its clubs.