Location hurts Farmer in loss to Angels
Right-hander allowed nine hits, including two homers, in five-plus innings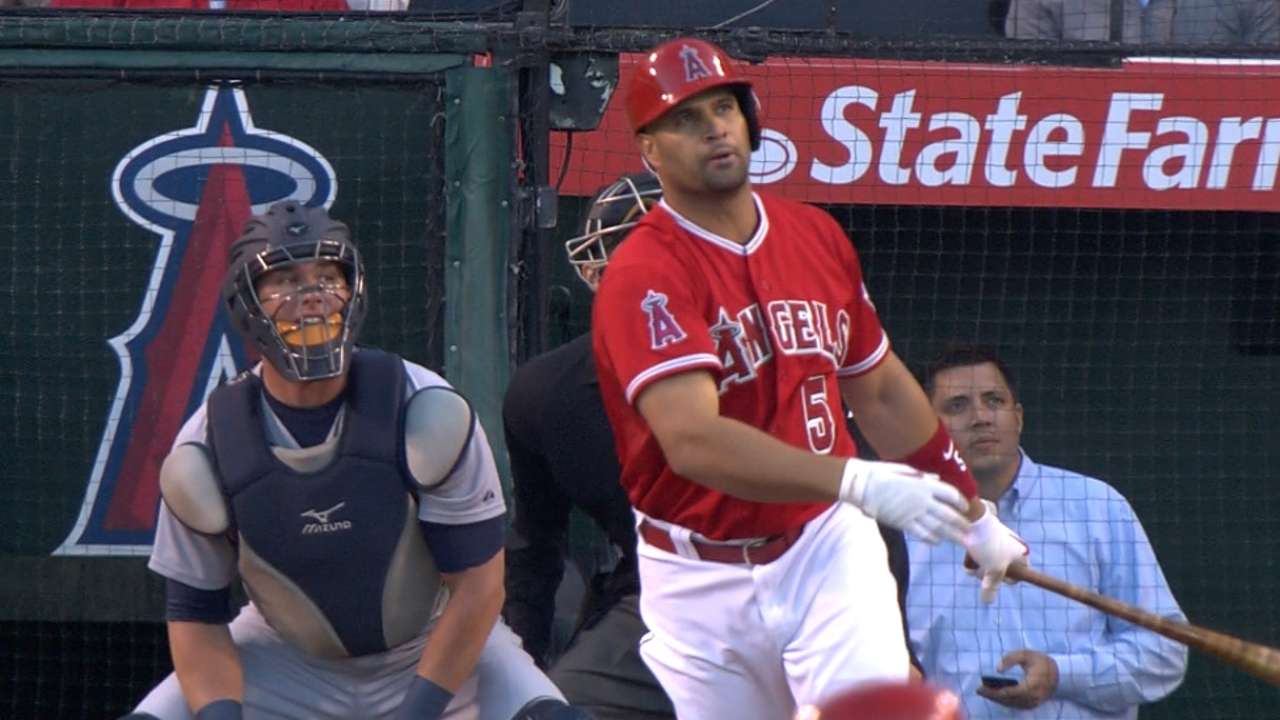 ANAHEIM -- Buck Farmer began to settle down at Triple-A Toledo a few weeks ago when he stopped trying to blow by guys with the perfect pitch and started locating all three of his pitches where he wanted them. As he watched Albert Pujols jump a hanging breaking ball and send it over the left-field fence at Angel Stadium, he had paid the price for a perfectly hittable pitch.
"I went with the slider and just hung it," Farmer said. "He definitely made me pay."
Said manager Brad Ausmus: "If he gets that pitch down, it's probably a ground ball."
He's far from the first Detroit pitcher to suffer that fate at this ballpark, which is partly why Thursday's 12-2 loss to the Angels dropped the Tigers to 2-12 here since 2011. But this is the first time he had suffered that fate here, and he didn't feel like he helped his cause in that regard.
When he pitched down in the zone, he got outs. When he left the ball up, he said, he generally got hit. When asked what he'll take out of Thursday's loss, it'll be the stretch where he got outs.
He gave up five hits and three runs in his first eight batters, seemingly on his way to a quick exit. He then retired 11 of his next 12 to salvage a chance at a deep start. Four batters and four baserunners later, he was gone with nobody out in the sixth.
"Just working off my fastball, working down in the zone, knees or below," Farmer said of the stretch in the middle. "I think I actually got Pujols to fly out to right [in the third inning] and that ball -- I went back and looked at it -- it was actually over the middle of the plate. But again, it was down. I'm not saying every pitch down in the zone is going to get somebody out, but the majority of the time it is."
Farmer looked like a power pitcher at times, throwing a consistent 94-95 mph with his fastball while mixing in a two-seamer that helped induce three ground-ball outs in as many at-bats from reigning American League MVP Mike Trout.
Even when the Angels nicked him to his demise on singles in the sixth, they were ground-ball singles. He can live with that.
"A couple pitches hurt him," Ausmus said, "but it wasn't a complete loss, really, despite the fact that his line ended up not looking great because of that last inning."
Add Matt Joyce's solo shot off Farmer's first pitch of the second inning, and Farmer ended up giving up more home runs in his first two innings than he did over 51 1/3 innings at Triple-A Toledo. He gave up seven runs on nine hits for the night, walking one and striking out one.
Farmer was making his first start for the Tigers this season in place of injured Kyle Lobstein, who had been starting in place of injured Justin Verlander, who will make a rehab start for Toledo on Sunday. It's conceivable Verlander will be ready to return by the time the rotation spot comes back around. Even if that's the case, they'll probably need Farmer at some point again this summer, given their need for pitching depth.
Jason Beck is a reporter for MLB.com. Read Beck's Blog, follow him on Twitter @beckjason and listen to his podcast. This story was not subject to the approval of Major League Baseball or its clubs.