Mariners await news on severity of Paxton's injury
Starter exits early vs. Indians after feeling 'twinge' in finger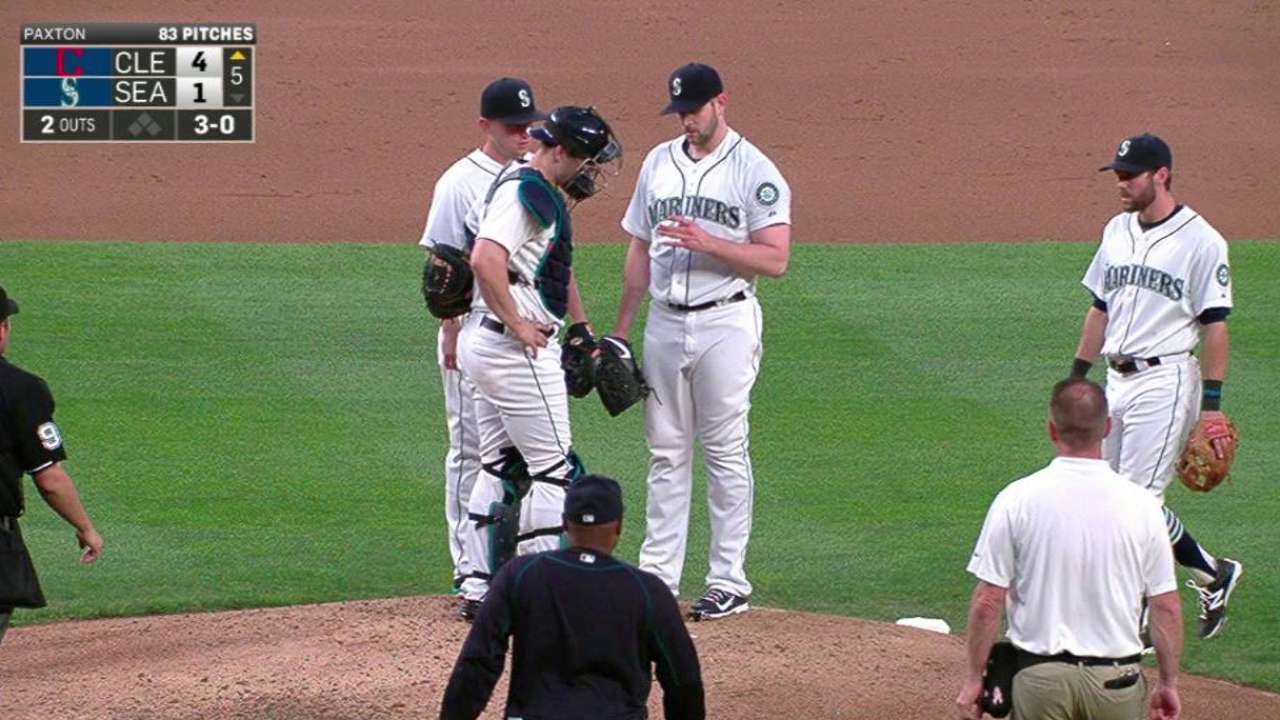 SEATTLE -- The Mariners have been beyond pleased with the progress of left-hander James Paxton. After Thursday night, though, their enthusiasm has been put on hold.
Paxton was removed from the 5-3 loss to the Indians with two outs in the top of the fifth inning because of discomfort in the middle finger of his pitching hand. He was slated to be re-evaluated Friday.
In the clubhouse after Paxton's first defeat since April 25, it was too soon to come to any definitive conclusions about the situation.
What was known was this: trailing the game, 4-1, Paxton threw a 2-0 fastball to Brandon Moss and "felt a twinge" in the finger. He threw another and later said he couldn't finish the pitch and it went high for the third ball. He began wiggling his hand, knowing something was wrong, and was visited by athletic trainer Rob Nodine and then pulled from the game.
"I'm not sure exactly what's going on with it, but hopefully we'll have more information tomorrow," Paxton said. "Right now it feels fine. I have good movement in it. It's a little bit sore to the touch, so I'm not sure exactly what's going on."
If Paxton misses any significant amount of time, it will be tough to swallow, particularly with starter Hisashi Iwakuma already on the disabled list and most likely still weeks away from returning from a lat strain and a setback during rehab. Prior to Thursday, in which Paxton ended up giving up four runs (three earned) on eight hits in 4 2/3 innings, he had won three consecutive decisions and given up a total of six earned runs over his last five starts, which spanned a total of 34 innings.
He wasn't even hit that hard on Thursday, either. The Indians' pivotal inning, the fourth, included an infield single off the bat of Jose Ramirez that Paxton couldn't quite get control of and a walk to Michael Bourn to load the bases. That led to a Jason Kipnis RBI single and a soft grounder by Mike Aviles that shortstop Chris Taylor charged and couldn't field, allowing another run to score. Taylor was given an error on the play, and the next batter, Michael Brantley, drove in the third run of the frame with a groundout to first.
"That's part of baseball," Mariners manager Lloyd McClendon said. "The play that hurt us was probably the walk to Bourn. Other than that I thought he threw the ball pretty good."
Paxton agreed, adding, "I think I made pretty good pitches there and they just put it where we weren't."
Now the Mariners will wait and see what the team's medical staff has to say.
"Obviously I'm not happy about it, but I'm staying positive and I don't think it's going to be anything too big, hopefully," Paxton said. "We'll find out tomorrow. Right now it has pretty good movement and it already feels better than it did an hour ago. Hopefully by tomorrow it'll feel much better."
Doug Miller is a reporter for MLB.com. Follow him on Twitter @DougMillerMLB. This story was not subject to the approval of Major League Baseball or its clubs.