A-Rod ties Bonds for 2nd on RBI list
Yanks slugger: It's 'special' to catch friend at 1,996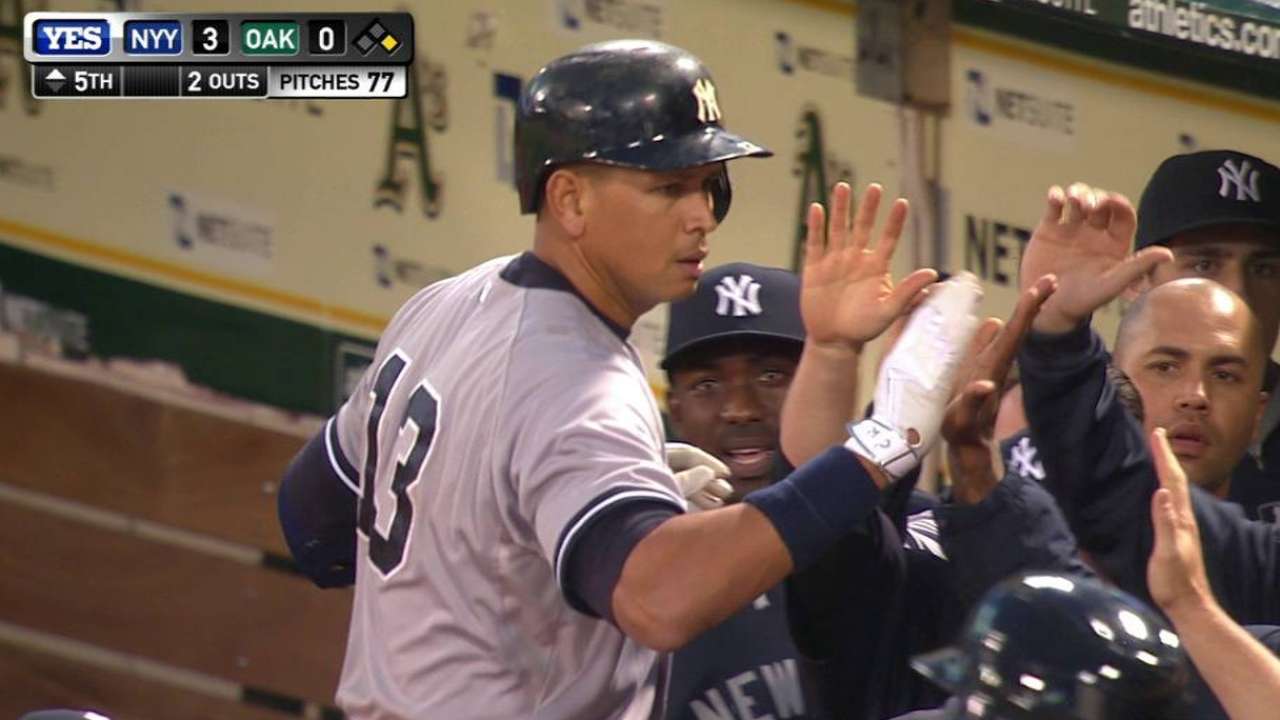 OAKLAND -- Alex Rodriguez drove in the 1,996th run of his career on Thursday, tying Barry Bonds for second place on baseball's all-time RBI list, according to the Elias Sports Bureau.
Rodriguez lifted a fifth-inning sacrifice fly to center field off Athletics starter Kendall Graveman, driving home Brett Gardner with the Yankees' third run of the evening in a 5-4 loss.
Henry Aaron is first on baseball's all-time RBI list with 2,297, according to Elias, the official statistician of Major League Baseball. Rodriguez said that, just as it was meaningful to be mentioned alongside Babe Ruth and Lou Gehrig in his recent RBI chase, tying Bonds marked a memorable moment.
"You say the same thing about Gehrig and Ruth, and Barry's the same thing; he's one of the greats," Rodriguez said. "This is kind of special because he's also a friend and I know him very well."
Rodriguez spent part of this past offseason working out with Bonds in Northern California, preparing to return to the diamond after his season-long suspension for performance-enhancing drug use in 2014.
"Barry is a great guy," Rodriguez said. "He's a true professor of the game of baseball. He's one of the great minds out there right now and one of the smartest guys I've ever talked to. He loves the game, is extremely passionate about the game and it was fun for me to work with a professor like Barry, someone who loves the game so much."
Because RBIs became an official Major League statistic in 1920, Elias' tally begins at that date. Due to the uncertain nature of record keeping in the early part of the 20th century, some discrepancies may exist between the stats provided today by different historical data providers.
MLB.com utilizes different statistics than Elias. By MLB.com's count, Rodriguez is now tied with Bonds for third on the all-time RBI list behind Aaron (2,297) and Ruth (2,213).
"He's got a long way to go to catch the next guy, Hammering Hank, but he's passed a lot of guys lately," manager Joe Girardi said.
Bryan Hoch is a reporter for MLB.com. Follow him on Twitter @bryanhoch, on Facebook and read his MLBlog, Bombers Beat. This story was not subject to the approval of Major League Baseball or its clubs.