Morrow throws first sim game
Padres starter, on the DL since May 5, went three innings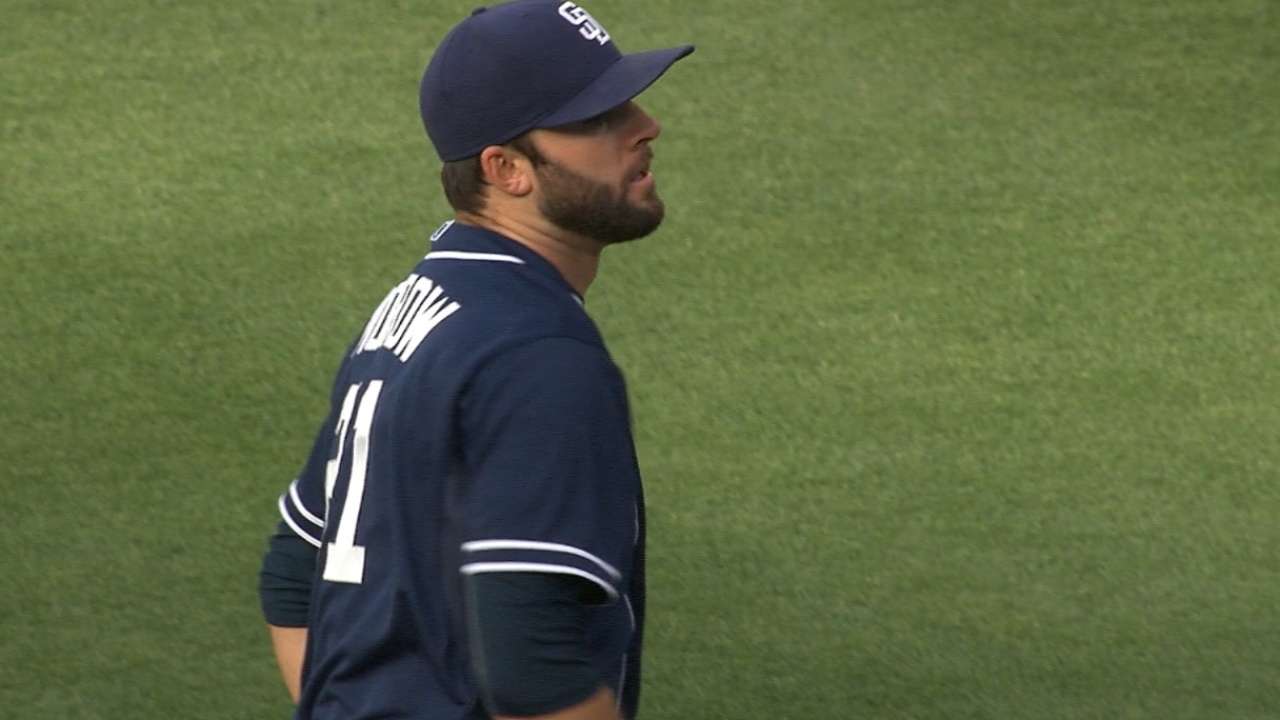 SAN DIEGO -- It was the game before the game, and by all accounts, the Padres won.
Prior to San Diego facing the Pittsburgh Pirates on Thursday night, right-handed starter Brandon Morrow took the mound for his first simulated game since landing on the disabled list May 5 with a sore right shoulder.
"It felt good,'' said Morrow, who tossed three 15-pitch innings, after a full warmup. "It's all been positive.''
Morrow is expected to throw again in San Diego over the weekend. Depending on how that goes, a Minor League rehabilitation start could come soon.
"This is the best [my shoulder] has felt all year,'' Morrow said.
Manager Bud Black was also encouraged.
"I thought he did well,'' Black said. "I thought his stuff, in a situation like this, was really good. His fastball had some good life to it and his secondary pitches had sharpness, his changeup was good.''
When Morrow was forced to the sidelines, he was among the team's top starters. Morrow was 2-0 with a 2.73 ERA after winning a close battle with Odrisamer Despaigne for the fifth spot in the rotation.
After such a strong start, hitting the stop button when his shoulder rebelled was unfortunate.
Morrow's rehabilitation wasn't minus a hiccup. He quit throwing at one point when feeling some soreness.
"I took an extra four or five days of rest before I came back,'' he said. "There was a little stress, but we were also being cautious.''
Not that the delay went down well.
"Everybody gets frustrated,'' Morrow said. "But you keep a positive mindset and stay wishful. I'm just trying to be positive.''
If there are no setbacks from Thursday's session or over the weekend, next week could bring the first of what could be two rehabilitation starts.
"Two might be sufficient, if he's throwing the ball well and gets his pitch count up to around 55-65 pitches,'' Black said.
Morrow, who has battled injuries throughout his career, signed a one-year, $2.5 million, incentive-loaded contract over the offseason.
Morrow made just six starts last year with the Toronto Blue Jays because of a finger injury. The previous year a right forearm ailment restricted Morrow to 10 starts. From 2011-12, Morrow won 21 games for Toronto.
How Morrow is folded back into the rotation will be determined. Morrow could replace the pitcher he beat out in Spring Training.
Of the Padres' starters, Despaigne (2-3, 5.23 ERA) has been uneven of late.
Jay Paris is an associate reporter for MLB.com. This story was not subject to the approval of Major League Baseball or its clubs.