With command comes success for Hendricks
Guidance from Hammel helping cerebral Cubs right-hander settle into groove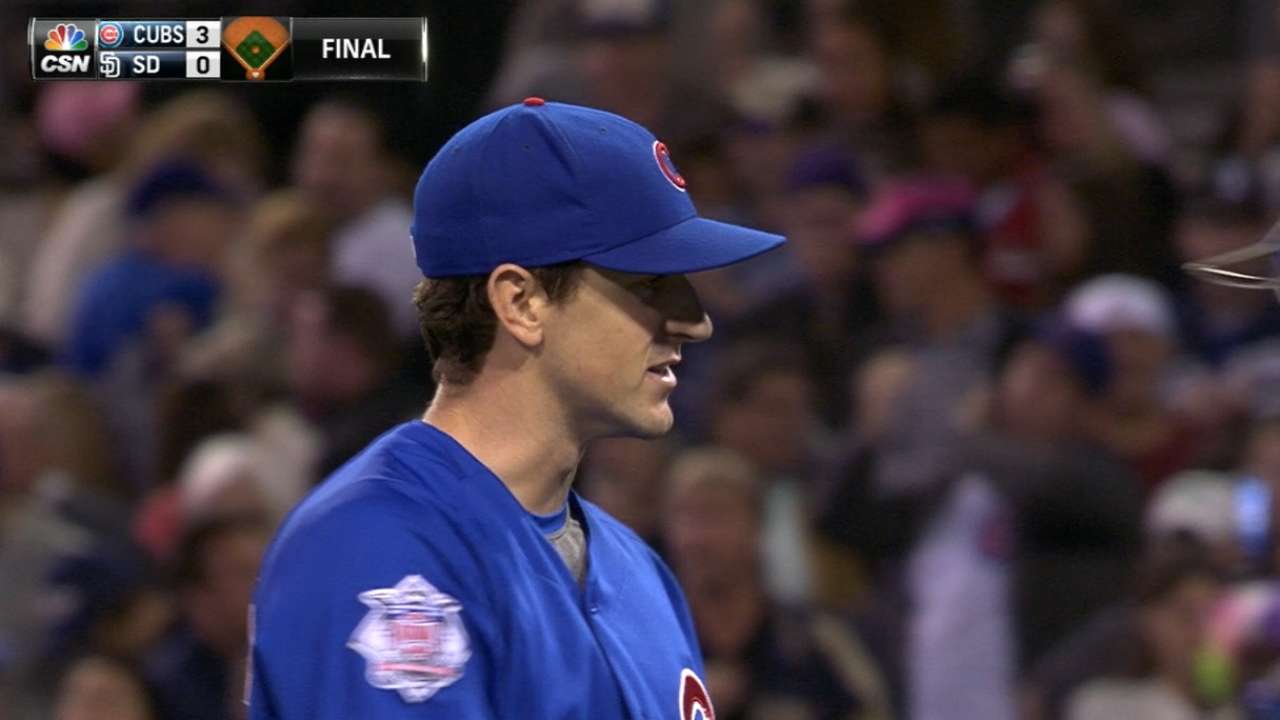 CHICAGO -- Cubs right-hander Jason Hammel knows how confident he felt after his first career shutout.
"I walked away from that, and I had a real big chest and was feeling really good about myself," said Hammel, whose only shutout came in his sixth season, on June 16, 2012, against the Braves. "It's what you work for. The starter wants to finish every time."
Hammel has made 196 career starts. It took Kyle Hendricks 21 outings to get his first complete game and shutout, and yes, he was feeling pumped after that.
Cubs youngsters Kris Bryant and Addison Russell have gotten most of the attention this year, but Hendricks is quietly asserting himself in the rotation.
"That was the big thing about his shutout game in San Diego, it built up his confidence," Cubs catcher Miguel Montero said of the May 21 game, when Hendricks picked up his first win of the season. "He knows it's there. Coming into the game [against the Nationals on Tuesday], he feels confident, he feels good, he feels sexy, and it makes it a little bit easier."
Hopefully, Hendricks is laughing at his catcher for calling him "sexy."
The Cubs simply want the 25-year-old right-hander to continue to pitch as he has since that game against the Padres. Last season, Hendricks went 7-2 with a 2.46 ERA. This year, the Cubs won two of Hendricks' first four starts, but he didn't feel right. After a game against the Cardinals on May 5 when he gave up four runs on six hits over five innings, Hendricks decided it was time for a tune-up.
"[Pitching coach Chris Bosio] and I sat down and said, 'Look we need to simplify everything,'" Hendricks said. "We were trying different things mechanically to figure out what was going on because I didn't have command of anything. It didn't look terrible and I was still getting some outs, but for me, personally, I just knew I didn't know where it was going."
That's not a good thing.
"You can't have too much confidence when it's like that," Hendricks said.
In his two starts after the session with Bosio, Hendricks felt a little better.
"After the Pittsburgh game [on May 15], in one of those bullpen [sessions], it just clicked," Hendricks said. "I finally got that downhill [plane], working down the mound, not pulling off my front side as much, and everything just clicked. I finally got back down in the zone and saw the glove better.
"It all fell in from there. 'Miggy' has been a huge part of it. He's always working with me. Even mechanics stuff, he'll point stuff out. It just started with trying to be simple."
That's something manager Joe Maddon endorses. He nearly always wears a T-shirt emblazoned with the message, "Do Simple Better."
"He's not a hard-throwing guy, and he really has to rely on his command," Montero said of Hendricks. "He has to be really on it and make his pitches, left and right, to go deep in the game and be successful. He understands that. Sometimes he probably overthinks too much, that he has to make pitches so badly, and that's when you make mistakes.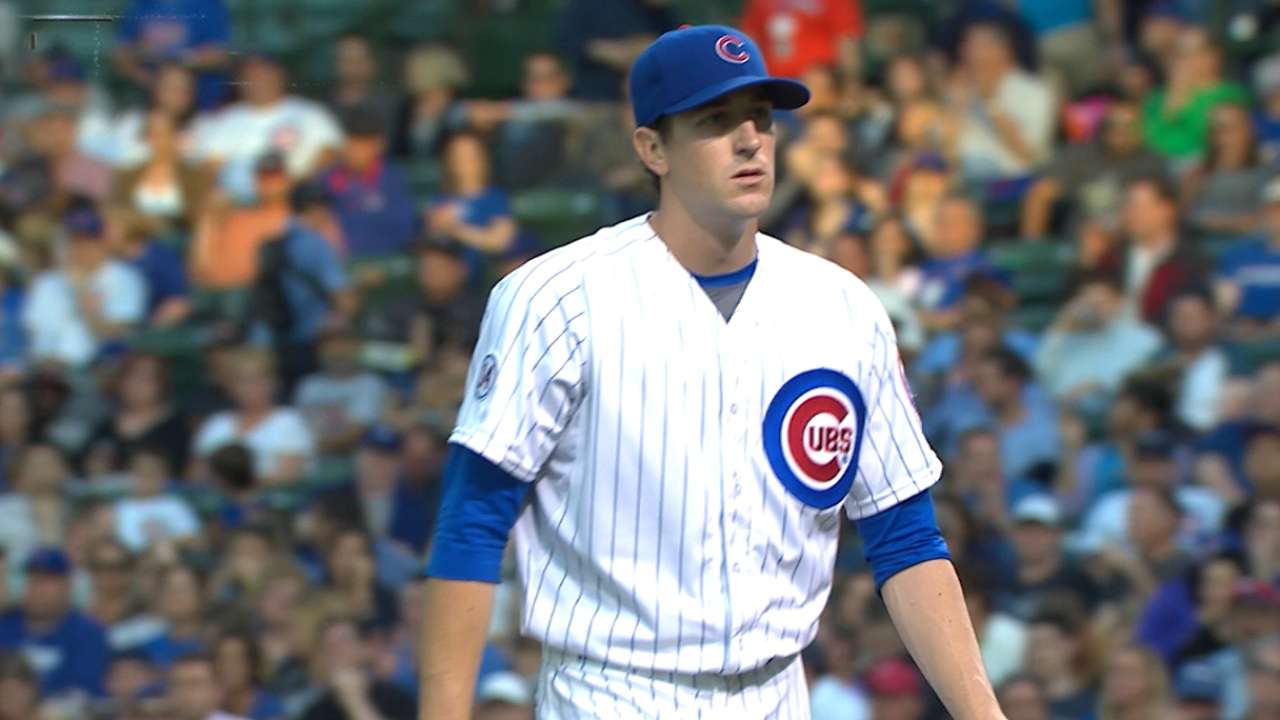 "It's hard, especially for him, because he had a rough start [to the season], he was probably trying a little bit too hard. Now you can see with his body language on the mound, he's more calm. His mound presence tells you he feels good, and that means a lot."
Shutting out a Major League team in your second pro season can certainly help one's confidence. Hendricks held the Padres to five hits, did not walk a batter and struck out seven at Petco Park. And he did so fairly efficiently, throwing 108 pitches.
"There are times you're lacking confidence," Hendricks said. "When I don't have that command and know exactly where it's going, it's hard to have 100 percent confidence out there. You can't lie about that. Once I was able to put together that good game and show myself, 'OK, it's back. I have my command back; I can put it where I want it,' then confidence comes hand in hand with that."
Hammel can relate.
"To finish what you started is one thing," Hammel said. "To finish what you started in the big leagues against a good team, it makes you really realize you can do it. It's not easy to get outs in the big leagues, let alone all of them. For his age to be able to do that, it's impressive, and on the road, too."
Hendricks did not throw a complete game in his next start, on Tuesday against the National League East-leading Nationals, but he did hold them to one run on four hits over seven innings. It was his third quality start of the season. Hendricks' next start is on Monday against the Marlins.
The focus on the Cubs this season has been on the 25-and-under infield of Anthony Rizzo, Russell, Starlin Castro and Bryant. Don't forget Hendricks. A Dartmouth graduate, he can discuss finance as easily as fastball command. Hammel will stick to baseball.
"It's fun talking baseball with him because he gets pitching," said Hammel, 32. "He is the epitome of a pitcher. His stuff plays, it's not overpowering, but what he does with it makes him a dominant force.
"First of all, he locates; he works the bottom of the zone. He changes speeds really, really well. He understands how to throw off a hitter's timing, which is pitching. He's able to do all that, and now he's starting to really click. Everybody runs through a bad patch. It's nice to see him running on all cylinders."
At such a young age, too.
Carrie Muskat is a reporter for MLB.com. She writes a blog, Muskat Ramblings. You can follow her on Twitter @CarrieMuskat and listen to her podcast. This story was not subject to the approval of Major League Baseball or its clubs.