Brewers open doors to 'Selig Experience'
Miller Park multimedia exhibit honors feats of former owner, Commissioner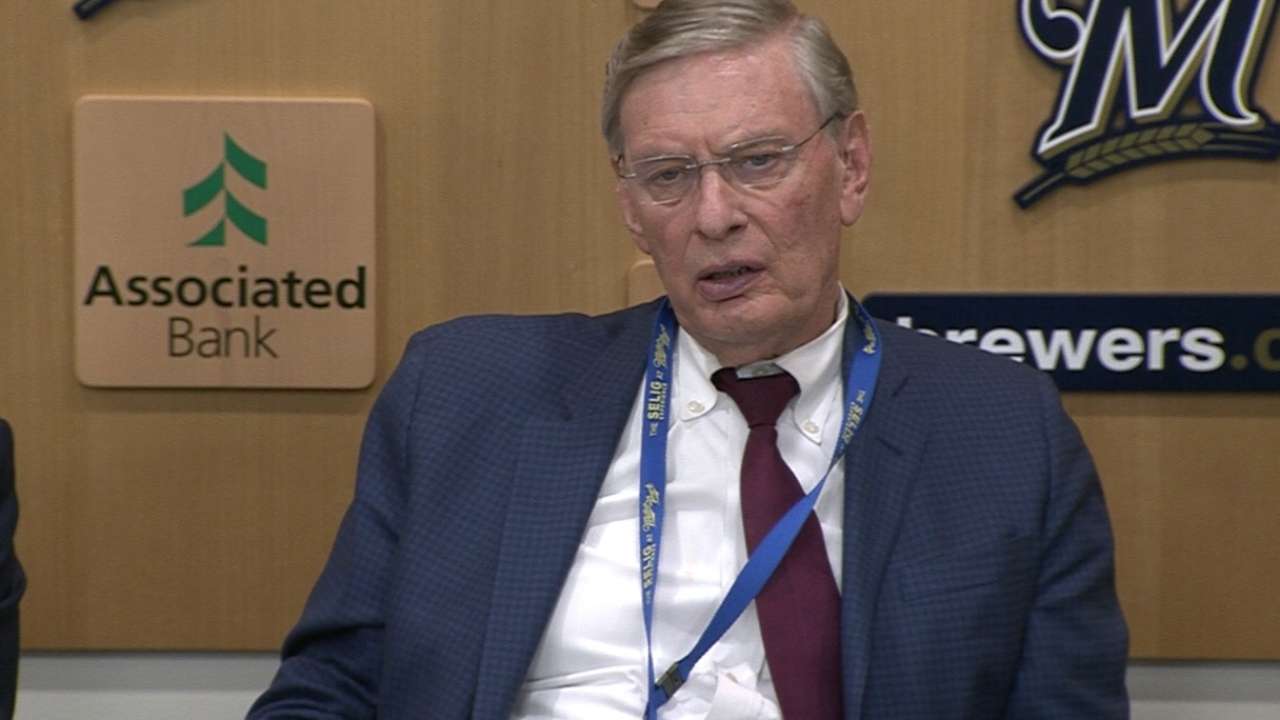 MILWAUKEE -- Part history lesson, part homage to the man who brought Major League Baseball back to Milwaukee, the "Selig Experience" opened at Miller Park on Thursday with a pair of Allan H. "Bud" Seligs in attendance -- one in the flesh, another in hologram.
And while he's no expert on the technology that makes the latter work, Hall of Famer Robin Yount offered a glowing review.
"I was one of the lucky ones that got to go through with Bud and his family," Yount said. "I can honestly tell you, there weren't a whole lot of dry eyes in there, me included, and my wife. I didn't know what to expect really. And it was so cool, I can't even begin to tell you.
"Everybody, make sure when you come to the ballpark, you make a trip through it. Whether you are a Bud Selig fan or not, this thing was pretty cool."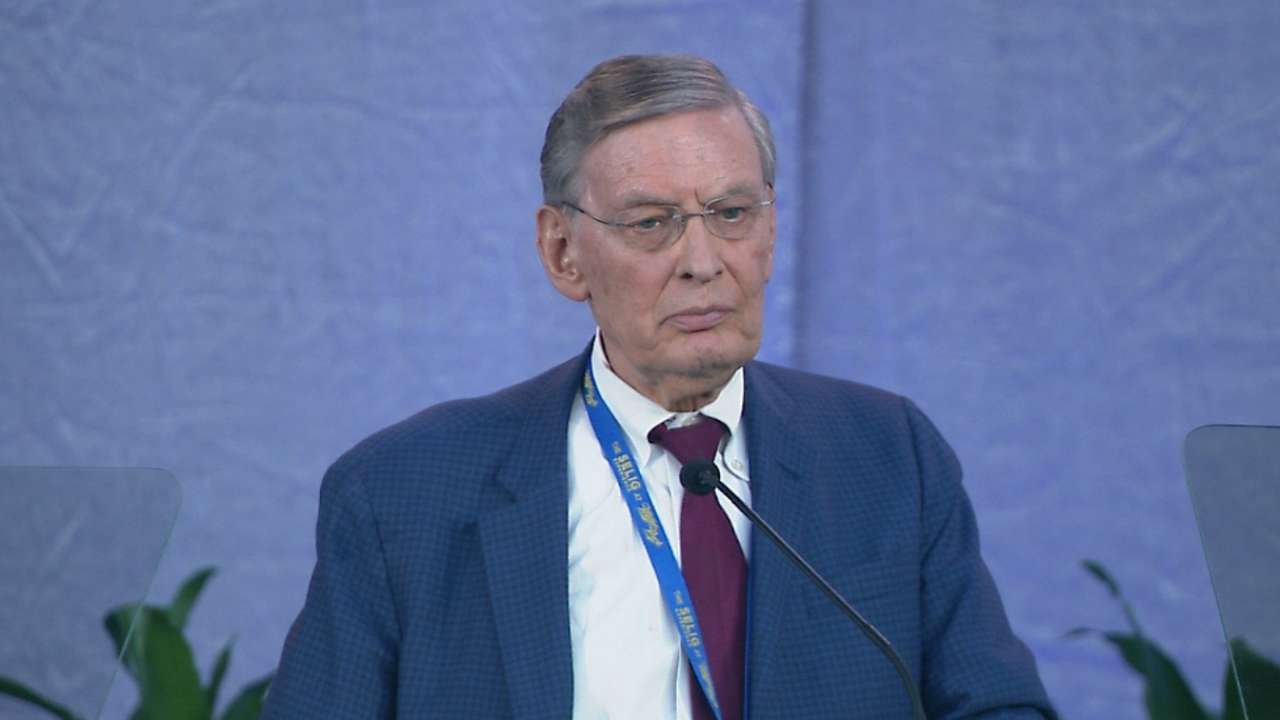 The 1,500-square-foot exhibit is anchored by a 12-minute multimedia show narrated by Brewers legendary broadcaster Bob Uecker that details Selig's life in baseball, beginning with his mother Marie taking Selig to see the old Triple-A Milwaukee Brewers at Borchert Field. Selig fell in love with baseball and would return countless times with boyhood pal and future U.S. Senator Herb Kohl.
• Bauman: Interactive exhibit captures Selig's legacy
It continues through his heartbreak over losing the Milwaukee Braves in 1965, with television footage of Selig's bid to lure a team back. He was successful, of course, and the story continues with the acquisition of the Seattle Pilots in bankruptcy court, the Brewers' rise to contender status in the late 1970s and early '80s, the drive in the 1990s to build Miller Park and Selig's ascent to Commissioner of Major League Baseball.
"It is an amazing tribute to an amazing man, and a great career, particularly that portion of his career that was spent here in Milwaukee," Major League Baseball Commissioner Rob Manfred said. "I think some of us who worked with Bud for years in New York focus on all he accomplished as Commissioner, and we forget, lose track of the fact, that he was the person that saved baseball in Milwaukee."
The attraction was unveiled during a private event on Thursday night and will open to fans on Friday. It is free to ticket holders during all Brewers home games until the seventh inning and will be included on select tours of Miller Park.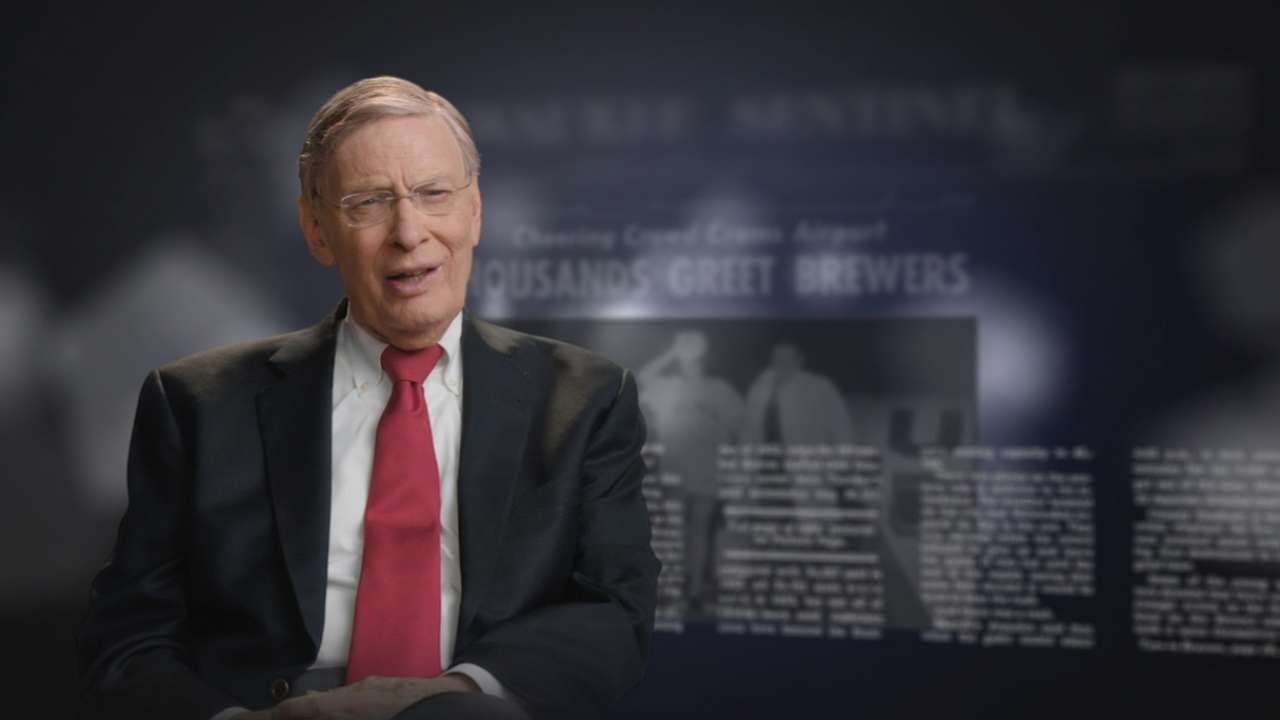 "There are a lot of lessons to be learned in the great story of the Milwaukee Brewers," Selig said. "What they meant, what they mean today. All the ups and downs. And they're all chronicled there. I hope that people who start coming as early as tomorrow night will really understand the franchise, what it means, what it will mean in the future, and what we went through to get it and keep it."
The idea for the "Selig Experience" began with Brewers general manager Doug Melvin, who proposed recreating Selig's Milwaukee County Stadium office somewhere at Miller Park. The project grew from there to involve BRC Imagination Arts, the same experience design agency behind the Abraham Lincoln Presidential Library and Museum, which has a similar 3D element.
That element is the star of the show. As the video comes to a close, one of the screens rises to reveal a likeness of Selig in his old County Stadium office with a final message for fans.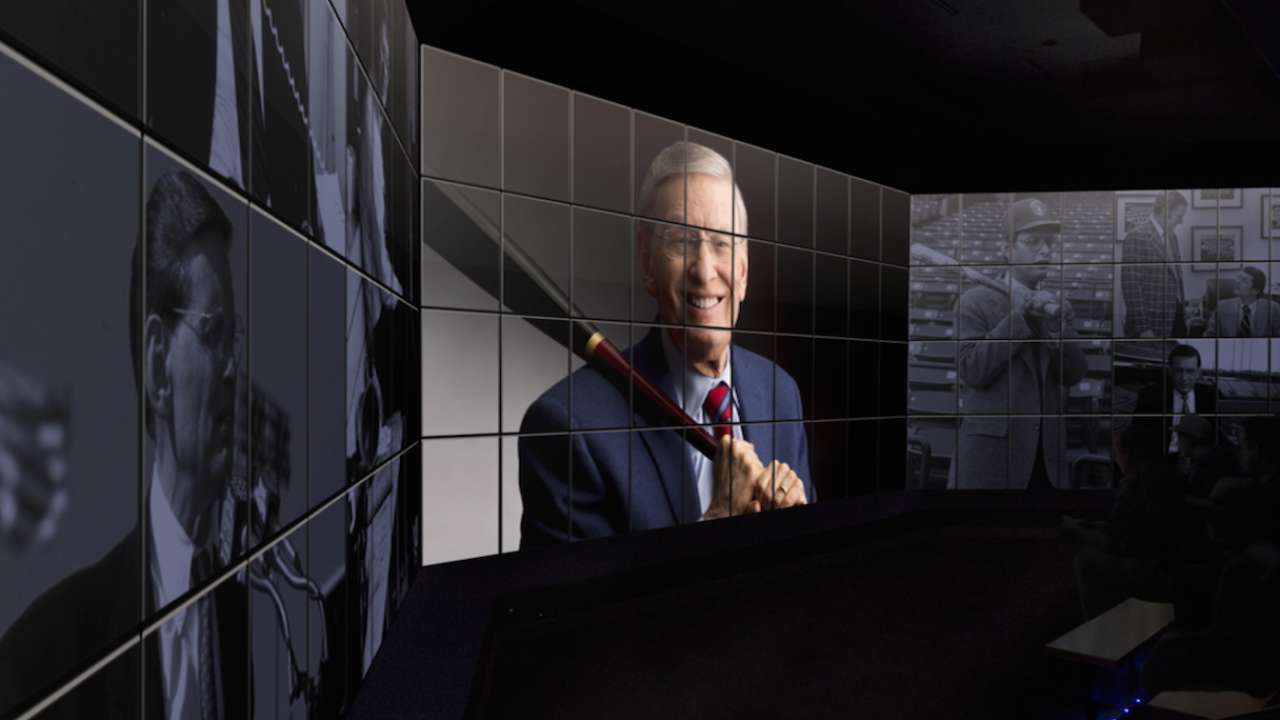 "When that came up, people looked at me and said, 'What the hell? Are you there?' " Selig said with a laugh.
The experience left Selig short of words for a moment.
"Today was really emotional, because every slide had so much memory," he said. "It was so brilliantly done and poignant. I looked at Robin Yount sitting behind me tonight, who was very emotional. Henry Aaron sitting right next to me, who was very emotional. Because there's so much history between us, which they have captured."
Located on Miller Park's loge level in the left-field corner, there is more to the "Selig Experience" than the video presentation. It continues with a recreation of Selig's old office, complete with a smoldering Tiparillo cigar -- one of the trademarks of Selig's days as Brewers owner -- and a small gallery of other artifacts from the early days of the franchise.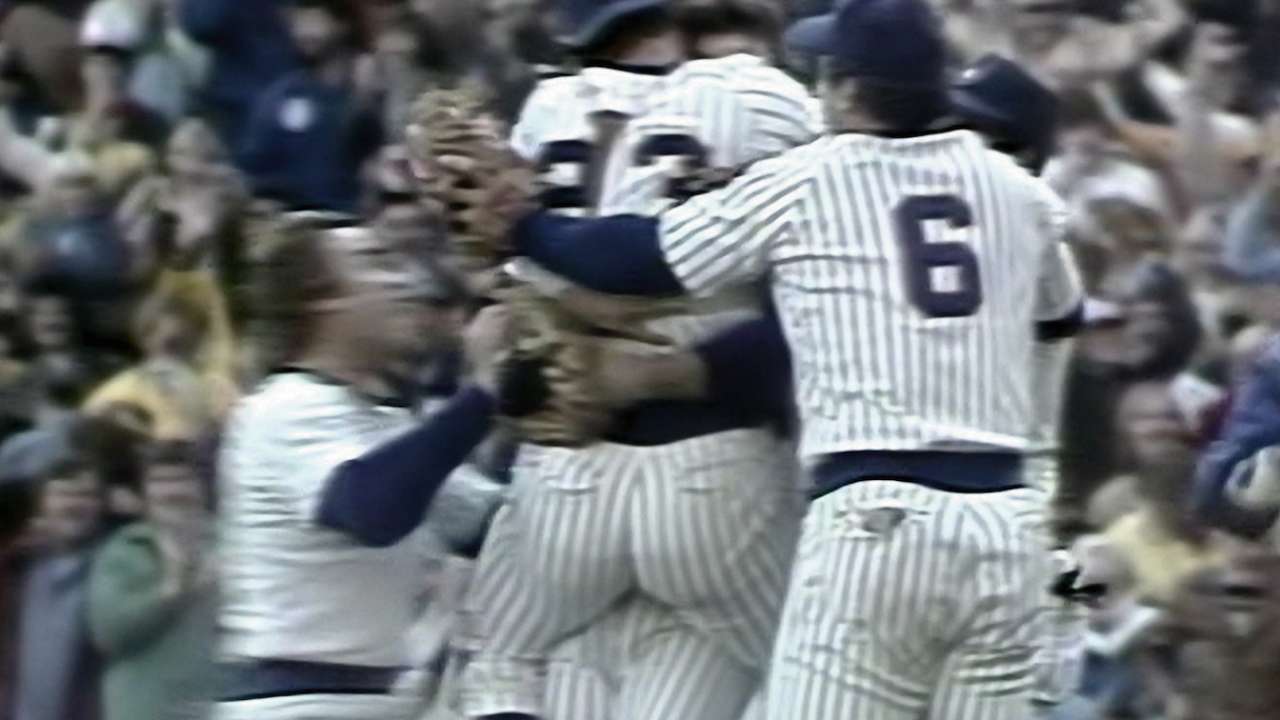 The office was painstakingly recreated from photographs and memories and is stocked with items that had been in storage at County Stadium and then at Miller Park for years, down to the stacks of newspapers on the floor.
The detail took Selig's breath away. The same was true for current Brewers manager Craig Counsell, whose father worked in the club's front office when Counsell was a boy.
"He had been in that office with his dad," Brewers owner Mark Attanasio said. "Craig got very emotional because it brought back this flood of memories from when he was a kid, and now he's the manager of our team."
Thursday's event was attended by Hall of Famers Yount, Aaron and Joe Torre; Jackie Robinson's widow, Rachel, and daughter, Sharon; Hall of Fame president Jeff Idelson; University of Wisconsin-Madison athletic director Barry Alvarez; and many of Selig's family members, including daughter and former Brewers president Wendy Selig-Prieb.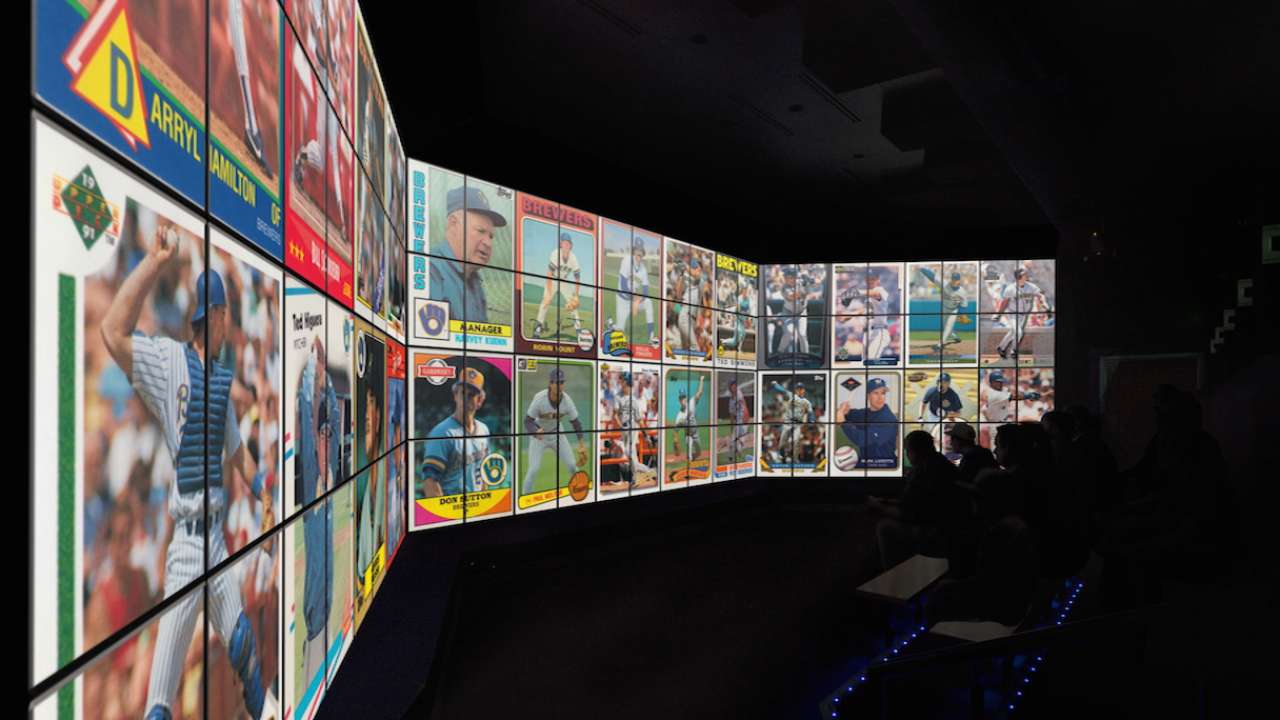 The new exhibit is part of the Brewers' ongoing effort to honor their founder as he enters a new phase of his career. Selig's tenure as Commissioner came to a close in January, but he remains involved in the game in the new role of Commissioner Emeritus, while teaching at the University of Wisconsin and Marquette University and beginning work on his memoir.
A statue of Selig already stands outside Miller Park, and last September, the Brewers said they would retire the No. 1 in his honor.
"One of the great things about our sport is it links families together," Attanasio said. "Now we want to connect generations."
Attanasio turned to Selig and added, "What's great about this project is everything you've done will live on. It will not be forgotten."
Adam McCalvy is a reporter for MLB.com. Follow him on Twitter @AdamMcCalvy, like him on Facebook and listen to his podcast. This story was not subject to the approval of Major League Baseball or its clubs.