Illness won't delay Hamilton's homecoming
Rangers outfielder felt 'sick as all get out' before Thursday's return to Arlington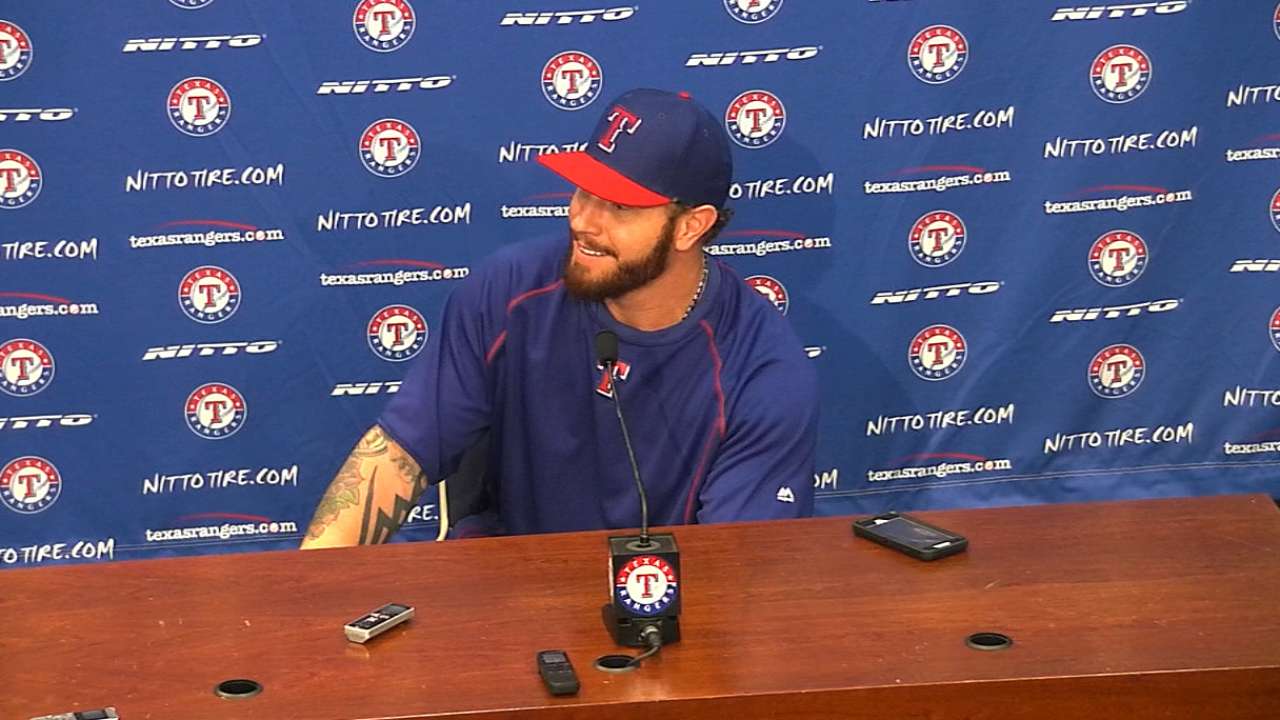 ARLINGTON -- Josh Hamilton was in the Rangers' lineup on Thursday, even though he was feeling "sick as all get out," before the game.
Hamilton said that might be a blessing in disguise as he prepared to play his first game in Arlington since being acquired by the Rangers on April 27.
"It will keep me calm and composed, but it will still be exciting," Hamilton said. "Just driving in, stopping and signing [autographs] and talking to fans, they're excited -- at least the ones I talked to. I'm excited. I'm excited about the team and the possibilities we have and the fun we had in Cleveland. I'm excited about being here."
Thursday marks Hamilton's return to Arlington in a Rangers uniform for the first time since the end of the 2012 season. He played for the Rangers in 2008-12 before signing with the Angels. He played three games for Texas in Cleveland, going 1-for-11 at the plate, and now the Rangers open a seven-game homestand by playing the Red Sox on Thursday night.
"Anytime I see the stadium, it's good memories," Hamilton said. "I just remember the good times here. Hopefully I'll try hard as a member of the team -- a player and a member of the organization -- to create more memories."
It took Hamilton a month to get back to Arlington after the trade was announced. He was still recovering from offseason surgery on his right shoulder and he needed time to work out in Arizona and played 13 games in the Minor Leagues on medical rehabilitation assignment before getting back to the big leagues.
"The last month has been fun in general," Hamilton said. "The whole process -- going from Arizona, being around a lot of young kids, seeing their passion and love for the game, going to [Triple A] Round Rock with young kids mixed with older kids, seeing the chemistry they have and the fun they have, [Double A] Frisco, more prospects that know everything … Anytime you go through levels like that, you appreciate it more.
"Now, playing with these guys, it's awesome. I'm excited. The last month has gone well. Physically, I feel good. Mentally, I feel better.
"If I hadn't had the people in my support group helping me handle the off-field stuff, it could have been overwhelming. But I've got a lot of good people helping me out and making it easier to handle the daily work."
Hamilton admitted it won't go well unless he produces on the field. He believes it will happen.
"The only way to find out is to go out and play," Hamilton said. "But what player doesn't feel he can do what he always has done? If you don't feel that way, you should retire."
T.R. Sullivan is a reporter for MLB.com. Read his blog, Postcards from Elysian Fields, follow him on Twitter @Sullivan_Ranger and listen to his podcast. This story was not subject to the approval of Major League Baseball or its clubs.