Reds aim to stay motivated despite rough stretch
After losing 10 of 11, Price says players must 'anticipate success'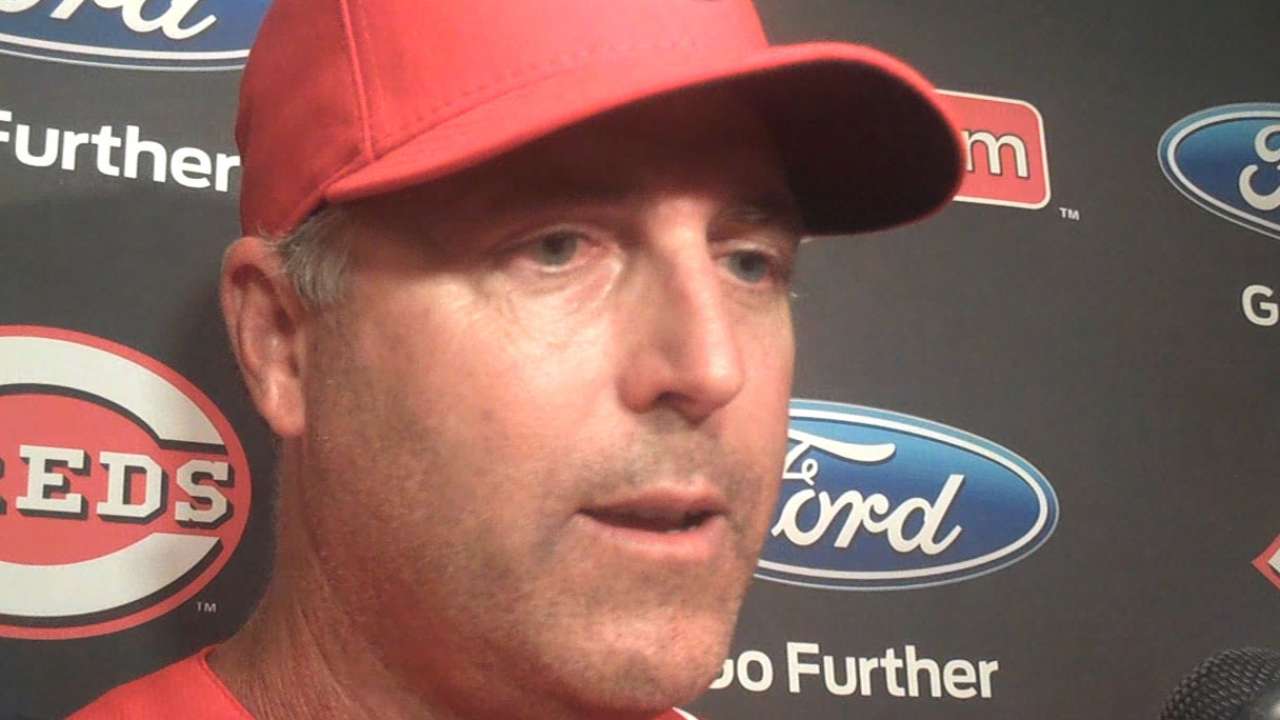 CINCINNATI -- The latter half of May has put a big hole in the landscape of the Reds' season and harmed their hopes to contend. Somehow, they have to repair the damage the best they can and plow ahead.
But how? Manager Bryan Price has tried altering his lineup and changing bullpen roles, and he even apologized to fans for a particularly poor game on Sunday in Cleveland. On Wednesday, following Cincinnati's 10th loss in its past 11 games, Price held a team meeting. It won't be known if the meeting was effective until the Reds resume play Friday vs. the Nationals and Bryce Harper, one of the league's best players.
Two weeks ago on May 14, Cincinnati was 18-17. Eleven games later, the Reds are 19-27.
"Things are not going [our] way. It's hard for us to click," catcher Brayan Pena said. "When we pitch good, we're not hitting. When we hit, we're not pitching good. We need to go out there and put everything together, and good things will happen. We just have to be very optimistic and trust in our abilities. Hopefully on Friday, we can start and change. This is not fun, man. I like to smile a lot, but you can't smile. I have to give you guys a fake smile right now."
Often when a stretch like this happens, the manager will come under fire for the team's poor performance and there will be questions about job security. Price denied that he was feeling added pressure.
"Pressure is self-induced," Price said. "It's no fun to go through this. I've been doing this for a long time. I've been on many teams that have had a period of real struggle. For me, it's no added pressure. Listen, I've been criticized a lot in my life. Getting more criticism certainly doesn't change my mindset or my lifestyle or anything else."
Cincinnati third baseman Todd Frazier is continually looking for motivation. That could include his being on the same field as a player like Harper and trying to outperform him.
"Basically find something inside of you to want to win," said Frazier, who is second behind Harper in the National League with 14 home runs. "Win the series, win today and find something in yourself to want to beat the other team or the other guy. [Say], 'I'm going to beat him today.' It's fun, but at the same time, inside you feel like, 'I got something to prove today.'"
It will take more than Frazier outshining another player to get the Reds going. The rotation is 0-8 with a 7.59 ERA in the past 11 games. The bullpen is ranked last in the NL with a 4.74 ERA heading into Thursday's action. The lineup is ranked 27th out of 30 Major League teams with a .235 average and last with a .183 average with runners in scoring position.
"Before we lost this 10 out of 11, I didn't think we were playing great baseball at 18-17," Price said. "We're capable of playing a lot better. It certainly doesn't have to do with the work ethic of the players or the staff. They're doing a terrific job with that. But we have to anticipate success, and we have to enjoy being on the field more than we are."
Mark Sheldon is a reporter for MLB.com. Read his blog, Mark My Word, follow him on Twitter @m_sheldon and Facebook and listen to his podcast. This story was not subject to the approval of Major League Baseball or its clubs.