Struggles behind him, Moose can let loose
Royals' third baseman garnering attention for success at plate 1 year after demotion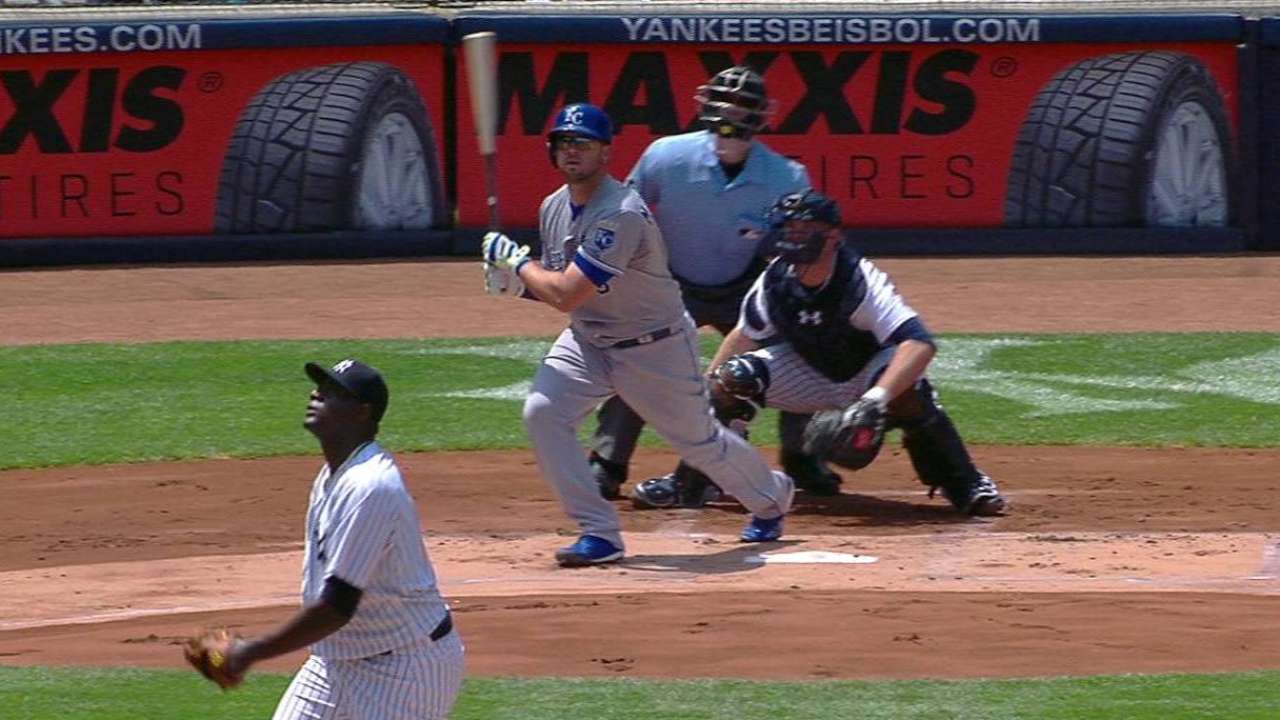 CHICAGO -- It's been an incredible turnaround from last year for Royals third baseman Mike Moustakas.
Consider that a year ago at this time, Moustakas was toiling in the Minor Leagues after having been demoted. Fans were frustrated with him. The organization's faith in Moustakas was shaken, at least enough that it had sent him down in hopes he could reboot mentally.
And although the Royals brought him back in early June, Moustakas' offense never really gained any traction. He hit a career-low .212 with a career-low .632 OPS. His future was in doubt.
But we all know what happened next. Moustakas dedicated his spring to learning how to hit the other way, driving balls to left and left-center field, conquering the dreaded shift.
A year after his demotion, Moustakas is on top of the world, hitting .329 with a whopping .876 OPS.
Does Moustakas think about where he was a year ago?
"A little bit," Moustakas said. "But last year is over to me. And the thing is, last year got me to where I am today. All the struggles really humbled me and really did a lot for my well-being.
"Now I just can go out and have fun every day. I'm having fun playing baseball with my friends."
As shocking perhaps as is .329 average is -- a number he really hasn't seen since 2010 in the Minors -- Moustakas' rise to celebrity among Kansas City fans and around the country is equally stunning. He is the leading vote-getter for the All-Star Game among American League third basemen.
Moustakas is trying to take it all in stride.
"I have some friends and family who have texted me and congratulated me," he said. "But it's still really early -- lots of time left. There are a lot of great players out there, especially at third base."
What has Moustakas far more excited than his own vote total is the fact that the Royals would have five players starting for the AL in the Midsummer Classic if the voting ended today.
"I think that's the key thing," Moustakas said. "It's not just me being out front, it's having so many teammates out there in first or second place. That's the neat thing.
"Last year in the postseason, people got to know us and saw how hard we play. And then all the media coverage of what happened to us earlier this year. It's pretty cool that people are looking at us and noticing us and actually voting for us."
They certainly are noticing Moustakas.
"Never seen a one-year turnaround like this," Kansas City manager Ned Yost said. "Ever."
Jeffrey Flanagan is a reporter for MLB.com. Follow him on Twitter at @FlannyMLB. This story was not subject to the approval of Major League Baseball or its clubs.