Inbox: Can players be themselves around Jennings?
Beat reporter Joe Frisaro answers Marlins fans' questions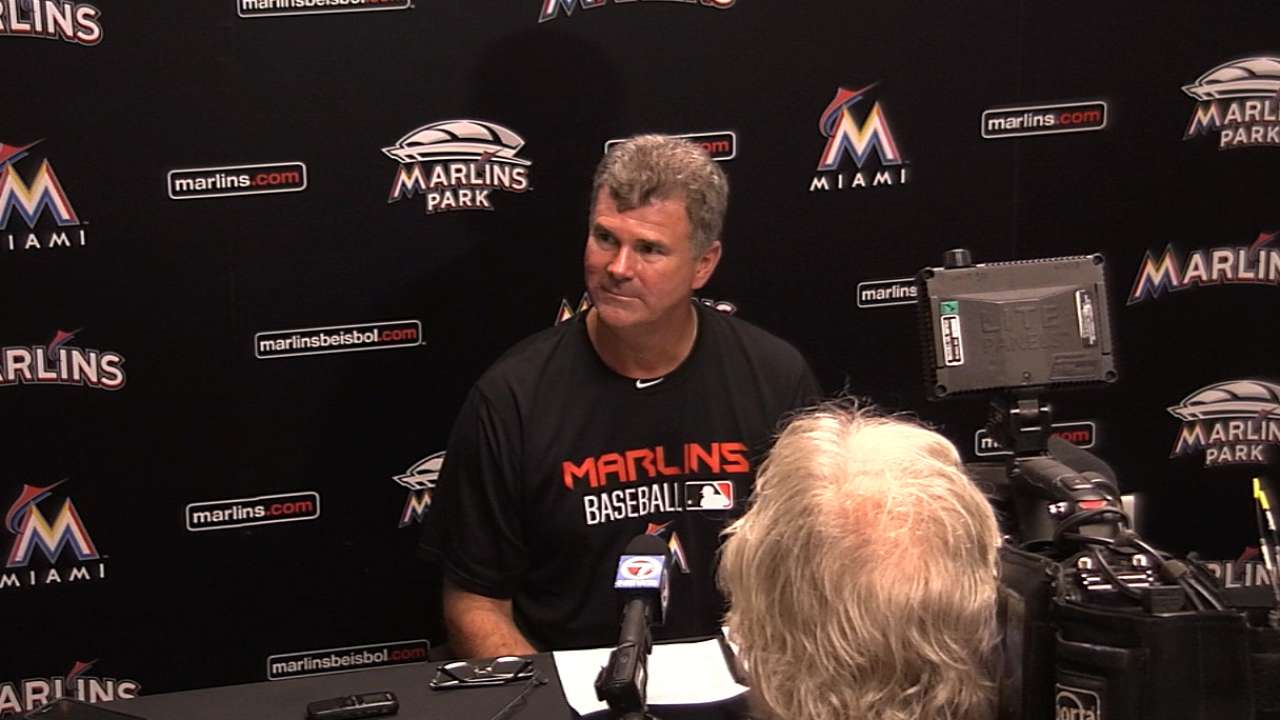 How can the players "be themselves" with Dan Jennings?
-- @janewins1
From the moment he agreed to take over as manager, Jennings understood his first priority was to win the trust of his players. With many, if not all, of the players in the clubhouse, he already had established a strong relationship. Jennings was a major factor in convincing Giancarlo Stanton to sign his 13-year contract in November. He was also part of recruiting and signing Ichiro Suzuki. I can go down the list with pretty much all the players.
Those who know Jennings well point out that he has a knack for getting people to perform above their expected level. That's what he's done with scouts and personnel evaluators in more than 30 years in the game. Now, Jennings' task is getting the players to buy into what he's saying. Winning will foremost make players relax and "be themselves." On the flip side, losing certainly creates doubt.
• Submit a question to the Inbox
Martin Prado expressed something very important the other day. He said that it's not about simply having fun; each player has to focus on the little things to get the job done. Jennings can only do so much.
What's the plan for the Marlins this year? Are they going to ride this season out or make a trade to improve this team?
-- @AlbertG07
Because of the deep hole in which they've placed themselves, the immediate goal is to get to .500 or as close to that mark as possible around the All-Star break. If the Marlins start tracking in that direction, that increases their chances to seek a trade to upgrade for the second half. If not, then they may go in the other direction.
Where Miami stands now, its answers are going to have to come from within. However, the team depleted its farm system with a number of moves in the offseason.
The Marlins need to get their starting pitchers healthy and to solidify the bullpen. Jose Urena was called up from Triple-A New Orleans to start at Pittsburgh last Tuesday. Urena has the quality stuff to help hold the rotation together until someone like Jarred Cosart (vertigo) comes off the disabled list.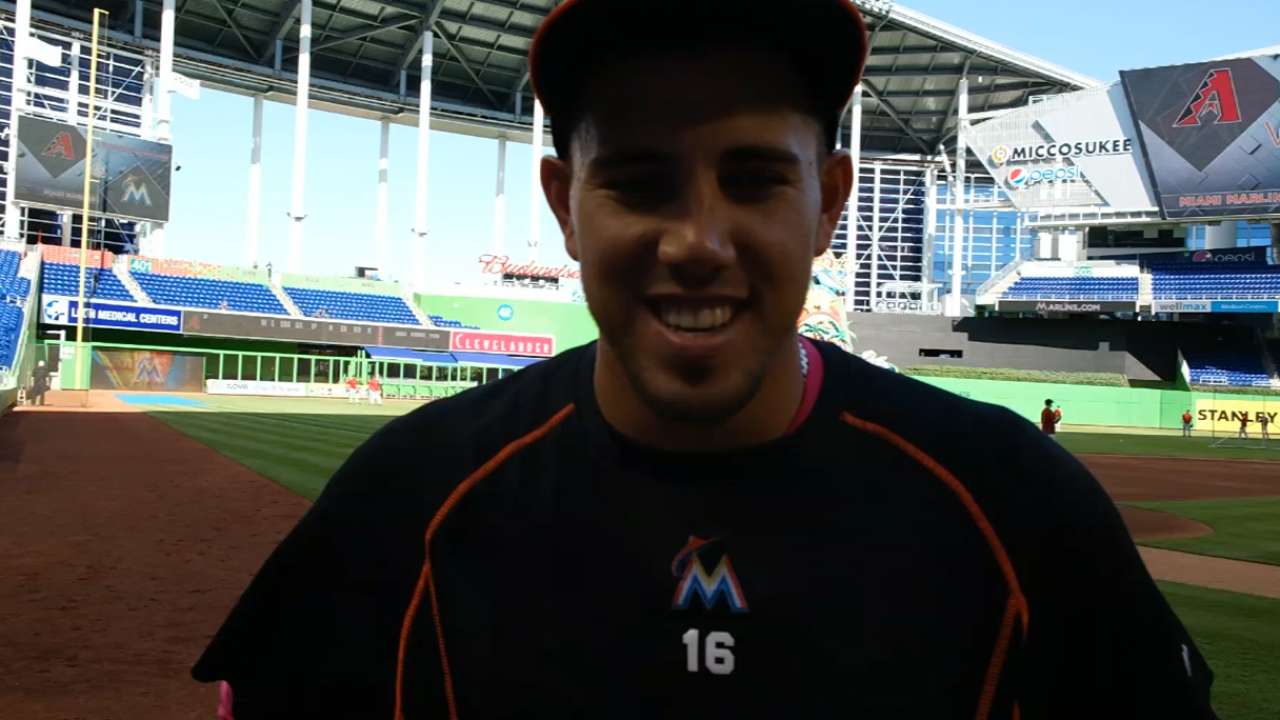 If the Marlins continue to struggle, do you see them delaying Jose Fernandez's debut?
-- @bmattison24
Fernandez's return is independent of the club's record. Actually, everything is progressing nicely for the 22-year-old. He is set to make his first game appearance on Monday, throwing in an extended spring game in Jupiter, Fla. From there, Fernandez will go on rehab assignment. The plan is to give Fernandez at least five games in the Minors. If he stays on schedule, he could join Miami around July 1.
Is Justin Bour the everyday first baseman now?
-- @Diulus_Twin
Bour has been given the opportunity to play regularly, and he is making the most of it. With Michael Morse on the disabled list with a sprained right ring finger, Bour will be counted on to handle first. He likely will not start against lefties, though. Jeff Baker is a right-handed-hitting option. But where the team stands now, Jennings is riding the hot hand. Morse still is very much in the picture. If Bour struggles and Morse heats up, you will likely see those roles reversing again. Right now, you're a regular as long as you're productive.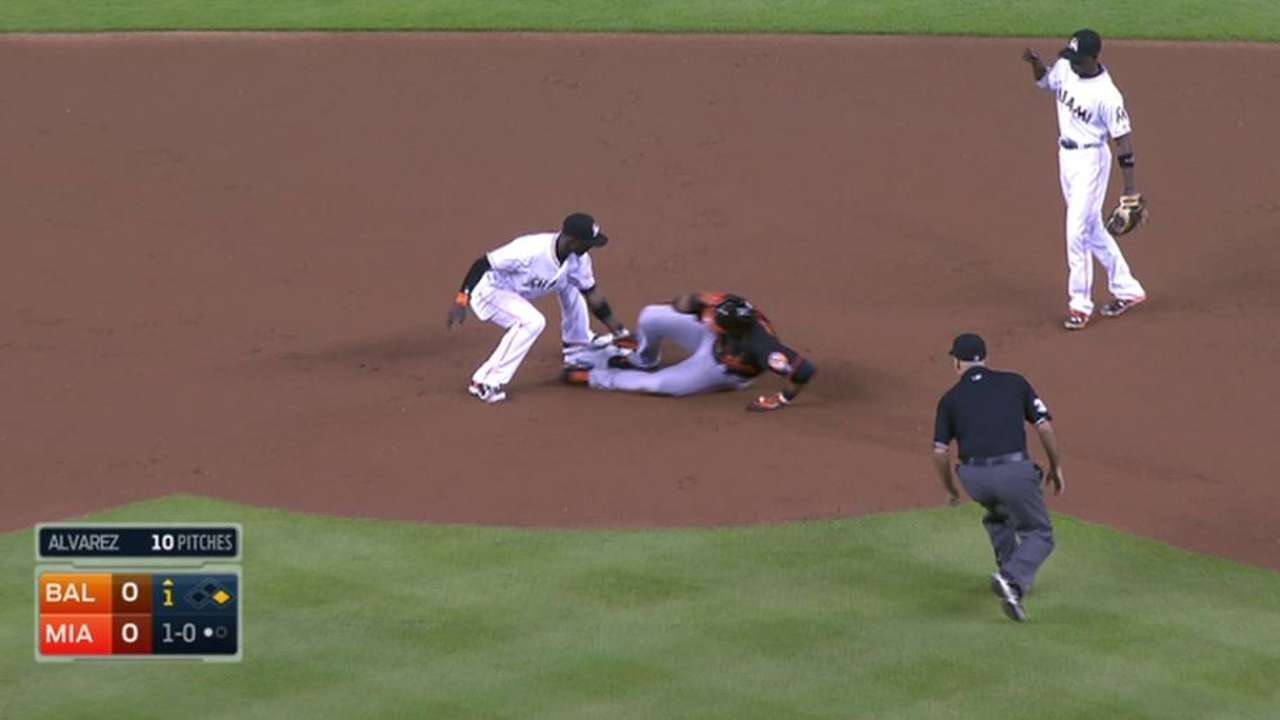 I think Justin Nicolino deserve a chance to start for the Marlins. Any idea why he hasn't been called up?
-- @Danilo_Sant0s
The club has been very careful with Nicolino's progression. That's why Miami's No.3 prospect has moved up one level at a time, going from Double-A last year to New Orleans. Basically, he is really close to being ready. Keep in mind that Nicolino isn't a huge strikeout pitcher. The southpaw has a chance to be a solid big leaguer, but he relies heavily on command and pitching smarts. Every start Nicolino gets at New Orleans will better prepare him for the big leagues.
Also of note, once Nicolino is called up, his MLB service time begins. If he struggles, then he will likely be sent back to New Orleans. The organization is aiming to avoid having Nicolino bounce up and down. When he arrives, they want him to stay.
Joe Frisaro is a reporter for MLB.com. He writes a blog, called The Fish Pond. Follow him on Twitter @JoeFrisaro. This story was not subject to the approval of Major League Baseball or its clubs.