All-Star FanFest to feature legends like Larkin
Hall of Famer will be joined by fellow all-time greats during four-day event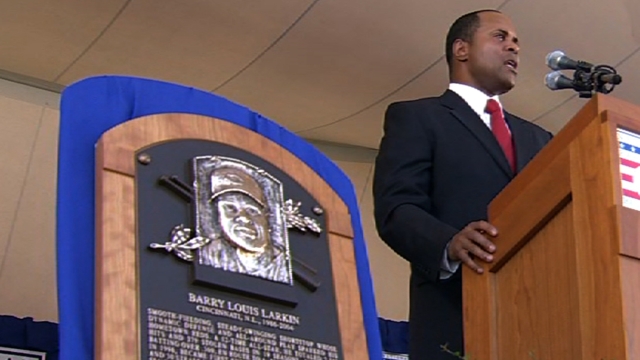 It's not just the 2015 All-Stars who will be in Cincinnati. Major League Baseball and the Reds announced on Thursday plans for T-Mobile All-Star FanFest, an event that will give fans the chance to meet some of the greatest players in baseball history.
At least 11 Hall of Famers and a host of Cincinnati stars will be on hand to sign autographs and to participate in question-and-answer sessions over the course of the four-day festival.
All-time greats like Barry Larkin, Tony Perez, Lou Brock and Ozzie Smith are scheduled to attend and interact with the crowd, as are fellow baseball immortals like Orlando Cepeda, Andre Dawson, Rollie Fingers, Fergie Jenkins, Juan Marichal, Gaylord Perry and Dave Winfield.
And if that's not enough, Reds fans will be treated to encounters with some of their favorite alumni. Former Reds expected to participate include George Foster, Norm Charlton, Rob Dibble, Randy Myers, Eric Davis, Chris Sabo, Sean Casey, John Franco, Aaron Boone, Dave Parker and Cesar Geronimo.
All-Star FanFest, which will take place at Duke Energy Convention Center, is billed as the world's largest interactive baseball theme park. Visitors will have a chance to meet some great players from the past, and they'll also be able to step into batting cages and take pictures with famous trophies.
Tickets, which are available now, will cost $35 for adults and $30 for children 12 and under, and autographs will be included in the price of admission. Children under 2 are admitted free.
T-Mobile has sponsored the fan festival for three straight seasons. All-Star Weekend will also include the All-Star Workout Day on July 13, which features the Home Run Derby. The Futures Game and the All-Star Legends & Charity Softball Game will be held on July 12.
The All-Star Game will be held at Great American Ball Park on July 14. For more MLB All-Star Week information, please visit AllStarGame.com or the MLB All-Star Game Twitter account (@AllStarGame).
Spencer Fordin is a reporter for MLB.com. This story was not subject to the approval of Major League Baseball or its clubs.