MLB.com Columnist
Barry M. Bloom
Padres eye healthy return for Morrow
Rotation would be bolstered by righty, who is coming back from shoulder injury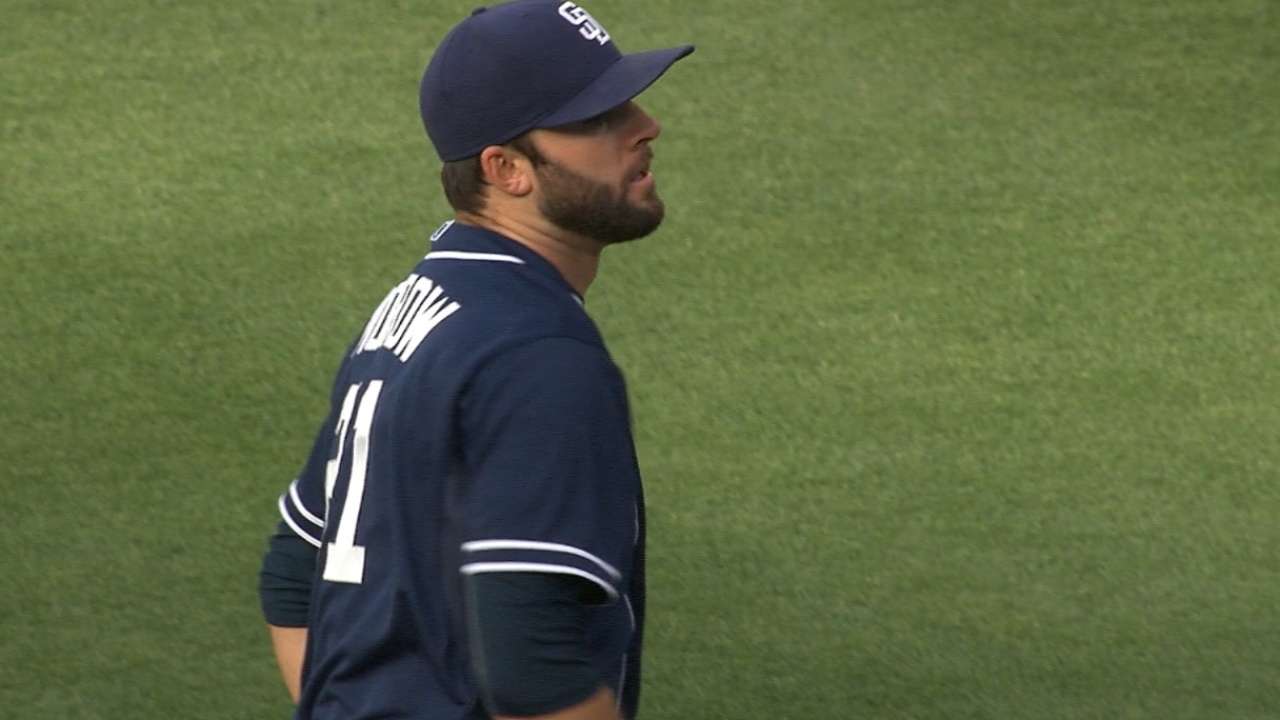 SAN DIEGO -- Perhaps the most telling moment of the quickly progressing season for the Padres will come hours before they open a four-game series on Thursday night against the Pirates at Petco Park.
Brandon Morrow is slated to throw about a 45-pitch simulated game to test his sore right shoulder. If all goes well, the right-hander will be sent out to pitch a rehab start in the Minor Leagues five days hence. If that goes well, Morrow could be back in the rotation when San Diego travels to Cincinnati on June 5.
"At least, I hope that's way it goes," Morrow said on Wednesday night before the Padres -- behind seven strong innings from Andrew Cashner -- held on to defeat the Angels, 5-4, at Angel Stadium.
Padres manager Bud Black said he remains cautious about Morrow's condition.
"We'll see how he comes out of this simulated game at 45 [pitches]," Black said, "and in his rehab game, if he gets to 60 or 70, whether that's good enough [to bring him back] and start him.
"We have to feel comfortable enough with his endurance. Whether we have to do another rehab start for him to build up his pitch count and confidence in his shoulder, that's a possibility."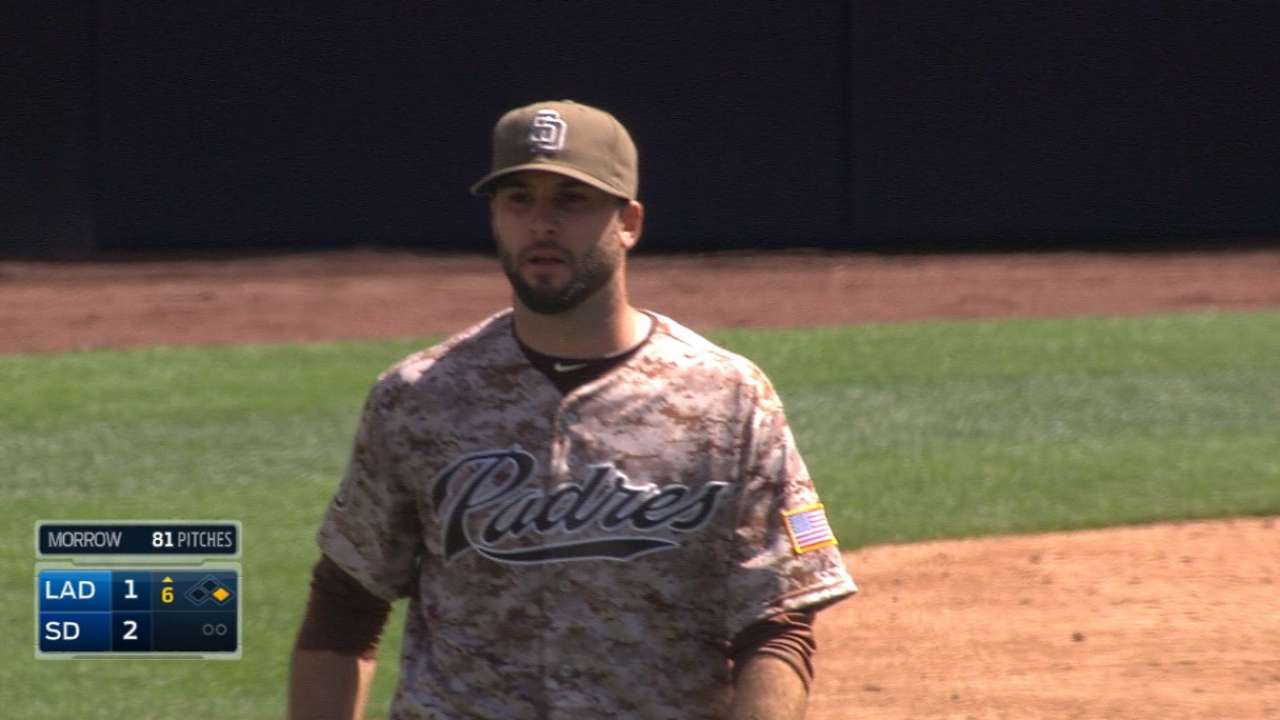 The often-injured Morrow went on the disabled list on May 5 with inflammation in a muscle behind the top of his right shoulder. Morrow was a free-agent signee in the offseason, inking a one-year deal with a guaranteed base of $2.5 million and a host of performance bonuses based on the amount of starts he makes this season.
Morrow would earn another $1 million if he makes 12 starts, and another cool $1 million each if he reaches 16, 20, 24 and 28. He made five starts before San Diego had to shut him down, although Morrow said on Wednesday that his shoulder now feels fine.
This is all germane because after Morrow won a spirited duel with Odrisamer Despaigne during Spring Training for the fifth spot in the rotation, Morrow turned out to be the Padres' second-best starter behind another newcomer, James Shields. Morrow is 2-0 with a 2.73 ERA.
Together, Shields and Morrow are 8-0. The other four starters -- holdovers from last year's 77-85 finish -- are a combined 8-18, including Cashner's second win of the season on Wednesday night. That's one of the reasons why San Diego hasn't been able to put together any more than a three-game winning streak since opening the season 10-5.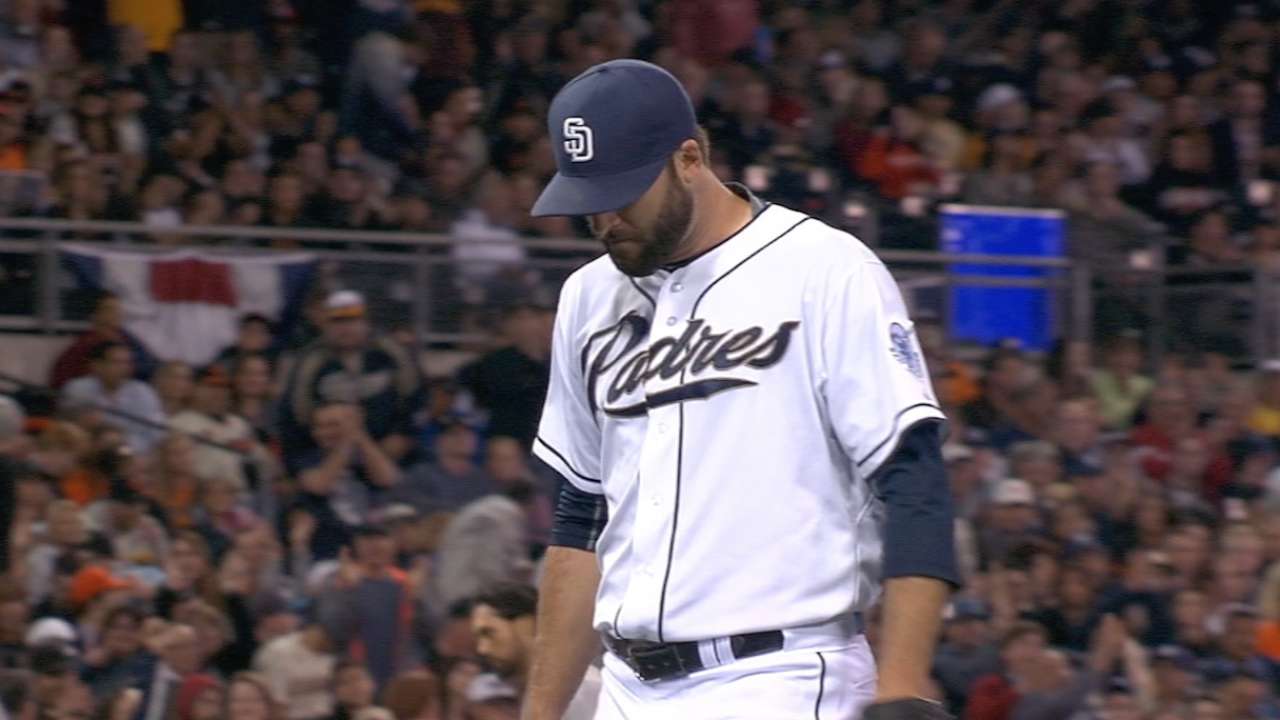 That's also why a seemingly insignificant simulated game is now brimming with significance. Cashner, Tyson Ross, Ian Kennedy and Despaigne have begun to pick it up. Add Shields, and the club has registered nine quality starts in a row, but has only won four of them. It would be nice to have Morrow added back to mix.
"There's a little bit of disparity there," said Black, when asked about Shields-Morrow compared to the rest of the starters. "But our pitching is getting better based on what we've seen during the last week, because it has been much more consistent. Our offense has been more erratic than it was in the early going. We have to mesh it all together, and that's where the winning streak comes in."
Still, the 3.97 ERA for the Padres' starters places them eighth in the National League and 12th in Major League Baseball, and that simply is not going to cut it with San Diego averaging 4.27 runs per game. That just doesn't leave enough margin for success.
To that point, the Padres had only scored eight runs for Cashner in his first nine starts. Cashner has allowed 21 earned runs and an MLB-high 12 unearned runs. It should come as no surprise, then, that he was 1-7 and San Diego was 1-8 overall in his first nine starts despite Cashner logging a 2.89 ERA.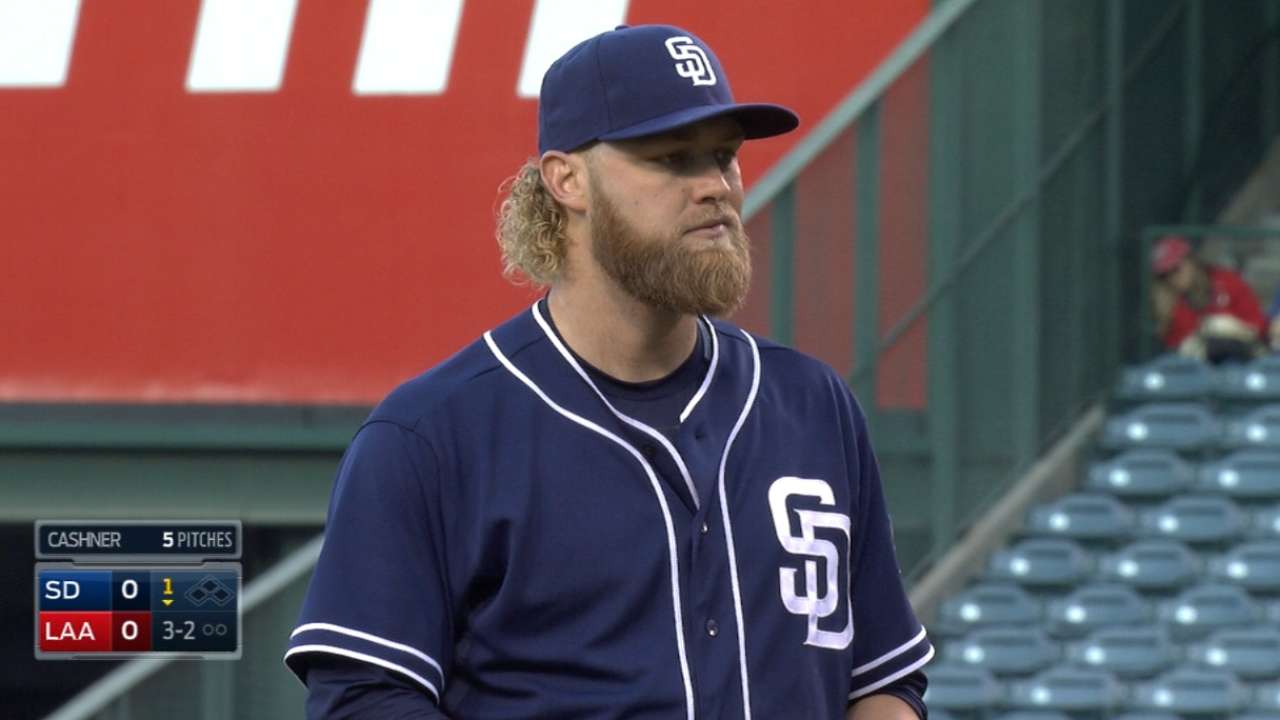 On Wednesday night, the Padres gave Cashner an embarrassment of riches, scoring a season-high five runs for him and staking the right-hander to a 3-1 lead in the top of the fifth. Cashner, though, couldn't hold the early lead.
The Padres allow too many runs on opposition rallies that begin with a hit or walk after two men are out with nobody on. Black said he and pitching coach Darren Balsley talk about it and bring that topic up incessantly with their pitchers, but seemingly to no avail.
"I have no good answer for you. Maybe the hitters are more concerned with just trying to make contact with two men out," Balsley said. "Yeah, we talk about it, but I can't figure out why it happens. When you figure it out, please let me know."
Again, Cashner suffered two-out-itis, allowing a single to Chris Iannetta and a run-scoring double to Carlos Perez in that situation in the fifth, then he gave up a two-out homer to Matt Joyce ( a .176 hitter) in the sixth.
Cashner concluded that it's not a lack of focus. He just threw bad pitches in the above circumstances. The mindset doesn't change.
"It's the same mindset as when nobody's out," Cashner said. "You just try to keep making pitches. But I didn't make as [many] good pitches tonight as I wanted with two outs."
Only Angels pitcher Garrett Richards' second error of the evening -- this one when he couldn't field a sacrifice bunt -- opened the way to a pair of unearned runs in the seventh, as San Diego took a 5-3 lead. And this time, Cashner was up to the task, pitching a three-up, three-down bottom of the inning that ended when center fielder Will Venable laid out to make a diving catch on an Erick Aybar line drive.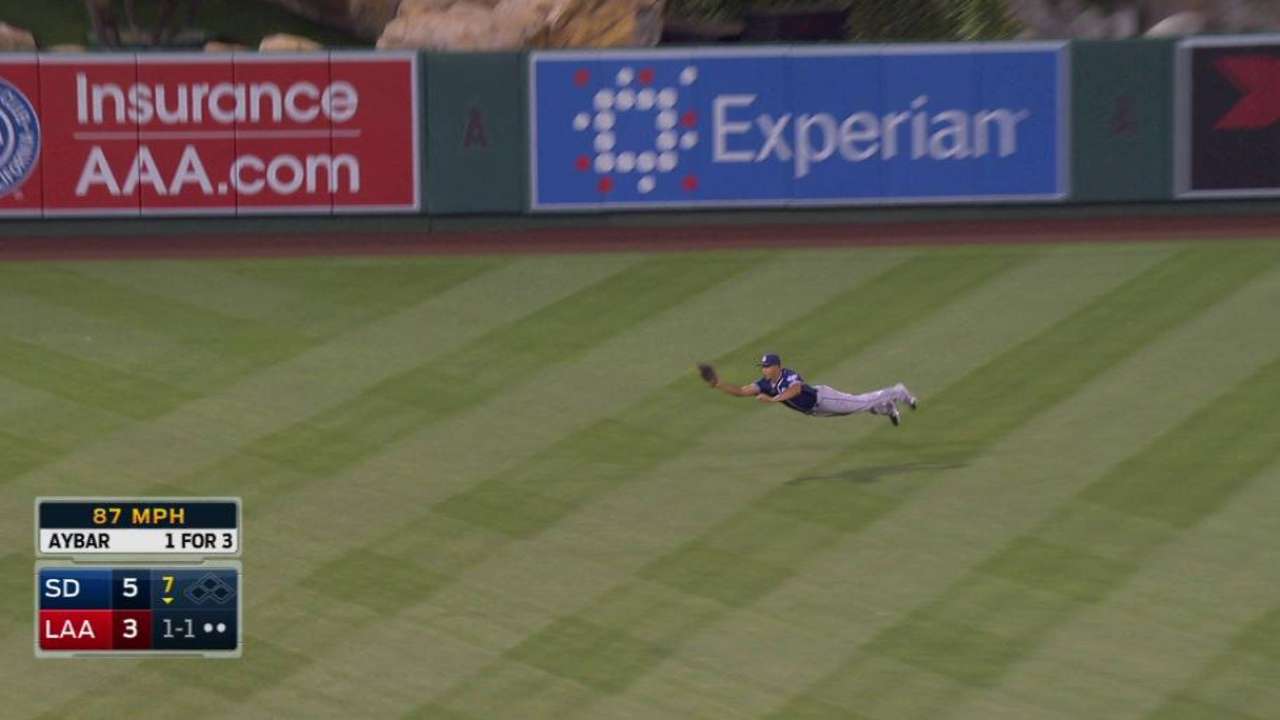 Sometimes it's better to be lucky than good.
"Cash, for the most part, has pitched well -- good enough to win a number of games," Black said. "He's pitched much better than his record indicates. Tonight, he pitched to the game. He hung in there."
With Morrow now well on the road to returning, the Padres are going to need a lot more from their starters than just hanging in there.
Barry M. Bloom is a national reporter for MLB.com and writes an MLBlog, Boomskie on Baseball. Follow @boomskie on Twitter. This story was not subject to the approval of Major League Baseball or its clubs.