MLB.com Columnist
Anthony Castrovince
5 things to know about Prince's scorching start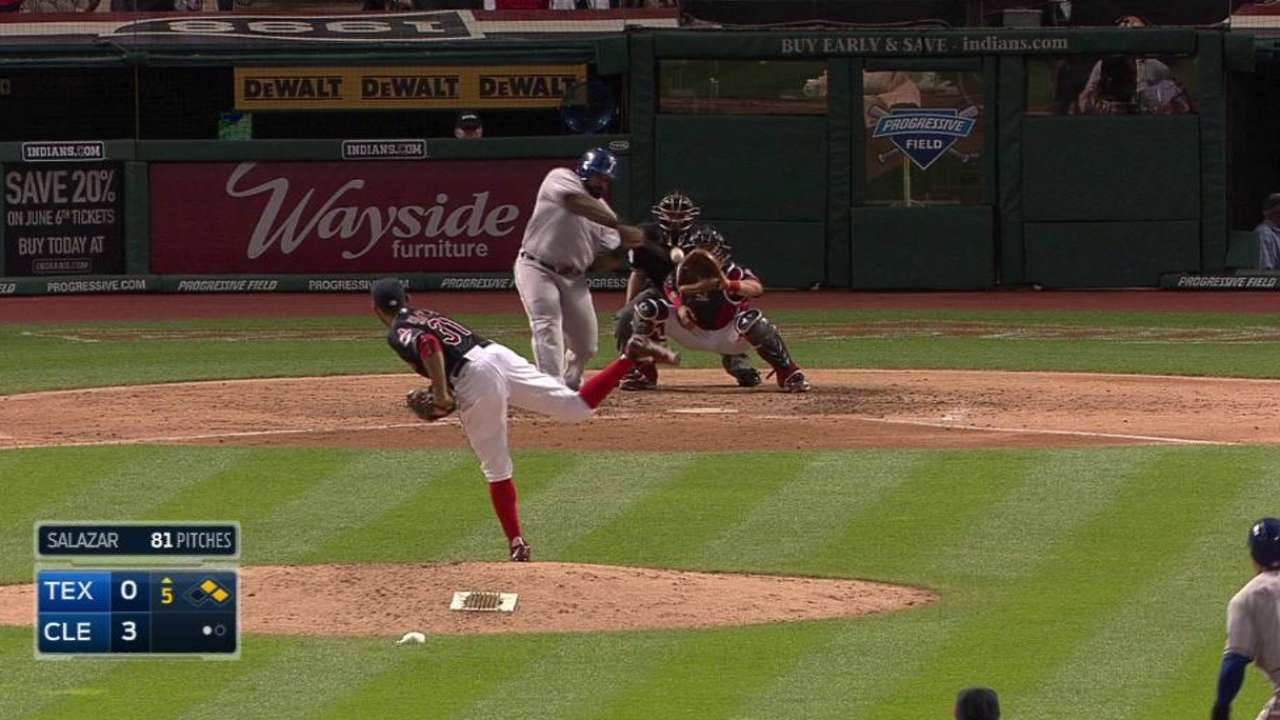 The hottest hitter on the planet has what he considers to be the best job on the planet. Prince Fielder is loving life as baseball's newest and most productive full-time designated hitter.
"You really can't complain about this job, you know?" he said. "You get to lift weights and hit!"
Boy, is Fielder hitting.
Fielder has the best batting average in the American League (.368), to go with 10 homers, 12 doubles and 38 RBIs. Nine of those homers have come in May and five arrived just in the past week. Fielder has been a huge catalyst for a Rangers club surging up the AL West standings with one of baseball's most dangerous offenses.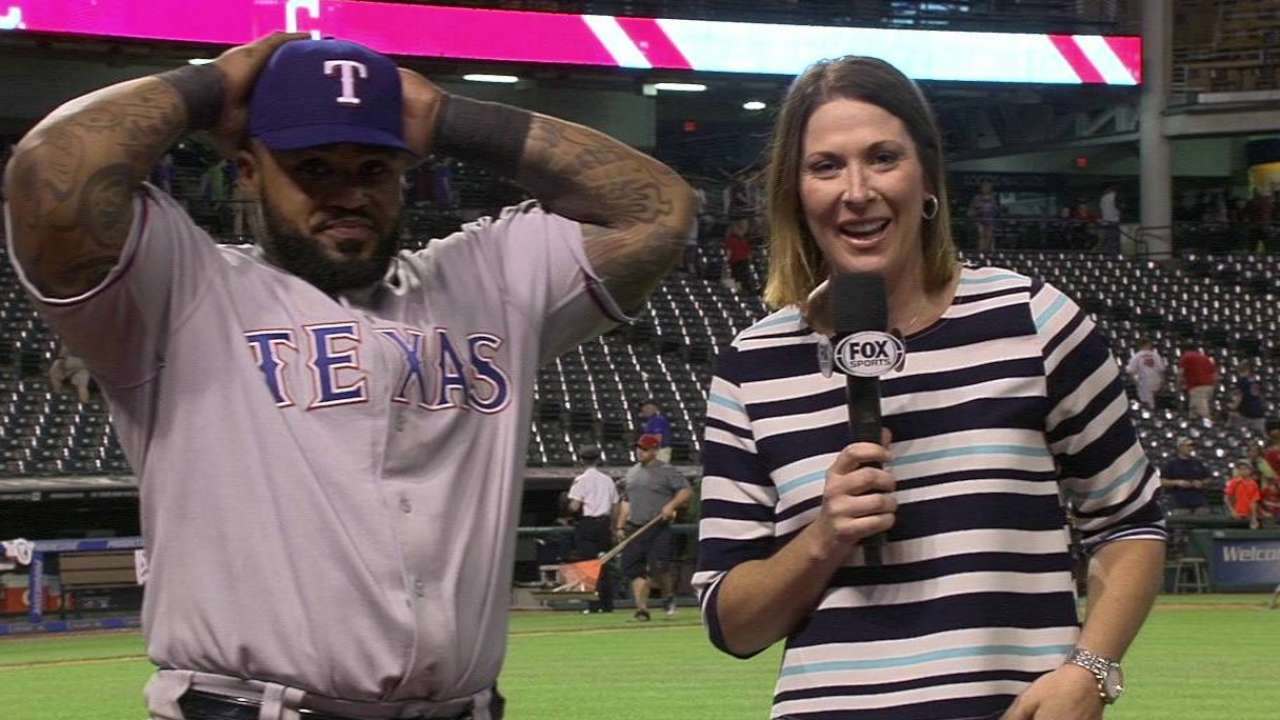 With those Rangers opening up a four-game series against the Red Sox on Thursday night, it seems an appropriate time to point out that Fielder could be succeeding the 39-year-old David Ortiz as the game's pre-eminent designated hitter. At the least, Prince has become baseball's answer to Peyton Manning, working his way back from cervical fusion surgery on his neck to get back to an elite level of play.
Here are five things you need to know about Fielder's scorching start to 2015:
1. This DH thing was his idea.
Jeff Banister was about two weeks into his first Spring Training as the Rangers' manager when Fielder walked into his office and essentially surrendered his defensive position. Fielder told Banister he understands that Mitch Moreland is the superior first baseman, and so he was willing to take on the DH duties in an effort to aid the team.
"What a selfless act on his part, really," Banister said. "I was proud of him."
After basically a year away from the game, Fielder took realistic stock of his situation.
"I work hard at first base," he said, "but at 31, I'm not going to turn into Keith Hernandez or Eric Hosmer overnight. I know that. But I am working hard to make sure my weight is in a good place and I'm healthy. It makes me work harder to show them that I'm not doing this to be lazy. I'm doing this because I want to help us win."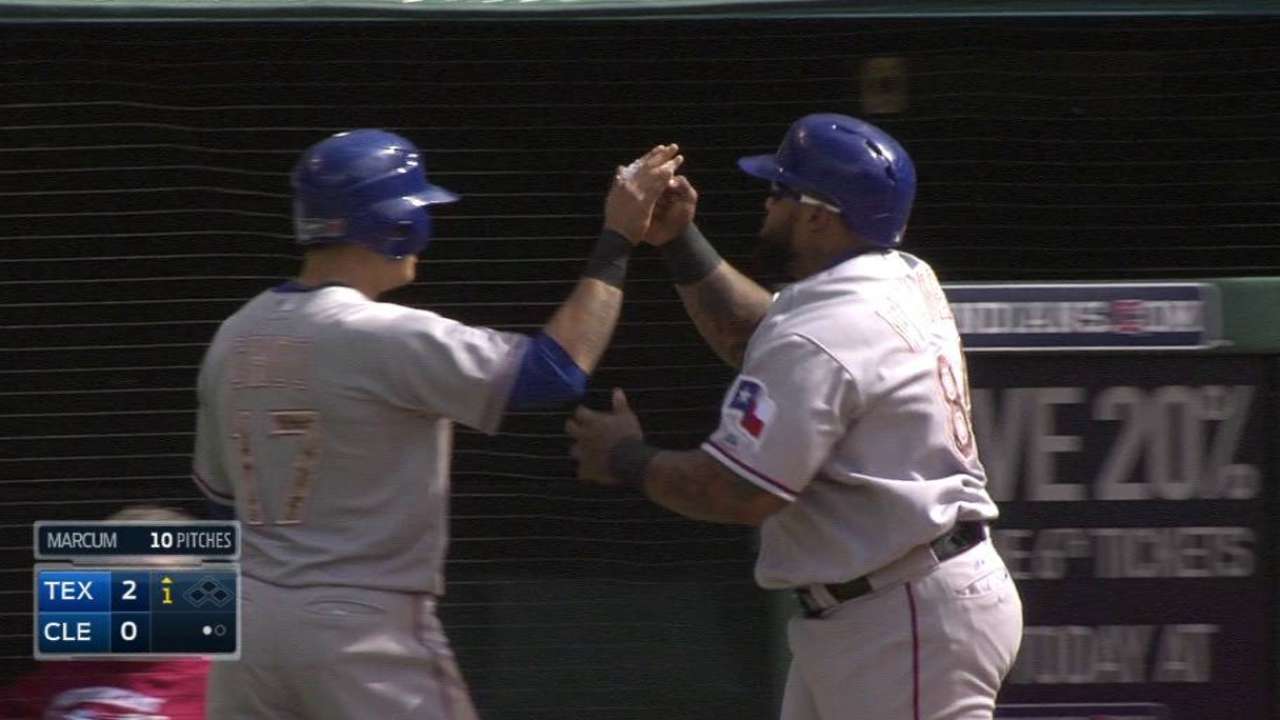 2. He's more engaged in the game than ever.
You might have this vision of the DH as a sort of circus animal brought out to perform his tricks four or five times each night and retreating to his holding pen in between. For Fielder, though, the time on the bench between at-bats has proven plenty productive.
"He's on the bench, talking these pitchers through the at-bat," Banister said. "They can't hear him, but I can hear him, and it's amazing."
Fielder said it's his way of continuing to learn more about the mental duel taking place between pitcher and hitter. And having been limited by the neck injury to just 42 games last season, he has a newly rediscovered zest not just for that in-game strategizing but also the pregame routines that had formerly begun to feel mundane.
"I think [in the past], I took it for granted a little bit," he said. "Once I was out of it, I realized how much I love the game. I promised myself I wouldn't take that for granted anymore and always be prepared to play."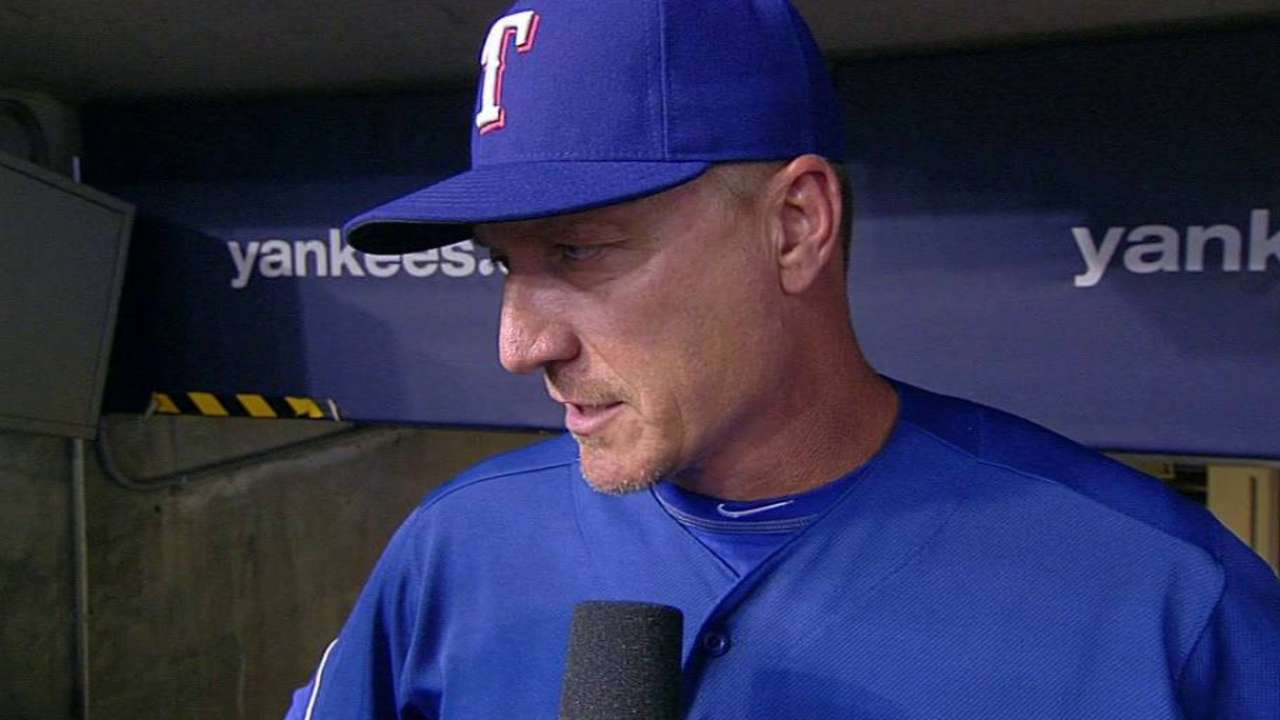 3. His hot bat is not actually his own.
Fielder and Adrian Beltre were walking back from the indoor cages at Progressive Field the other day, but only Beltre was clutching a bat. For the Rangers' two middle-of-the-order mashers, the key tool of the trade is a shared one.
Fielder first attempted to use Beltre's bats last year.
"But with the neck and the arm [injuries], it was too heavy," Fielder said. "Last year, I thought everybody's bats were heavy. That's how I knew something was wrong. Once I got to spring this year, I picked [Beltre's bat] up again and said, 'Oh, it doesn't feel too bad. I've got two arms now.'"
Fielder said Beltre's bats weigh up to 34 ounces, or two ounces more than the ones he used to swing. And the two share more than just a bat.
"He's kind of like I am," Fielder said. "I'm not really a cerebral hitter, where it's like, 'All right, here I'm looking changeup.' Nah. I wish I could do that. He's similar, in a way, and it helps having someone like that who has your same game plan. See the ball, hit the ball."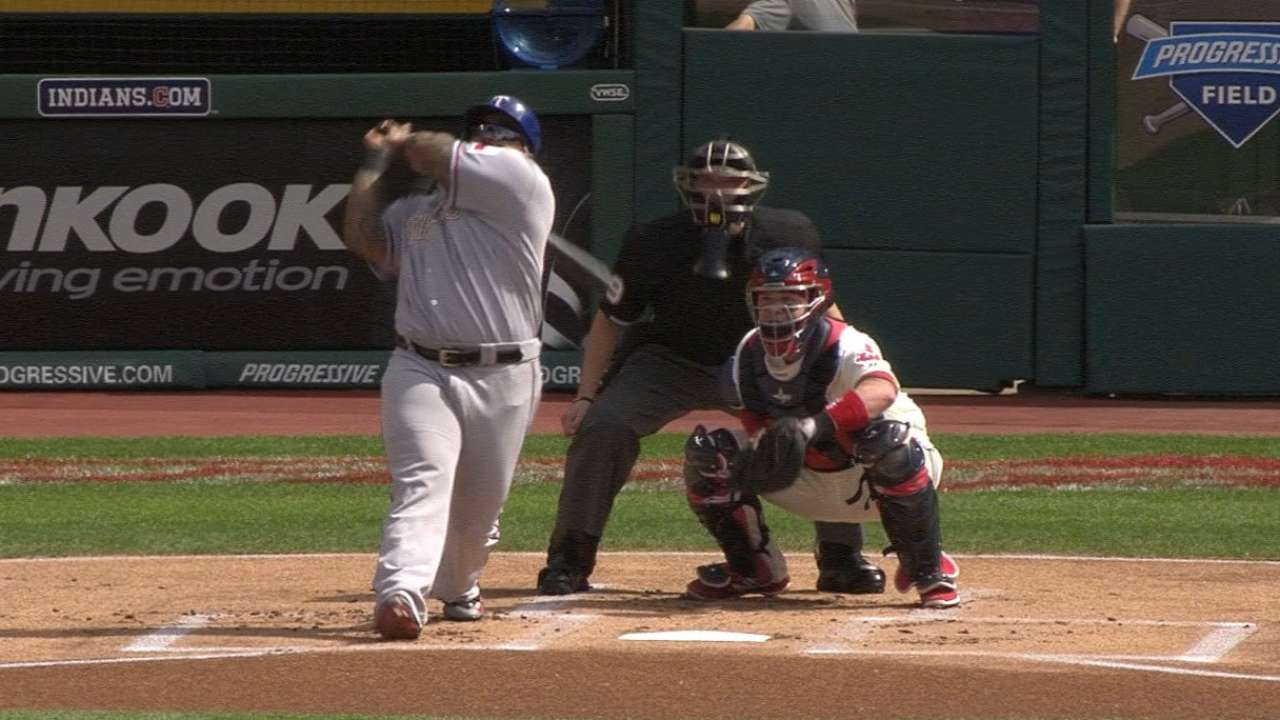 4. He's becoming more shift-proof.
Back in Spring Training, Fielder did something he had never done before, laying down a perfect bunt for a hit. It was a necessary "keep 'em honest" attempt for a guy who has so often seen an extra infielder on the right-hand side of second base.
But Fielder isn't about to become the next Juan Pierre. The bunt hit might serve its occasional purpose for a power hitter, but Fielder is here to hit, period. And in 2015, he's done a better job of going the other way with pitches. Though all of Fielder's homers have been to the pull side, 28.2 percent of his batted balls have gone to the opposite field, a rise of more than 3 percent from his last full season in 2013 and his highest such percentage since his last season with the Brewers, in '11.
"He's a hitter," Banister said. "That's what real hitters do ... If you don't learn to hit first, the power will come and go and be inconsistent. The reason shifts come about is way too many guys will not get out of their power stroke. I like to think Prince Fielder is a hitter that has a lot of power."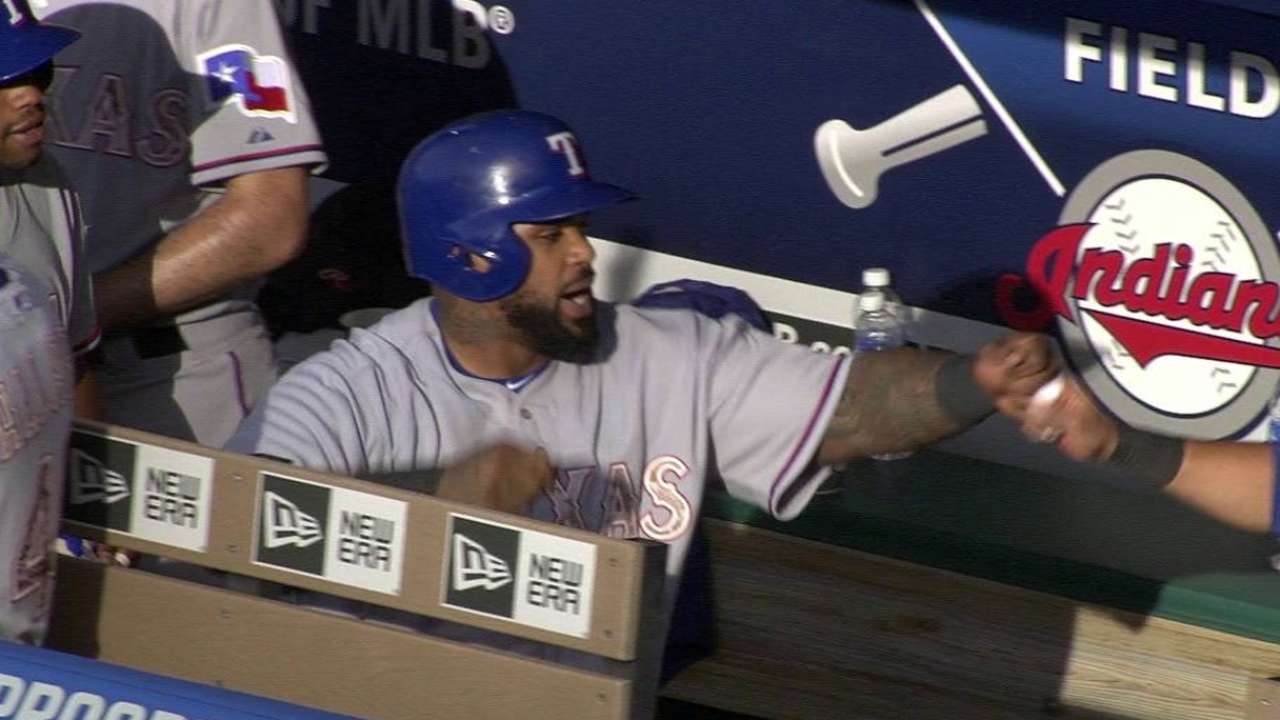 5. He's crushing pitches on the outer third.
This, of course, plays into the opposite-field impact Fielder is making. Look at Fielder's numbers against outside pitches the past three seasons:
2013: .251 AVG, .361 SLG, 26.3 miss percentage
2014: .214 AVG, .250 SLG, 26.9 miss percentage
2015: .351 AVG, .505 SLG, 20.7 miss percentage
It's been a while since we've seen what a healthy, happy Fielder can accomplish. In 2015, that guy has returned to lift weights, lift balls out of the yard and lift the Rangers.
Anthony Castrovince is a reporter for MLB.com. Read his columns and follow him on Twitter at @Castrovince. This story was not subject to the approval of Major League Baseball or its clubs.