Wood puts early-season struggles in rearview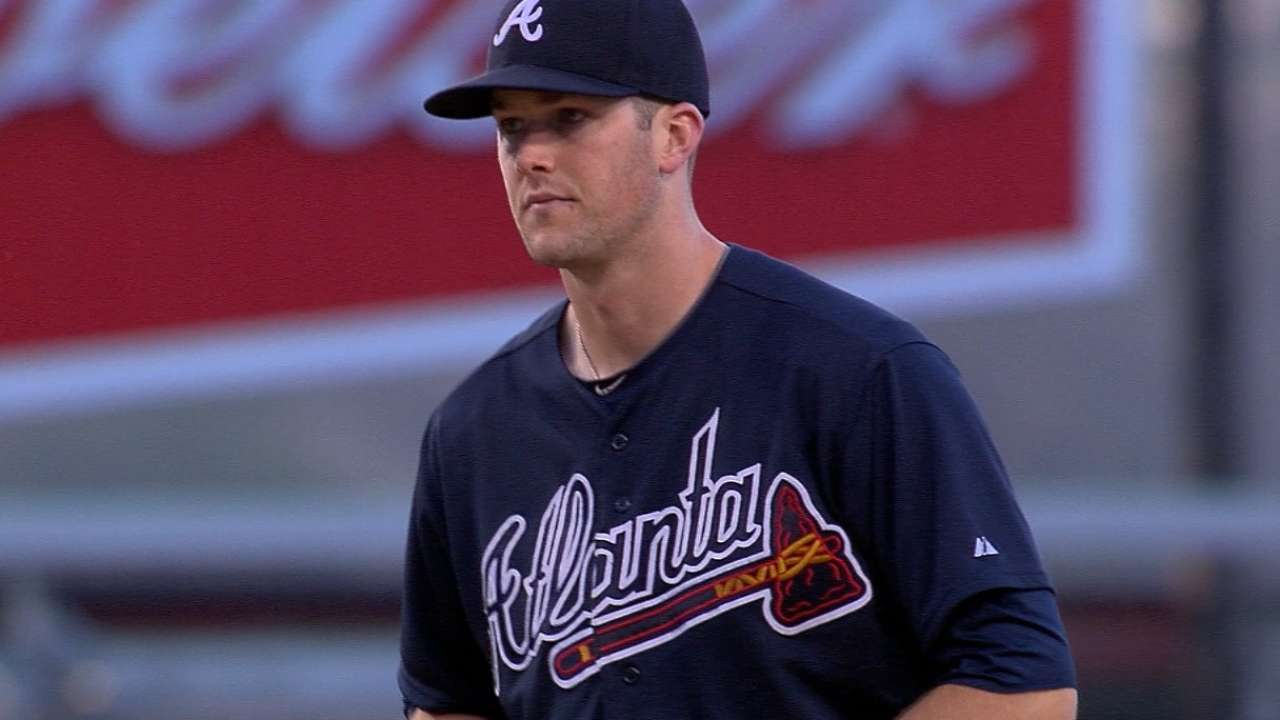 LOS ANGELES -- As Alex Wood prepared for Wednesday night's start at Dodger Stadium, he admittedly worried about the fact that he had lost a lot of strength while battling a stomach virus this past weekend. But as the young southpaw completed seven strong innings and helped the Braves claim a 3-2 win over the Dodgers, he gained the belief that he has indeed distanced himself from his early-season woes.
"I'll be honest. I was nervous after not throwing for 10 days and being as sick as I was," Wood said. "It was kind of one of those things where before the game you tell yourself, 'I wonder what is going to happen tonight?'"
Because the virus had prevented him from making his scheduled start against the Brewers last week, Wood was pitching for the first time since May 16. His challenge was enhance by the fact that he was matching up against Zack Greinke, who owns the National League's second-best ERA.
But none of this seemed to matter to Wood as he allowed just one run and seven hits over seven innings. For the first time this season, he truly looked and felt like he had while producing a 1.92 ERA over last year's final 11 starts.
"It was no doubt the best [my mechanics and stuff] it has been," Wood said. "Now, it's just about going out and repeating it. Hopefully, this is a good starting point."
While producing a 4.32 ERA through this season's first five starts, Wood battled mechanical issues that adversely affected his sinker and changeup. But some of the recent adjustments he has made with the help of pitching coach Roger McDowell have allowed him to surrender just two earned runs in the 19 2/3 innings he has completed since allowing the Nationals three first-inning runs on May 10.
Wood surrendered a leadoff single to Joc Pederson on Wednesday night and then retired each of the next nine batters he faced. A pair of infield singles led to a Dodgers run in the fourth. The determined young pitcher then showed his mettle when he stranded a pair of runners in the fifth inning and then induced Alex Guerrero's inning-ending double play groundout after the Dodgers put two on with one out in the sixth.
"He's a competitor," Braves manager Fredi Gonzalez said. "I had to take the helmet off his head in the top of the eighth inning because he wanted to hit."
While he might not have gotten that chance to pitch into the eighth, Wood still exited this outing feeling much more confident than had throughout most of this season's first two months.
"It's been a number of things," Wood said. "The best comparison I can give is just putting the pieces of a puzzle together. You know it's going to click. It's a matter of when and putting those right parts in place. After tonight and [my recent side sessions], I feel like it's really starting to click."
Mark Bowman is a reporter for MLB.com. This story was not subject to the approval of Major League Baseball or its clubs.