MLB.com Columnist
Fred Zinkie
DraftKings picks: Beltre, Kluber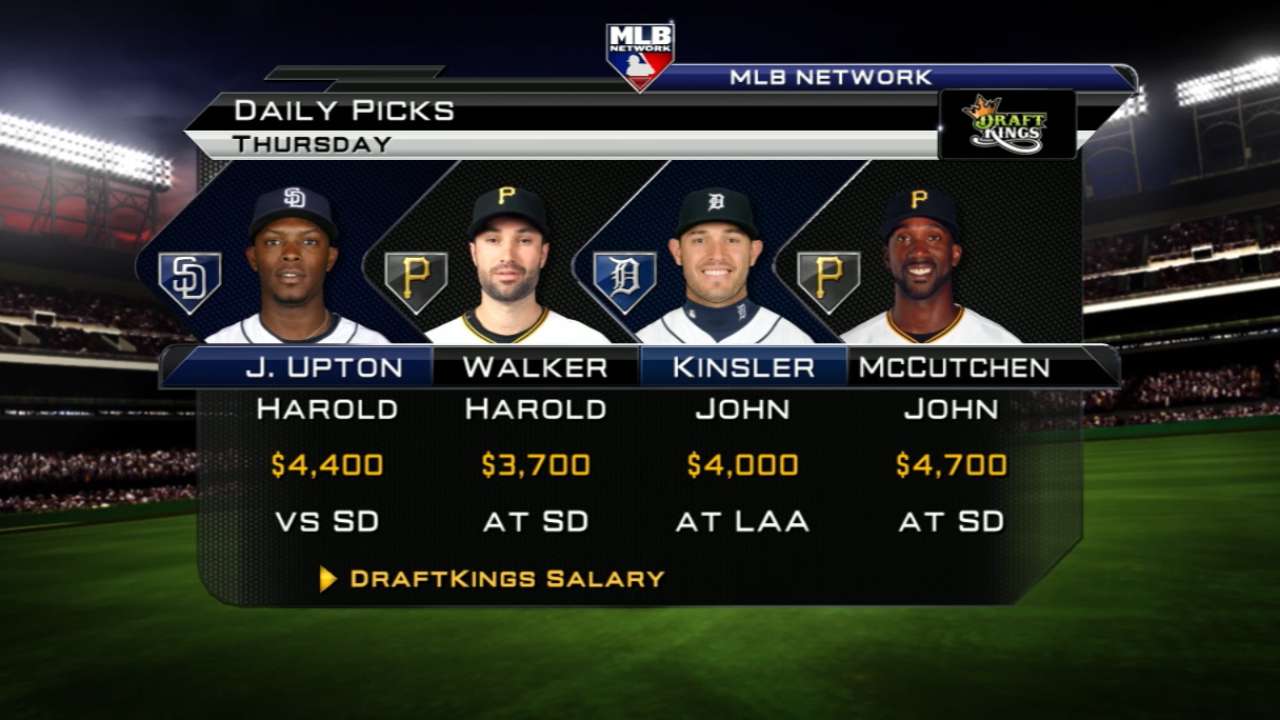 Welcome to DraftKings fantasy baseball, the Official Daily Fantasy Game of Major League Baseball.
The players listed below could provide difference-making stats for DraftKings participants today.
Pablo Sandoval (Red Sox): The switch-hitting Sandoval has long fared best vs. right-handers, against whom he has compiled a lifetime .854 OPS (.686 vs. lefties). He could drive in multiple runs against Martinez, who has registered a career 4.68 FIP.
Dustin Pedroia (Red Sox): The second baseman has achieved balanced career splits, which include an impressive career .296/.355/.437 slash line against righties. With just six games on the schedule, DraftKings participants could consider stacking the heart of the Red Sox lineup against Martinez.
Hanley Ramirez (Red Sox): Ramirez has traditionally fared slightly better against lefties, but he has compiled an impressive career .296/.365/.489 slash line against right-handers. The outfielder could be part of a Red Sox stack against Martinez at a hitter-friendly venue.
Adrian Beltre (Rangers): The third baseman could drive in multiple runs at his hitter-friendly home park when he brings his lifetime .290/.362/.487 slash line against left-handers into a matchup with Red Sox southpaw Eduardo Rodriguez. The 22-year-old could struggle in what will be his first Major League start.
Elvis Andrus (Rangers): The shortstop has compiled a lifetime .716 OPS against left-handers, compared with a .664 mark vs. righties. If he can reach base, Andrus could swipe a bag against the inexperienced battery of Rodriguez and rookie catcher Blake Swihart.
Mike Trout (Angels): The outfielder could make improvements on an already-impressive career .312/.396/.562 slash line against righties when he faces Tigers right-hander Buck Farmer. The young right-hander will be making his initial 2015 appearance after allowing 12 runs across 9 1/3 innings during the 2014 season.
Kole Calhoun (Angels): Because Calhoun recently relocated to the cleanup spot, he could score or drive in multiple runs against the inexperienced Farmer. The outfielder has accumulated balanced career splits, but he has ripped 25 of his 29 career roundtrippers against righties.
Erick Aybar (Angels): Hitting .313 this month, Aybar was recently promoted to the leadoff spot. The shortstop could use his premium lineup position to score multiple runs against Farmer, who has made just 13 Minor League starts above the Class A level.
Gregory Polanco (Pirates): Polanco has compiled pronounced career splits, with a .702 OPS against right-handers compared with a .452 mark vs. lefties. The outfielder could reach base against Padres righty Ian Kennedy (lifetime 1.28 WHIP), and he could swipe a bag against catcher Derek Norris, who has allowed the most steals (35) in the Majors this season.
Brett Gardner (Yankees): Because he is hitting .279 with 12 steals and 29 runs, the outfielder has helped his share of DraftKings participants this season. Gardner -- who hit 17 homers in 2014 -- could contribute in multiple ways when he brings his .751 OPS vs. righties (.708 against lefties) into a matchup with A's righty Kendall Graveman, the owner of a 6.04 ERA and a 1.70 WHIP in 2015.
Corey Kluber (Indians): After some initial struggles this season, the 2014 American League Cy Young Award winner has regained his peak form by posting a 37:1 strikeout-to-walk ratio across his past three outings. Set to pitch at spacious Safeco Field, Kluber could be primed for his fourth straight stellar start.
James Paxton (Mariners): DraftKings participants who enter contests with a high number of entrants could choose to go against the grain by passing on Kluber and selecting his mound opponent. Paxton has rebounded from a slow start by allowing six runs across a string of five consecutive quality starts. The southpaw could post impressive totals at his pitcher-friendly home park against an Indians lineup with several key members who have traditionally fared best against righties.
A.J. Burnett (Pirates): Burnett is off to a terrific start this season, with a 1.37 ERA and a 1.10 WHIP across nine outings. Because he has registered a lifetime 8.3 K/9 rate, he could accumulate whiffs and quality frames when he faces the Padres at pitcher-friendly Petco Park.
CC Sabathia (Yankees): Recommending a starter with a 5.47 ERA and a 1.42 WHIP in 2015 is unusual, but Sabathia could be a cost-effective second hurler on a night with few options. The left-hander typically struggles with homers, but he could succeed at keeping the ball in the yard when he works at the spacious Coliseum. With that in mind, he could compile quality innings against an A's lineup that ranks 29th in the Majors with a .576 OPS against lefties.
All statistics are accurate through the completion of Tuesday's games.
Fred Zinkie is the lead fantasy baseball writer for MLB.com. Follow him on Twitter at @FredZinkieMLB. This story was not subject to the approval of Major League Baseball or its clubs.