Uribe trade shakes up Dodgers' roster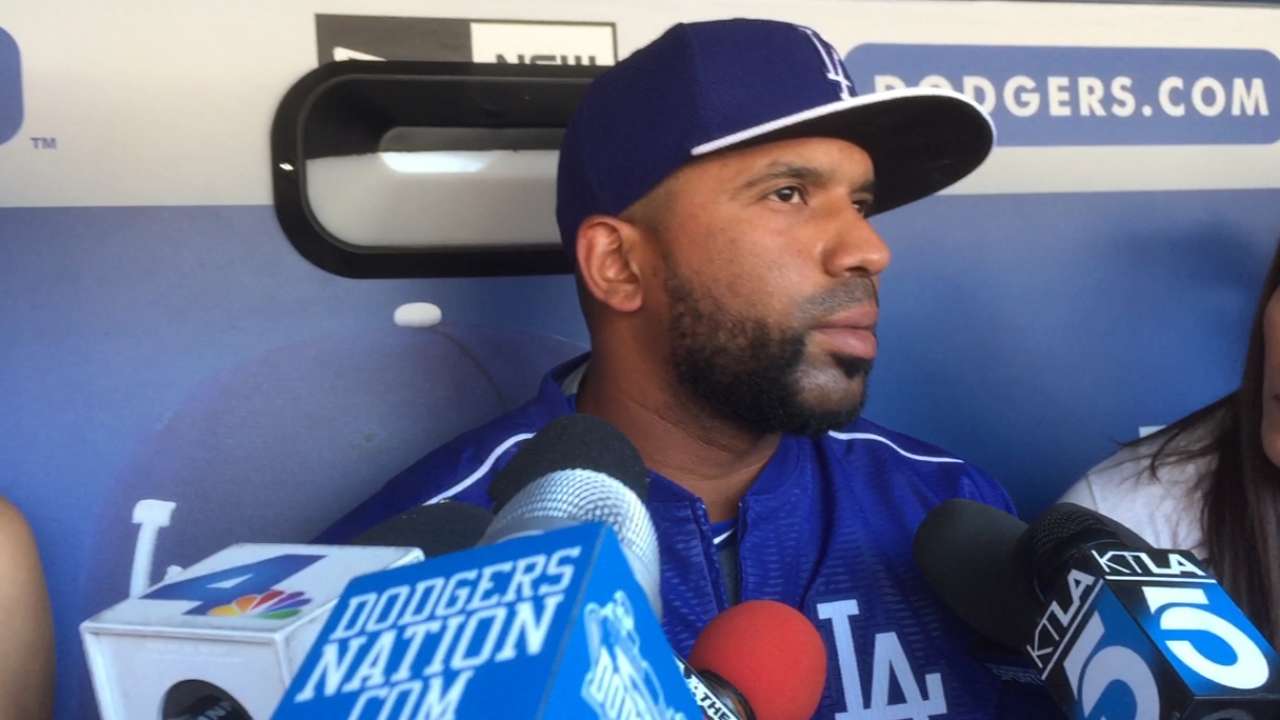 LOS ANGELES -- Juan Uribe got his wish of playing time and made his way into the starting lineup on Wednesday night at Dodger Stadium.
The only difference is that he donned the red and blue of Atlanta after he was traded to the Braves earlier in the day.
"Juan's always been a great teammate, one of those guys that's great in the clubhouse. Keeps guys laughing and things like that," Dodgers manager Don Mattingly said. "It's always tough to lose a guy like that."
Uribe wanted the chance to play every day, but the Dodgers simply didn't have room for him because of the emergence of Justin Turner and Alex Guerrero.
"If a guy's not happy -- and he hasn't been happy probably the last couple of weeks with his situation -- then it's never good," Mattingly said. "You want the pieces to fit, and Juan was getting to be a tougher fit, just from the standpoint of our guys that we have here."
For the Dodgers, most of their return in the trade won't necessarily make an impact in the big leagues right away. They acquired veteran infielder Alberto Callaspo and added him to the big league roster. The 32-year-old can play first, second or third base and is a switch-hitter coming off the bench. The other pieces of the trade were scattered in different directions.
The Dodgers designated left-handed pitcher Eric Stults for assignment. Stults pitched 3 2/3 scoreless innings against the Dodgers on Tuesday night.
Lefty Ian Thomas, 28, was sent to Triple-A Oklahoma City and right-hander Juan Jaime, 27, will be sent to extended spring training in Glendale, Ariz., to work on his control.
Jaime showed flashes of effectiveness with Atlanta, striking out 19 in 13 2/3 innings during the past two seasons, but his high walk rate and 5.93 career ERA raise concern.
"He can really miss bats," president of baseball operations Andrew Friedman said. "The limiting factor with him is the control. So we'll send him to Camelback and really attack the problem. If he can harness that even a little bit, we feel like we've added a really good player."
In a separate move, the Dodgers called up outfielder Chris Heisey from Oklahoma City and designated righty reliever Sergio Santos for assignment.
Santos appeared in 12 games for the Dodgers and posted a 4.73 ERA. Friedman said he "absolutely" wants to keep the 31-year-old in the organization.
The Dodgers had been playing with a short bench, as the club was using an eight-man bullpen. However, with outfielder Scott Van Slyke being limited with a minor back injury, the Dodgers wanted to bring an additional position player into the fold to maintain roster balance.
Steve Bourbon is an associate reporter for MLB.com. This story was not subject to the approval of Major League Baseball or its clubs.