A-Gon leading NL first basemen All-Star vote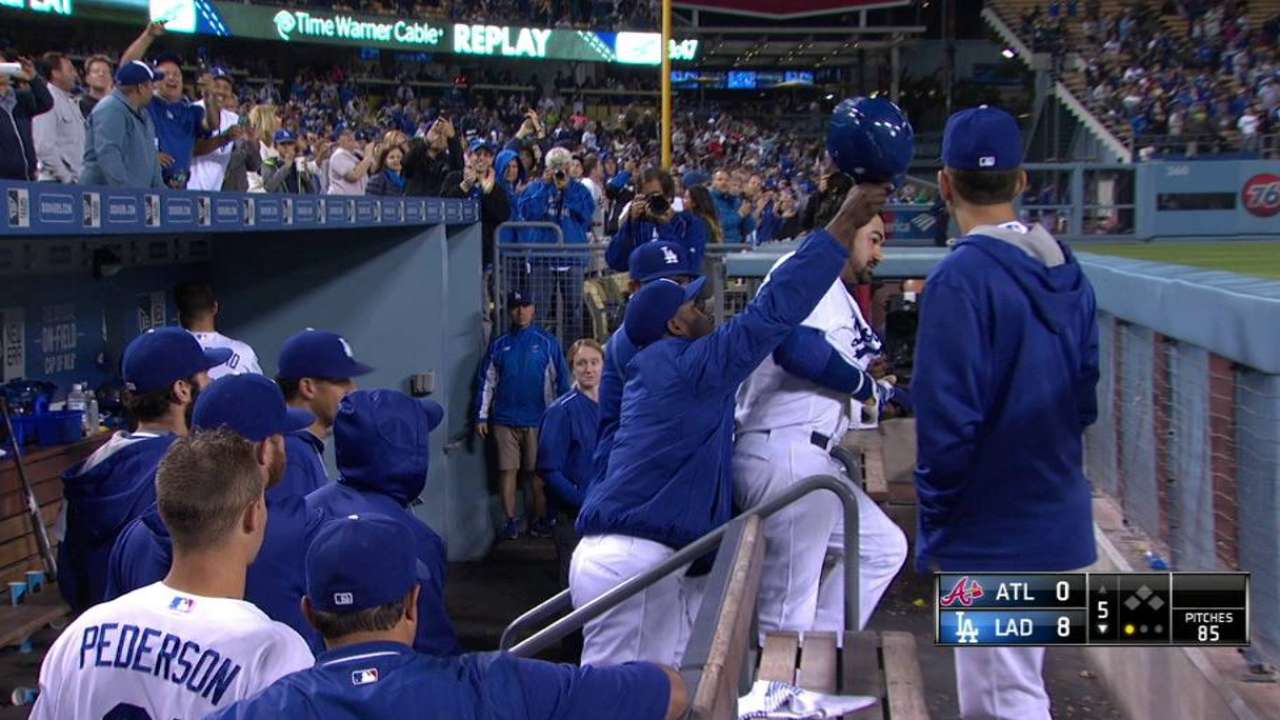 LOS ANGELES -- Dodgers slugger Adrian Gonzalez is leading National League first basemen in fan voting for the 2015 All-Star Game. Fans can continue to vote using the 2015 Esurance MLB All-Star Game Ballot until July 2.
Gonzalez is nearly doubling his competition at the position. He has 929,016 fan votes, while no other NL first baseman has more than 500,000. The Cubs' Anthony Rizzo and the D-backs' Paul Goldschmidt are second and third, respectively.
Gonzalez is a four-time All-Star, appearing in the Midsummer Classic from 2008-11.
He is second in the NL with a .344 batting average, trailing only Miami's Dee Gordon. Gonzalez ranks fifth in the National League in RBIs and on-base percentage and is eighth in the league with 10 home runs.
Gonzalez reached a career milestone Tuesday night against the Braves, passing 1,000 career RBIs on a two-run homer.
Rookie leadoff man Joc Pederson currently sits sixth among National League outfielders, with 390,885 fan votes. He leads the Dodgers with 12 home runs and is second on the club with 23 RBIs.
The top three vote-getters will be selected as outfield starters; Pederson trails Miami's Giancarlo Stanton, who currently sits in third place, by approximately 350,000 votes.
Though he's only appeared in 11 games this season, Yasiel Puig is in 13th place among outfielders. Puig, a starter in last year's All-Star Game, is hitting .279 but has been on the disabled list since April 25 with a strained left hamstring.
In his first season with the Dodgers, Howie Kendrick is third among second basemen, with 385,427 votes, trailing Gordon and Kolten Wong.
Kendrick was an American League All-Star in 2011 with the Angels. The veteran is hitting .298 this season with four home runs and 18 RBIs.
Fans can cast their votes for starters at MLB.com and all 30 club sites -- on their computers, tablets and smartphones -- using the 2015 Esurance MLB All-Star Game Ballot until Thursday, July 2, at 11:59 p.m. ET. For the first time, voting is exclusively online, where fans may submit up to 35 ballots.
Fans may also receive the ballot by texting VOTE to 89269 (USA) or 101010 (Canada). Or text VOTA for a ballot in Spanish. Message and data rates may apply. Up to five messages. No purchase required. Reply STOP to cancel. Reply HELP for info.
Following the announcement of the 2015 All-Stars, be sure to return to MLB.com and cast your 2015 Esurance MLB All-Star Game Final Vote for the final player for each league's All-Star roster. On Tuesday, July 14, watch the 2015 All-Star Game live on FOX, and during the game visit MLB.com to submit your choice for the Ted Williams Most Valuable Player Award presented by Chevrolet via the 2015 MLB All-Star Game MVP Vote.
MLB.com will provide extensive online coverage of All-Star Week festivities.
The 86th All-Star Game will be televised nationally by FOX, in Canada by Rogers Sportsnet and RDS, and worldwide by partners in more than 200 countries via MLB International's independent feed. ESPN Radio and ESPN Radio Deportes will provide national radio coverage of the All-Star Game. MLB Network and SiriusXM will also provide comprehensive All-Star Week coverage. For more information, please visit allstargame.com.
Steve Bourbon is an associate reporter for MLB.com. This story was not subject to the approval of Major League Baseball or its clubs.