#TBT: A slugfest for the books in Detroit
Twelve homers hit in White Sox-Tigers game on May 28, 1995, a big league record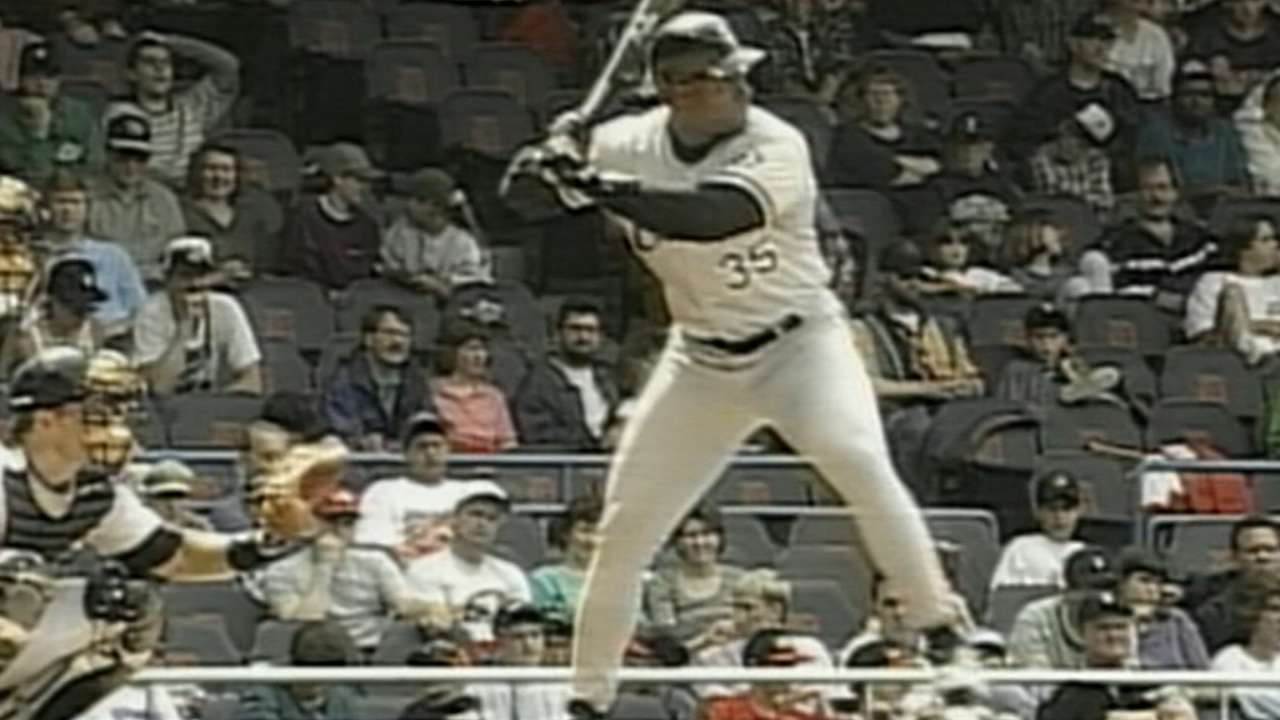 A quick glance at the weather conditions in the box score paints a pretty grim picture of what was going on at Tiger Stadium on this particular day.
The field conditions were categorized as "soaked." The weather? Overcast and rain. And the winds were estimated to be blowing out to left field at 10 mph.
Looking back, that last one may have been slightly understated.
Twenty years ago, on May 28, 1995, the White Sox and Tigers gathered at Tiger Stadium for a seemingly innocuous matchup between two sub-.500 American League teams. Three hours and 46 minutes -- and several bloated ERAs and batting averages -- later, Detroit and Chicago had made history with enough home runs and extra-base hits to last them the rest of the week, and maybe even into the next.
The White Sox won this one, 14-12. The two teams combined to record 12 homers -- seven by the Tigers and five by the White Sox -- and 21 extra-base hits, setting a Major League record and AL mark, respectively. (The home run record has since been tied on one occasion … by Detroit and Chicago on July 2, 2002.)
The infamous 1995 contest also wreaked havoc on both starting pitchers, one lasting one out into the second inning while the other hung in there for three.
"Probably a really fun day for a fan," recalled legendary Tigers shortstop Alan Trammell. "Let's be honest -- people like to see offense. It was one of those days."
Here's the breakdown:
For Chicago, Ray Durham, Craig Grebeck and Frank Thomas each homered once, with Ron Karkovice going deep twice. On Detroit's side, Chad Curtis, Cecil Fielder and Kirk Gibson each hit two homers, and Lou Whitaker capped it with a solo shot in the eighth inning.
Five White Sox pitchers appeared in this game. Four allowed at least one homer, with starter James Baldwin completing the quadruple whammy, yielding four -- all within the first two innings.
The final blow against Baldwin, a Fielder two-run shot to left-center field, knocked the right-hander out of the game.
Things didn't improve from there. Kirk McCaskill actually pitched quite admirably given the circumstances, hanging around long enough to log three innings and allow "only" three runs. One was on a home run, but it didn't arrive until fourth inning, giving McCaskill nearly two full innings of relatively drama-free pitching.
On the Tigers' side, four pitchers were used. The starter, surprisingly, was lefty David Wells, who had very few of "those days" in his career. In fact, he ended up with a 16-8 record and a 3.24 ERA in 1995, including a 10-3 mark with a 3.04 ERA for Detroit before he was traded midseason to Cincinnati.
Clearly, Wells' May 28 start against the White Sox was uncharacteristic. But it was a doozy. He yielded two doubles and three homers, walking one and striking out two.
"I'm very surprised that David Wells would be involved in a game like that," Trammell said. "But you know what? We're all human. It's part of baseball and you have to turn the page sometimes. It's part of the great game. You're part of baseball history -- maybe not in a good way, I guess, but you're part of the history."
Trammell contributed plenty to Major League and Tigers history during his 20-year career as one of Detroit's most celebrated athletes, but in this game, he was actually just a mere mortal, logging two singles in six plate appearances.
"I was pinging it that day, I guess," Trammell quipped.
It wasn't from lack of effort. As Robin Ventura, now managing the White Sox, pointed out, the hitters, aided by winds that most likely were blowing at a pace slightly speedier than 10 mph, were all but salivating as they strode to the plate. After all, isn't hitting contagious?
"It was on rare occasion that the wind was blowing like this, but it just seemed like anything that went in the air just took off," said Ventura, who was 1-for-4 that day as Chicago's starting third baseman. "You could tell by everybody's swings that they were hoping to pop something up."
Everybody did -- except for just a couple, including Ventura.
"I could not get anything in the air, so you are pretty disappointed," Ventura said. "You are pretty disappointed when everybody is hitting homers and you are just ... especially there at old Tiger Stadium, and you can't get anything in the air on a perfect day to hit a homer.
"It was like any time a guy even hit it in the air, you would kind of go back on a ball and it would take off. It was a homer."
It could have been worse for Ventura. He could have been Tigers right fielder Danny Bautista, who had a total of six at-bats in that game and struck out five times. (That also tied another record for a nine-inning game.)
Or he could have been Sox manager Gene Lamont, whose memory 20 years later is fuzzy when he tries to conjure up this particular day. The only thing that really stands out to him from the '95 season was the fact that the White Sox dismissed him. Turns out that moment arrived only four days after this win.
"What I remember is we always hit a lot of home runs [in Detroit]," Lamont recalled. "The thing that really surprised me was that we always handled their hitting really well. We struck them out a lot."
Over the course of a season, anything that can happen probably will. There's no explanation for this record-setting game, especially considering it followed a 1-0 outcome between these two teams one day earlier.
"You can try to scratch your head and try to figure things out," Trammell said. "Sometimes, you're better off not. It's just baseball. Things happen. You just chalk it up to, 'One of those days.'"
Alyson Footer is a national correspondent for MLB.com. Follow her on Twitter @alysonfooter. This story was not subject to the approval of Major League Baseball or its clubs.