Holliday's on-base streak sets NL mark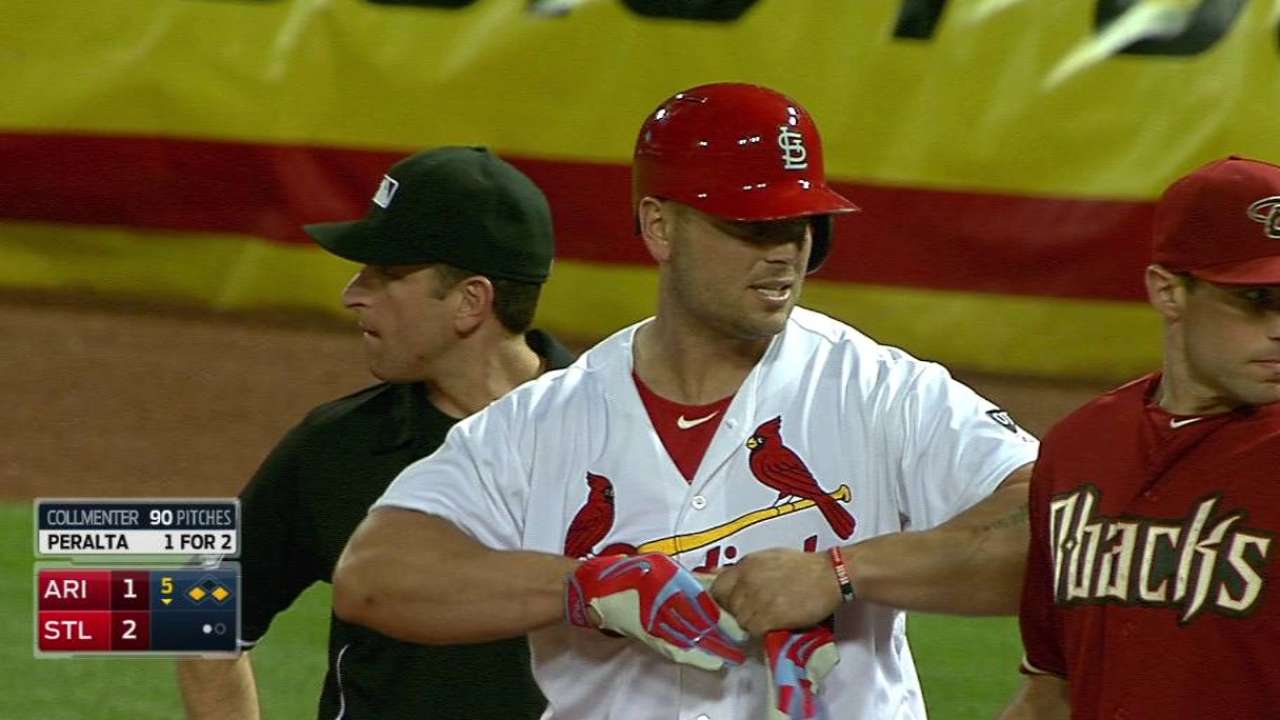 ST. LOUIS -- Matt Holliday hit his way into the record books at Busch Stadium on Wednesday night when he singled in the fifth inning of the Cardinals' 4-3 win over Arizona to become the first National League player to reach base in his first 43 games of a season.
Holliday ripped an 0-1 pitch from D-backs starter Josh Collmenter to right-center field and received a standing ovation from a crowd 43,715 as his teammates watched from the top step of the dugout.
"It's important, it's cool," Holliday said. "It's something to be proud of, especially in this era, with the pitching the way it is."
When manager Mike Matheny learned Holliday's feat constituted not only a franchise best, but also an NL record, he expressed profound appreciation for the significance.
"That's ridiculous," Matheny said. "That's amazing."
The Major League record for most games reached consecutively to start a season is 53, set by former Yankees shortstop Derek Jeter in 1996. Four other American League players -- Frank Thomas, 52 (White Sox, '96); Mark McGwire, 48 (Athletics, '96); Alvin Davis, 47 (Mariners, '84); and Harry Heilmann, 44 (Tigers, '23) -- stand between Holliday and Jeter's record.
Former Cardinals first baseman Albert Pujols was the last National League player to reach base in 42 straight games to open a season.
"There are some great pitchers out there, and we've faced a lot of them," Holliday said. "To find your way on base in that many games in a row in the National League is pretty good."
Including his final two games of the 2014 season, Holliday has reached in 45 straight games, which is the longest streak by a St. Louis player since Jim Edmonds reached in 47-straight in 2004.
Stan Musial owns the longest on-base streak in franchise history at 55.
"The approach he's had, how consistent he's been, is a great compliment to the player that he is," Matheny said, "but also the amount of work he's put in to have the kind of start that he's had."
David Cobb is an associate reporter for MLB.com. This story was not subject to the approval of Major League Baseball or its clubs.