Efficiency grants Kendrick long-awaited win
Rockies righty cruises until blip in 8th, finishes with 75 pitches for first victory since Opening Day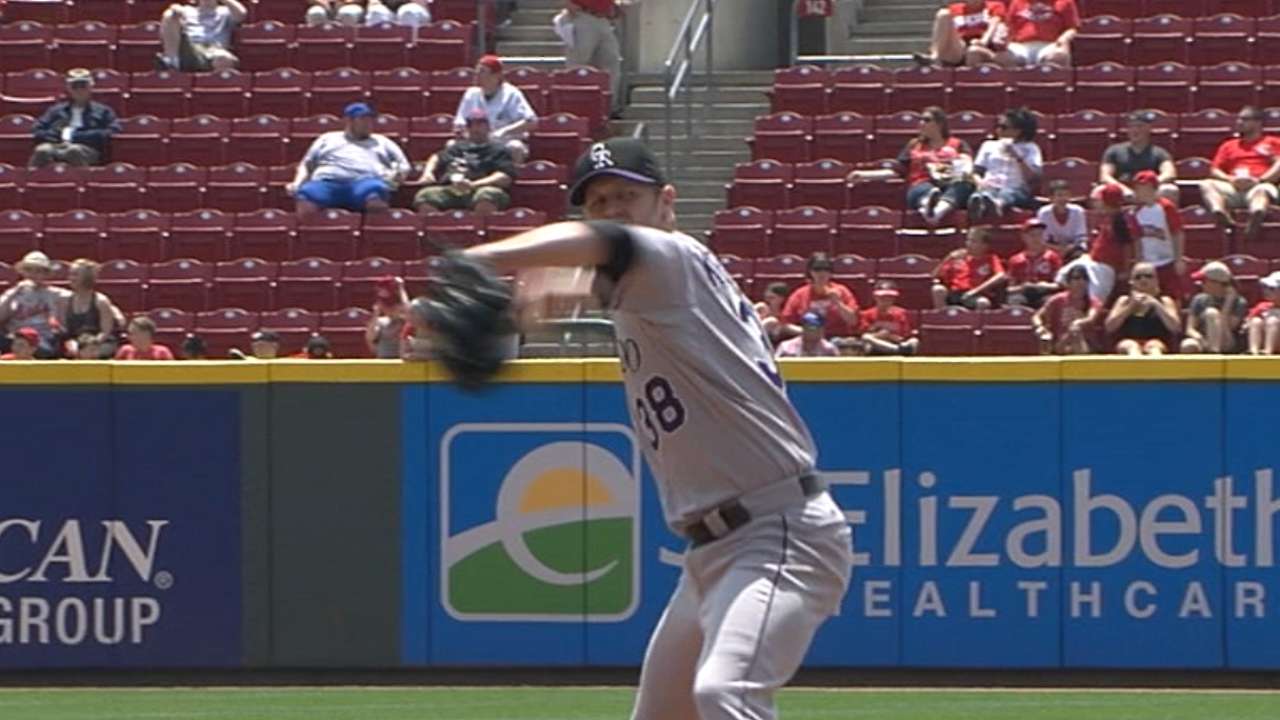 CINCINNATI -- The sun shined Wednesday in a way the Rockies had not seen in a long while, accentuating the sparkling Ohio River and the downs of fern and forest green -- the backdrop of Great American Ball Park. It was a Kyle Kendrick kind of day.
Kendrick knifed through the Reds to the tune of 75 pitches in 7 1/3 innings, before receiving clutch relief help from Rafael Betancourt and John Axford, for his first win since Opening Day, a 6-4 decision.
It's like spring finally arrived for Kendrick and the Rockies -- who have spent the last month dodging snow, rain and hail (only the lack of sleet separated them from postal delivery folk) -- and they had not won a series since sweeping the Giants April 13-15.
"It was great with the warmth," Kendrick said. "It was nice to sweat out there for a change."
After a poor April, Kendrick's work has been brighter. Of his previous three starts, two bordered on standout and another was winnable, but neither he nor his club won. This time, he pitched like the savvy dude the Rockies signed to a one-year deal after he'd spent eight years surviving a bandbox ballpark in Philadelphia.
Kendrick held the Reds to four hits. Two left the park -- Todd Frazier's laser in the first inning and Tucker Barnhart's fluttering fly that landed barely in the right-field seats in the eighth. But otherwise, Kendrick efficiently achieved 11 outs on two or fewer pitches each. He had thrown 61 pitches overall through seven innings.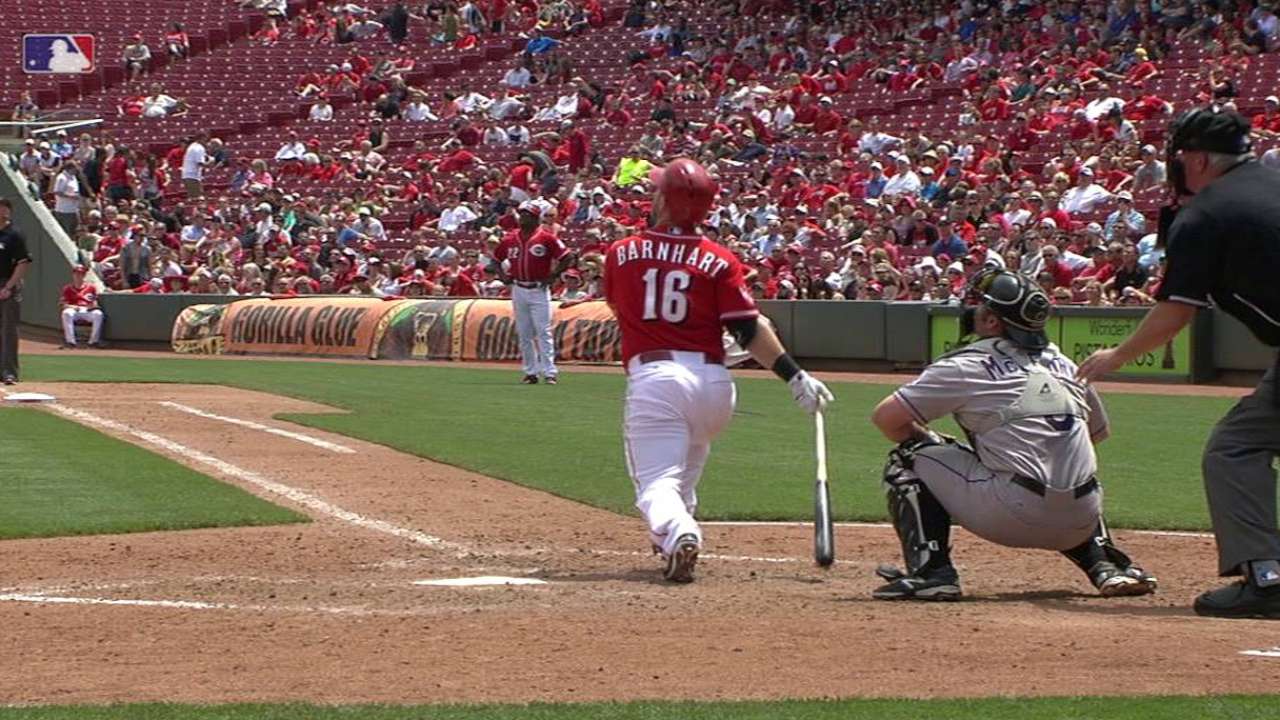 "I knew I got some one-pitch, two-pitch outs in those mid innings -- two, three, four, five, which kind of kept my pitch count down, which was nice," Kendrick said. "With a pitch count like that, I would have liked to have finished the game."
Barnhart homered to lead off the eighth, and with one out, Billy Hamilton singled and Skip Schumaker walked. Lefty Boone Logan's struggles nearly left Kendrick with another frustratingly unfulfilled start by walking in one run and giving up an RBI bloop single. However, Betancourt forced Marlon Byrd and Zack Cozart into weak fly balls.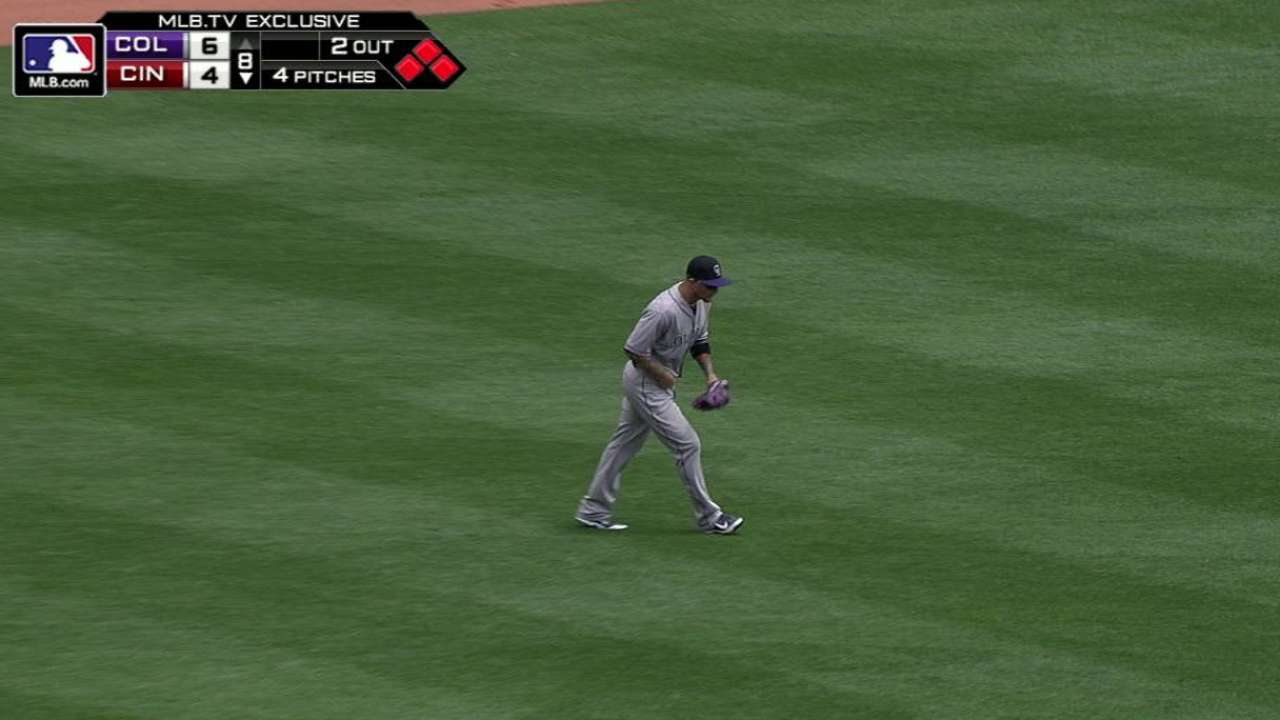 The runs that scored after Kendrick left drove the total charged to him to four. It was much like his last start, when struggling relief work left him charged with four runs in 6 1/3 innings against the Giants. Kendrick has a 3.90 ERA in his last four starts, but he has pitched better than that.
"For a guy throwing 87-89 [mph], you don't expect that as much, for a guy to try to crowd [the plate] that doesn't have much velocity," Reds manager Bryan Price said. "He did a nice job. We didn't make great adjustments today, I think."
Wednesday's outing, and his recent work, exhibits what the Rockies expected when they signed Kendrick to a one-year contract for $5.5 million.
"He's aggressive, attacking hitters, and he's in the bottom of the zone," Rockies manager Walt Weiss said. "Early on, some pitches were getting elevated. He's made an adjustment and really done a nice job."
Thomas Harding is a reporter for MLB.com. Follow him on Twitter @harding_at_mlb, and like his Facebook page. This story was not subject to the approval of Major League Baseball or its clubs.