Shark positions White Sox for timely win
Right-hander helps club end four-game slide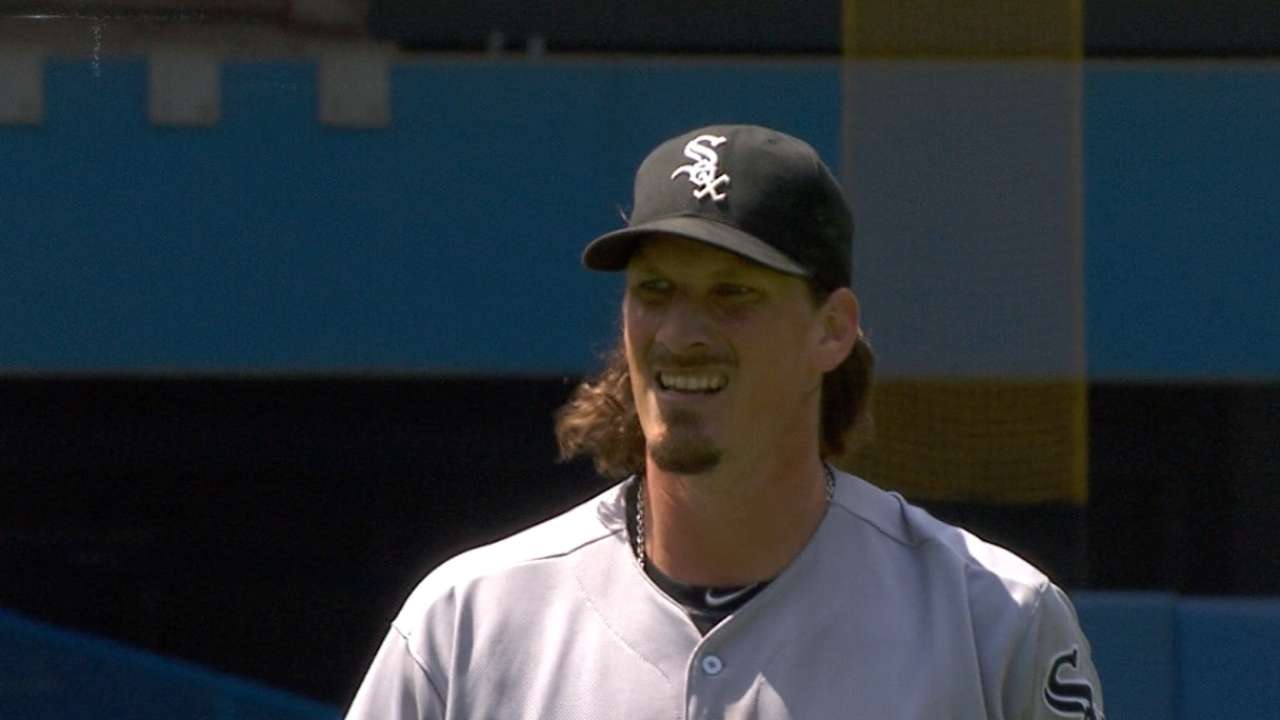 TORONTO -- Jeff Samardzija was all smiles after the White Sox pulled out a 5-3, 10-inning victory over the Blue Jays on Wednesday afternoon. And with good reason.
The right-hander tossed seven strong innings without allowing an earned run while registering his third consecutive quality start to help the White Sox snap a four-game losing streak. As the club moves on to Baltimore for a doubleheader Thursday, Samardzija said the win in the series finale was timely.
"In baseball, you always talk about streaks, and when you're going on good streaks, you wanna continue those and ride them out as along as you can. And when it's not going good, you wanna put a stop to it as fast as possible because it's a long season, but things happen fast," Samardzija said. "Mix in those wins if it's not going well, keep you where you need to be and enjoy those long win streaks when you get on them."
While he did not factor into the decision against the Blue Jays, Samardzija was on his game as he extended his streak without allowing an earned run to 14 innings. He struck out five and walked one while allowing eight hits.
Later Canada — off to Baltimore! pic.twitter.com/TWrH3OYOQh

— Chicago White Sox (@whitesox) May 27, 2015
Samardzija battled inconsistency in the early going of the season, but he appears to have settled into a groove, especially in his last three outings, during which he's thrown no fewer than seven innings while allowing a total of five earned runs in a span of 23 innings
"He's just been kind of on time with everything," White Sox manager Robin Ventura said. "Really aggressive, emotionally gets stronger as the game goes along. He pitched a great game."
Considering the team is kicking off an 11-game road trip, Samardzija said pitching deep into the game was important to keeping the bullpen fresh on the current stretch.
"I knew I had to come to the park today ready to throw a lot of pitches," he said. "And with what we've got ahead of us, with the doubleheader, and then two more [stops on the] road trip after that, I just knew I couldn't go out and throw a short-inning performance."
Jamie Ross is an associate reporter for MLB.com. This story was not subject to the approval of Major League Baseball or its clubs.