Fiers delivers on short rest as bats go quiet
Right-hander fans six over five innings in losing effort vs. Giants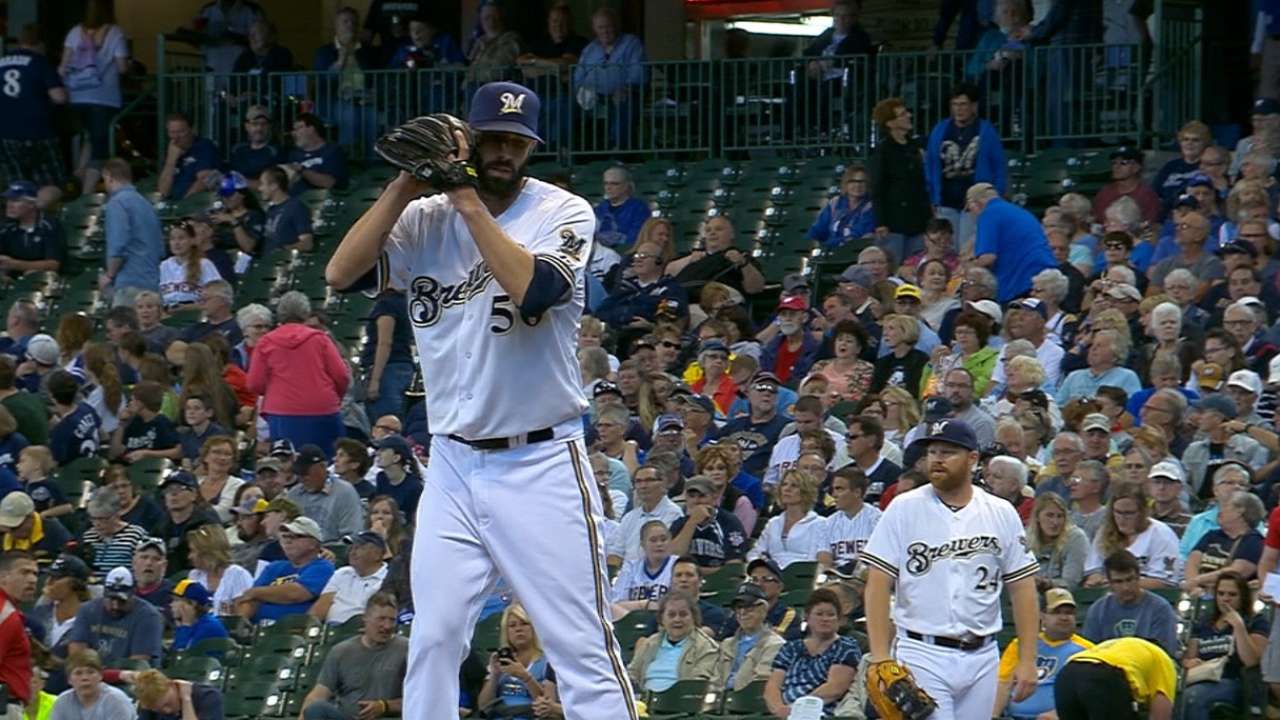 MILWAUKEE -- There wasn't much more the Brewers could ask out of starter Mike Fiers on Wednesday. The right-hander, pitching on three days rest, allowed just two runs and struck out six over five innings in the 3-1 loss to the Giants. In fact, Fiers' performance is exactly what manager Craig Counsell was looking for.
"That's what I was thinking: Get five good innings from him," Counsell said afterward. "He gave us a chance. He kept us in the game."
However, the team's offense wasn't up to the challenge. Milwaukee batters managed just one run on four hits while Fiers was in the game. Overall, the Brewers scattered six hits and weren't able to cross the plate once in the final five innings.
The big blow came in the fifth inning, where Giants left fielder Nori Aoki led off with a single to center field and on the very next pitch second baseman Joe Panik hit an 87-MPH fastball up in the zone into the right-field seats.
It was all the Giants needed.
"Looking back at it now, that's the difference in the game," Fiers said. "It was supposed to be more up."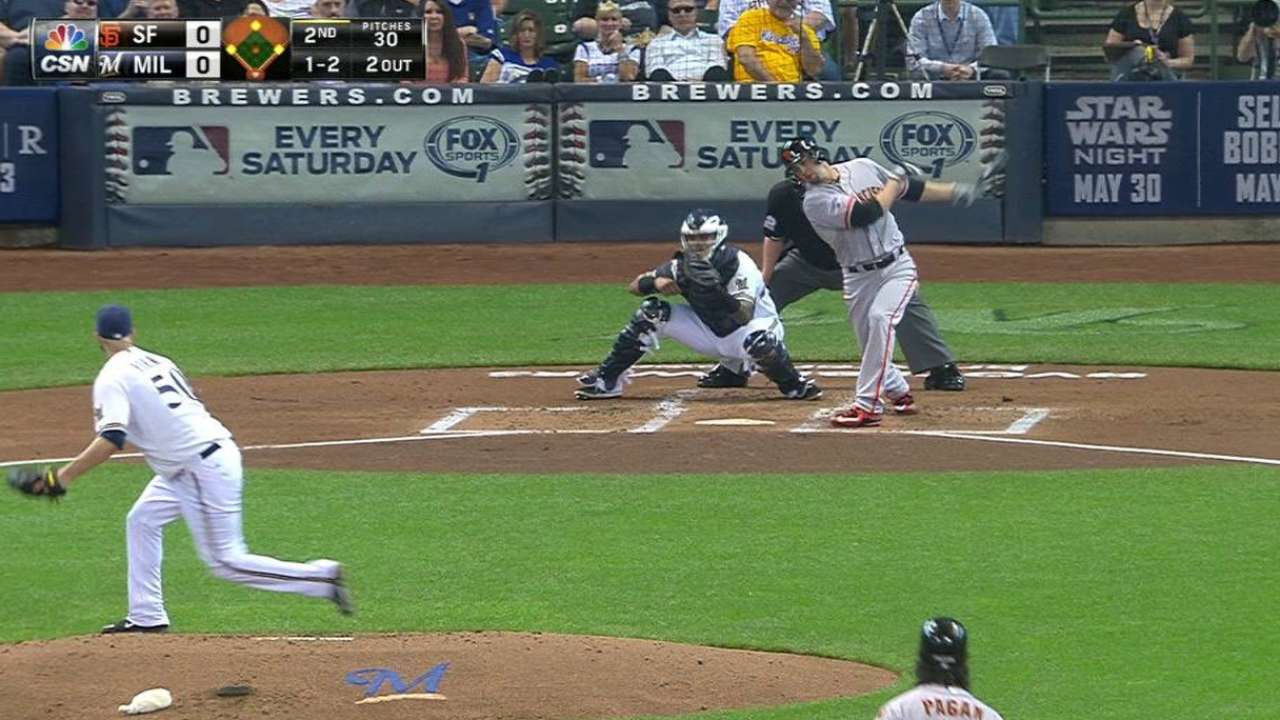 The quick start was Fiers' third on three days rest in his career. The previous two occurred after relief appearances in 2012 and 2013, respectively. Wednesday's start, however, followed a five-inning outing in Atlanta where Fiers picked up a no-decision.
"It didn't feel different than any other start," Fiers said. "I felt great."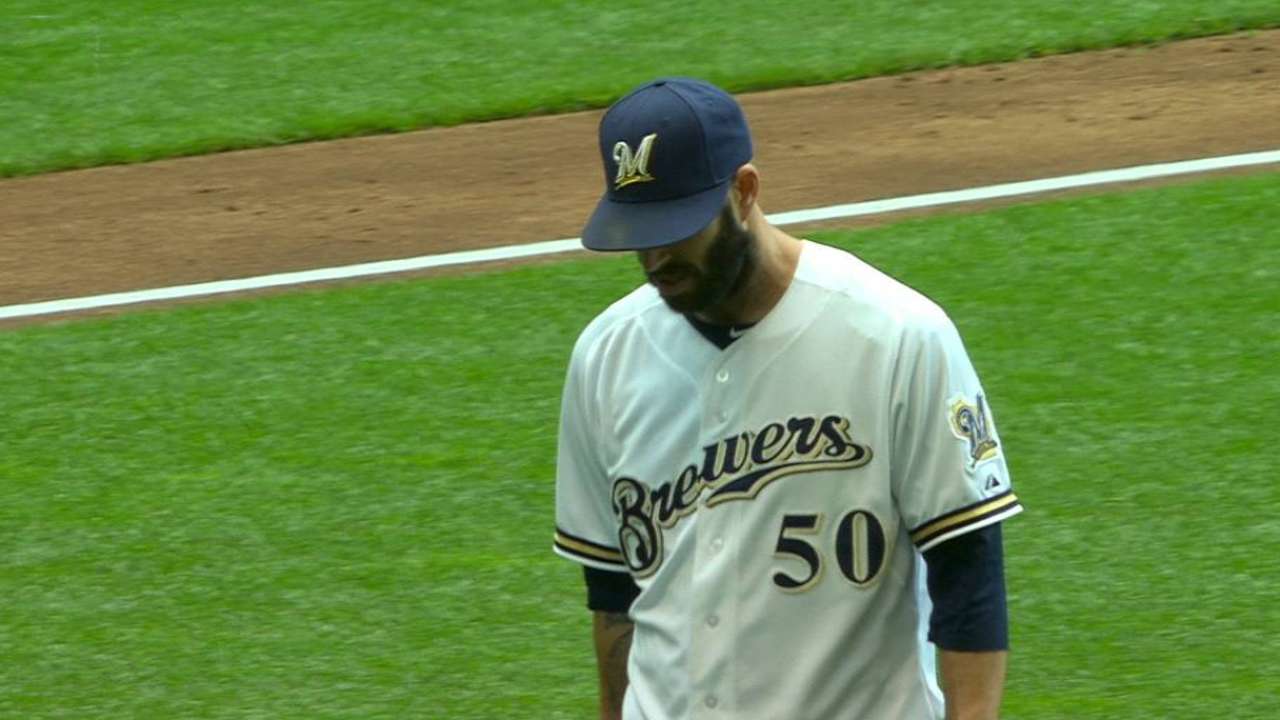 Counsell agreed: "It was kind of standard Mike Fiers I thought. He got strikeouts, he got swings at the high fastball. He did a nice job."
While Fiers' outing was enough, Milwaukee's offense simply wasn't. Not putting together both aspects of pitching and hitting into one performance has hampered the Brewers, who have lost five straight.
"We're going through a time right now where were just not getting the hits when we need them. We're not making the pitches when we need them," Fiers said. "If these guys weren't battling, it would be different. [But] all these guys are battling."
Brandon Curry is an associate reporter for MLB.com. This story was not subject to the approval of Major League Baseball or its clubs.