Give him a Hand: Lefty steps up in first start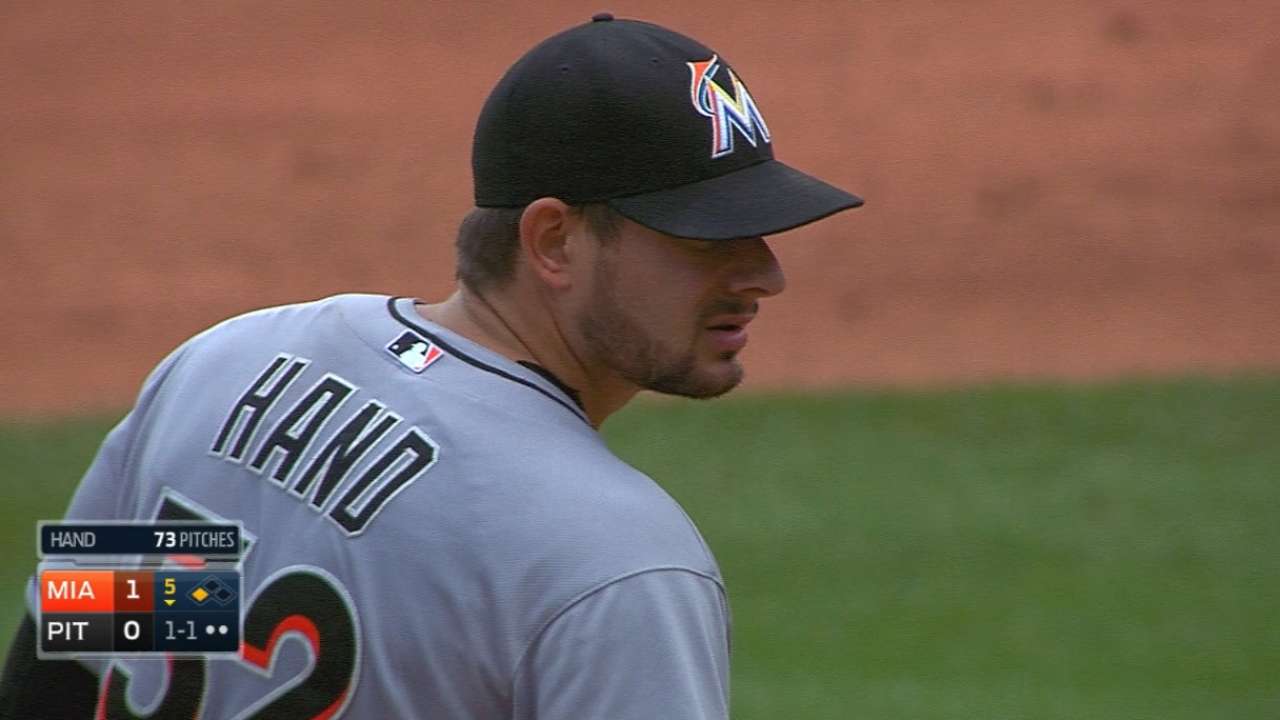 PITTSBURGH -- Entering Wednesday's game, the Marlins had just one win over the Pirates in their past 11 games at PNC Park. Looking to avoid a sweep, Miami manager Dan Jennings went to the guy who helped deliver their last win in Pittsburgh: left-hander Brad Hand.
Hand shut down Pittsburgh's lineup for five scoreless innings in his first start of the season, but Miami's bullpen couldn't hold it in a 5-2 loss to the Pirates.
The Marlins, hampered by a severely injured pitching rotation, needed Hand to put aside his reliever duties and pick up some innings against the Pirates' improving offense.
"You've got to tip your hat to Brad Hand," Jennings said. "He did a heck of a job for us in a situation where we needed it and gave us a quality outing."
Hand did have a little history on his side. In his lone career start against Pittsburgh, the southpaw allowed two runs in 6 1/3 innings of a no-decision.
Much like that performance, Hand got off to an early start against the Pirates this time around, retiring the first six batters he faced.
He faced some tricky situations, as well. In the third, fourth and fifth innings, Hand dealt with runners in scoring position, but he managed to wiggle out of jams and remain unscathed.
"It was a battle early," Pirates manager Clint Hurdle said. "[Hand] changes speeds, sinks the ball. ... He's got more fastball than you think at times. He kept us off-balance."
While he handled the Pirates' lineup, Hand wasn't expected to go the distance. The 24-year-old started 16 games last year for Miami, but worked solely out of the bullpen this year before Wednesday. Hand was limited by a pitch count, which "worked out perfectly," Jennings said.
Whether or not Hand will make another start remains to be seen. Miami currently has four starting pitchers on the disabled list, but those four have extended throwing sessions on the horizon.
Even if this is Hand's lone start of the season, the Marlins will take it.
John McGonigal is an associate reporter for MLB.com. This story was not subject to the approval of Major League Baseball or its clubs.