Hamilton has fun notching first 2015 hit
Left fielder still satisfied despite being thrown out at second, also impresses in field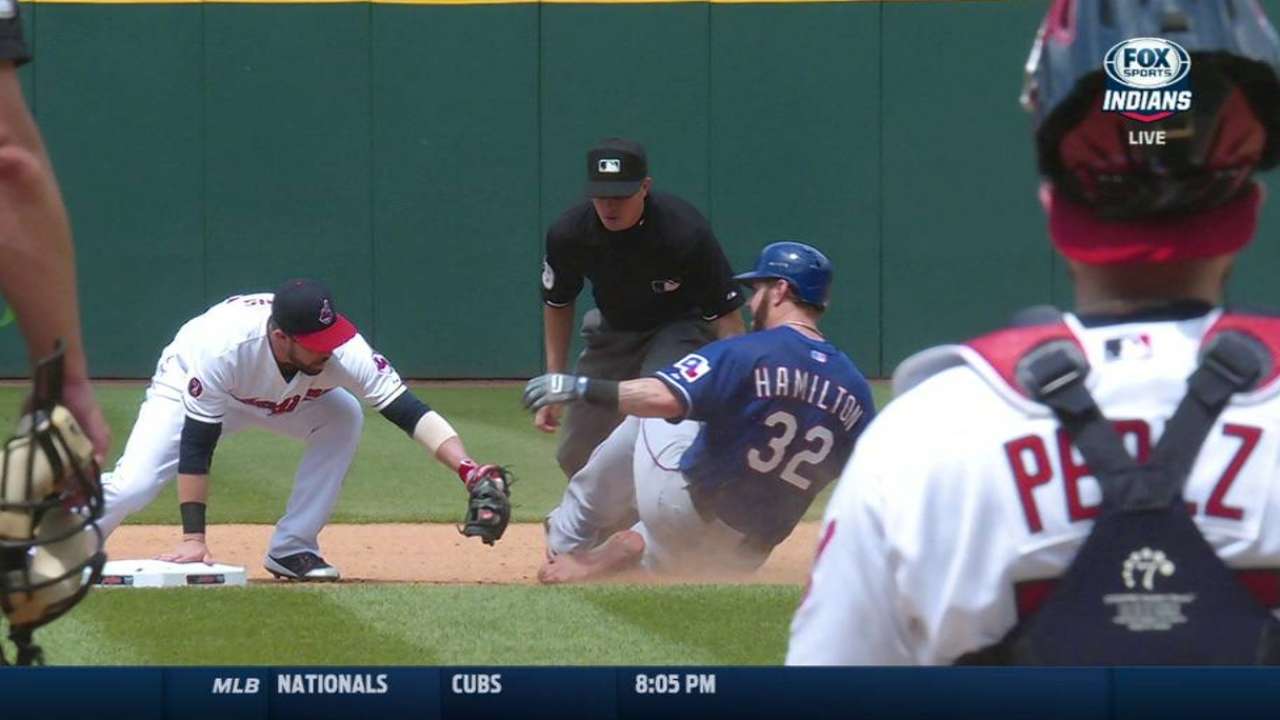 CLEVELAND -- As Josh Hamilton ran off the field, he did so with a chuckle and a smile.
Never mind that Hamilton just got thrown out by five steps while trying to stretch a single into a double. Never mind that Hamilton's Rangers were in the midst of a 12-3 defeat Wednesday at the hands of the Cleveland Indians.
It was Hamilton's first hit since returning to the Rangers two days prior -- the first time he had gotten to run the bases in a regular season game since September of last year. He was going to have some fun with it.
"And how about all those guys running over there greeting him when he comes into the dugout to let him know just how much they appreciate the effort?" manager Jeff Banister said. "Any time you see that kind of energy from a player, the smile on the face especially, that's what we want from these guys."
Before his 2015 debut, Hamilton received a text from his mother reminding him to get back to the basics: hustle and have fun.
On that single, he took his mother's advice.
"That is the most fun I've ever had being thrown out at second," Hamilton said. "It's just fun. If I can just stay this way and remind myself that, like I've said all along, I've got a few years left, just enjoy them. If I enjoy them, then I'll play how I need to play. That's how it always works."
The fun started in the first inning for Hamilton, before things had gone sour for the Rangers.
Jason Kipnis, the Indians leadoff hitter, sliced a fly ball down the left field line, which Hamilton snagged moments before crashing into the wall.
"He looks fresh," Banister said. "He looks good. He has tremendous energy."
Later, in the sixth inning, Hamilton made a sliding catch coming in on a line drive hit by Lonnie Chisenhall.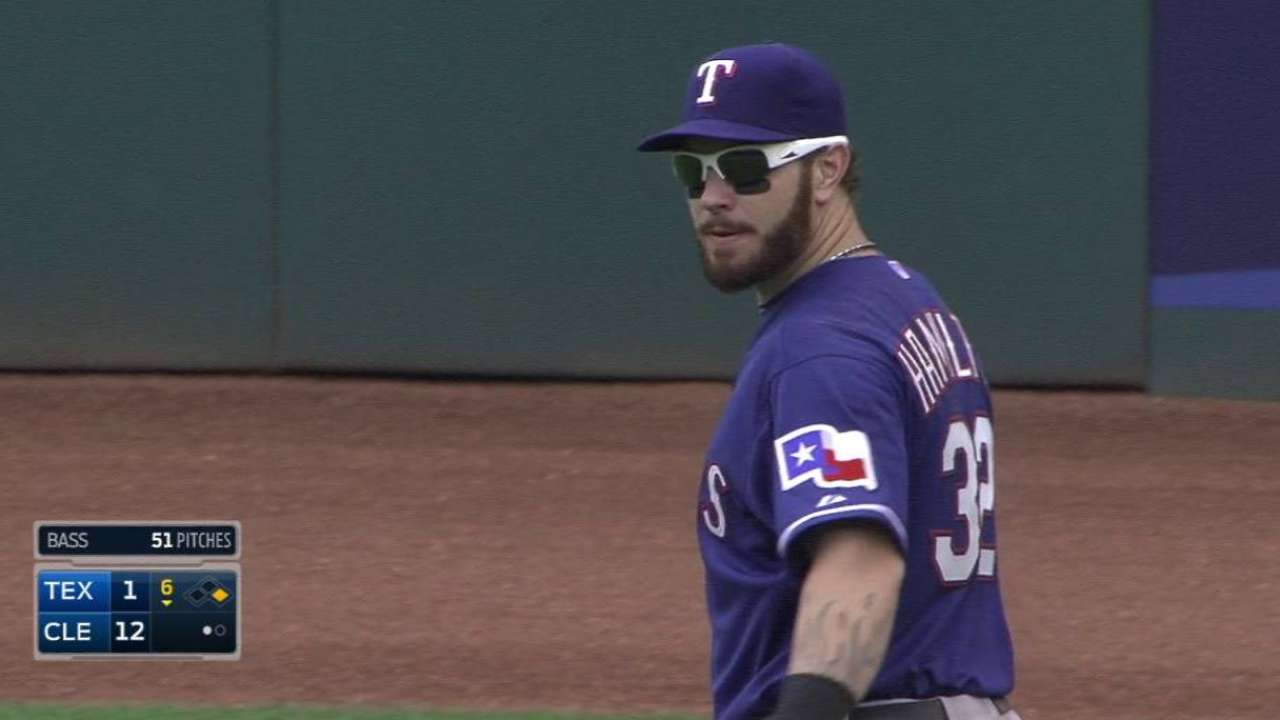 "That was fun, yeah," Hamilton said of the catches. "Off the bat, you've got to go. You've got to have it in your mind the whole way on those balls that you're going to slide for. That's the plan the whole time. It's hard to bend over and catch, so you've got to get down there with it. It's fun."
After the three-game set in Cleveland, Hamilton boarded a plane to head back to the place which he called home for five years, the place where he sometimes put an entire team on his back -- the place where he won an MVP.
And he did so with a smile on his face.
"I'm sure that will be a nice feeling for him to be back in a ballpark that he is very familiar with," Banister said of going to Texas. "I really hope that our fans will treat him just like these players have, with open arms, and appreciate the things that he has done in a Ranger uniform. Because this guy is going to be a winning player for us, and I hope there's a sense of appreciation of him being back in a Ranger uniform."
August Fagerstrom is an associate reporter for MLB.com. This story was not subject to the approval of Major League Baseball or its clubs.