Phillies Minor League Review, May 18-24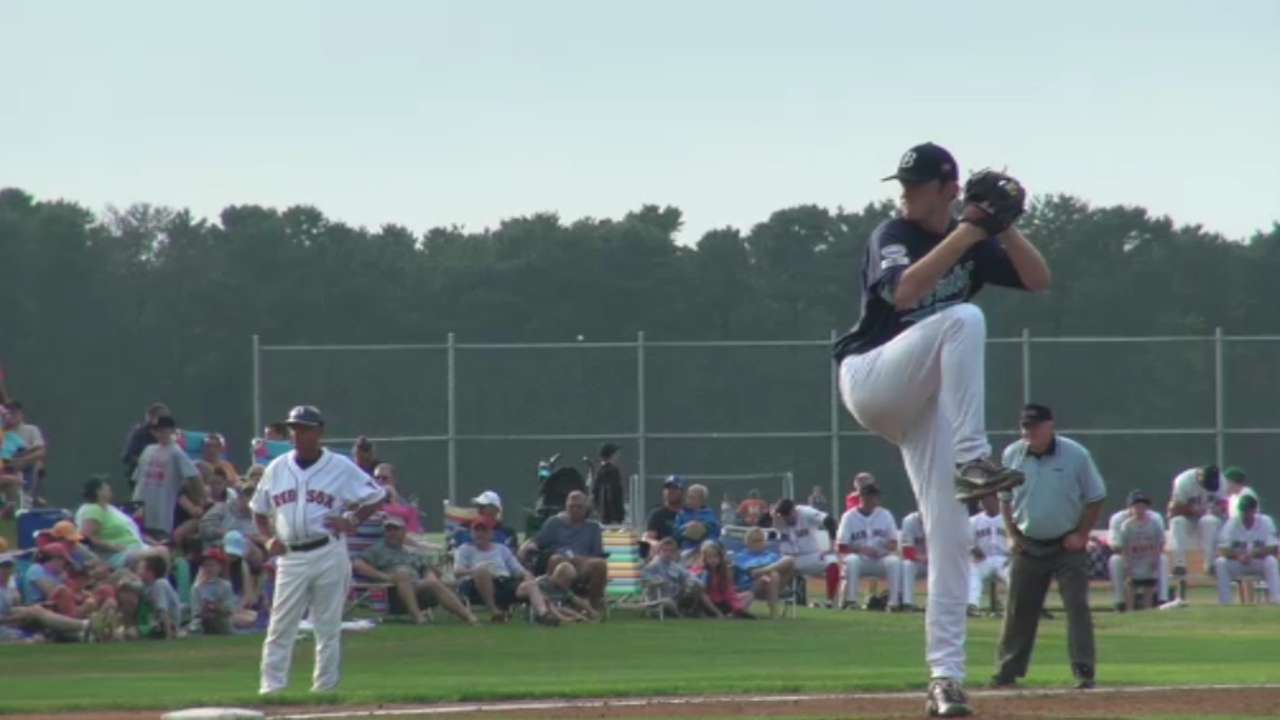 Players of the Week
Player - C Gabriel Lino, Reading...Lino, 22, led all Reading players with a .412 average last week, collecting seven hits and five RBI in seven games. On May 22, Lino tallied a season-high three hits, including his third home run of 2015, while driving in two runs in a win over Portland. The following day, he went 2-3 with an RBI, making him 5-for-7 with a home run, three RBI, two doubles and a run in the first two games of the series. Lino recorded at least one hit in all but one of his seven games, pulling his batting average up more than 30 points over that span. The Venezuela native was acquired by the Phillies in a June 2012 trade that sent Jim Thome to Baltimore, and he was originally signed by the Orioles and Calvin Maduro.
Pitcher - LHP Brandon Leibrandt, Clearwater...The 22-year-old southpaw is no stranger to awards this season, as this marks his second Minor League Player of the Week Award to go along with a Minor League Player of the Month Award for April. Leibrandt started two games last week, earning the win in both after two strong performances. On May 18, he held Brevard County to one run on five hits, striking out five and walking none in a complete-game effort. He then tossed 6.0 one-run frames against Palm Beach on May 23, giving him a 1.20 ERA (2 ER in 15.0 IP), 0.75 WHIP, 10 K, 0 BB and a .208 opponents average in the two starts combined. This season, Leibrandt has allowed two earned runs or fewer and pitched at least 6.0 innings in eight of his nine starts, and he currently ranks first in the Florida State League in innings pitched (59.0) and WHIP (0.88), third in strikeouts (52), fifth in wins (5) and 10th in ERA (2.29). Leibrandt was selected by the Phillies in the sixth round of the 2014 draft out of Florida State University, and was signed by Aaron Jersild.
Lehigh Valley IronPigs - International League North Division… 18-27, 5th place…The IronPigs clicked on all cylinders last week, winning a season-high six straight games before dropping a close 7-5 contest to Charlotte on Sunday. The six game win streak was one game shy of the franchise record, and since starting the season 6-20 Lehigh Valley has rebounded to go 12-7.
Top hitting performers - SS Chase d'Arnaud played in five games, collecting seven hits in 18 at bats (.389) while driving in five runs. He had three hits on May 24, one of which was his first home run of the season…OF Brian Bogusevic clubbed two home runs including a grand slam, and drove in a team-high six runs during the week…INF Cord Phelps hit an even .300 with a .391 OBP and five runs scored.
Top pitching performers - LHP Joely Rodriguez had his best start of the season on May 21, holding Charlotte to just four hits over 7.0 scoreless frames. Rodriguez is 2-0 with a 2.13 ERA in his last two starts…RHP Seth Rosin appeared in three games out of the bullpen, and made quick work out of the opposing hitters in all of them. He pitched at least 1.2 innings in all three appearances, allowing just one hit and no runs in each…LHP Cesar Jimenez converted all three of his save opportunities, tossing a scoreless inning in each of them…RHP Dustin McGowan also was 3-for-3 in saves, striking out four in 4.1 scoreless innings.
Reading Fightin Phils - Eastern League Eastern Division … 23-19, 3rd place… Reading did not have the best start of the week, dropping two straight to New Hampshire, but they rebounded to win four of the next five to pull four games over the .500 mark. As has been true most of the season, the Fightins' success lives and dies with its pitching. In their last five games of the week, they held opponents to only eight total runs (1.6 per game) as opposed to 10 runs allowed in their two losses to start the week.
Top hitting performers - 1B Brock Stassi played in all seven games and led all Reading players with eight hits. Two of those hits were home runs, helping Stassi to a .615 slugging percentage and 16 total bases…2B Brodie Greene recorded hits in all but one game during the week, raising his average nearly 20 points in six games. He hit .389 with a double, two walks and two runs scored…C Gabriel Lino hit .412 (7-for-17) with a home run, five RBI and a 1.118 OPS, earning himself Phillies Minor League Player of the Week honors…OF Roman Quinn hit his third home run of the season and tallied 10 total bases.
Top pitching performers - RHP Zach Eflin pitched a career-high 8.2 innings in his start against Portland on May 22, allowing only four hits and two unearned runs while striking out five batters…RHP Aaron Nola came within one of matching a season high eight strikeouts in his scoreless 7.0-inning, four-hit start on May 20. He is 6-3 with a 1.87 ERA this season …RHP Tyler Knigge pitched two games in relief, yielding only a hit and walk in 4.0 total innings…RHP Nefi Ogando also pitched 4.0 scoreless frames out of the bullpen, striking out three batters.
Clearwater Threshers - Florida State League North Division… 22-22,T-2nd place…Clearwater saw positive results last week, as they began and ended the week with a pair of wins. The .500 mark has been status quo for Clearwater for the better part of the season, but it may not take much more to remain high in the divisional rankings as the Threshers sit in a tie for second place just four games back of the Daytona Tortugas.
Top hitting performers - SS J.P. Crawford tallied nine base hits in 24 at bats (.375) while reaching base at a .444 clip. He has multiple hits in 10 of his 17 games this season…C Willians Astudillo hit .350 with three runs scored and an RBI…CF Aaron Brown drove in a pair of runs, doubled and hit .318 with a .423 OBP in seven games.
Top pitching performers - LHP Brandon Leibrandt started two games and was brilliant in both. He put forth a complete game, one-run effort in a win on May 18 over Brevard County, and followed that with 6.0 innings of one-run ball on May 23 against Palm Beach. Leibrandt was named Phillies Minor League Pitcher of the Week for the second time this season, with the first coming for the week of April 20-26…RHP Colin Kleven went 2-0 with a 1.50 ERA (two ER in 12.0 IP), 0.75 WHIP and 13 strikeouts against just one walk…RHP Mark Leiter scattered six hits over 8.0 shutout innings on May 21, striking out six Palm Beach batters…RHP David Whitehead posted his sixth quality start this season with a 6.0-inning, one-run effort against Palm Beach on May 22…RHP Ulises Joaquin did not allow a run in two games and converted his lone save opportunity.
Lakewood BlueClaws - South Atlantic League North Division…21-21, 5th place… Lakewood lost twice to start the week, but then won four of the next five to climb back even at 21-21 for the season. Ranfi Casimiro set the tone for a strong finish with a seven-inning shutout in game one of a doubleheader on May 22, and the rest of the staff followed suit. The BlueClaws allowed only two runs in each of the next three games, and the team now ranks fourth in the South Atlantic League with a 3.24 team ERA.
Top hitting performers - INF Damek Tomscha led Lakewood with nine hits and three extra-base hits as he hit .409 with a .985 OPS. He drove in three runs and scored another six in just seven games…INF Grenny Cumana batted .350 with three RBI, two runs, a double and a walk…1B Rhys Hoskins recorded seven hits and walked five times, helping himself to a .350 average and .462 OBP for the week. He had a double, triple, five runs scored and two driven in.
Top pitching performers - RHP Ranfi Casimiro was awarded a complete-game shutout after going the distance in a 7.0 inning affair against Greensboro on May 22. He has allowed one run or fewer in four of his last five starts…RHP Alexis Rivero saved two games in two chances, tossing 4.0 scoreless innings in relief.