Braves suddenly deep at third base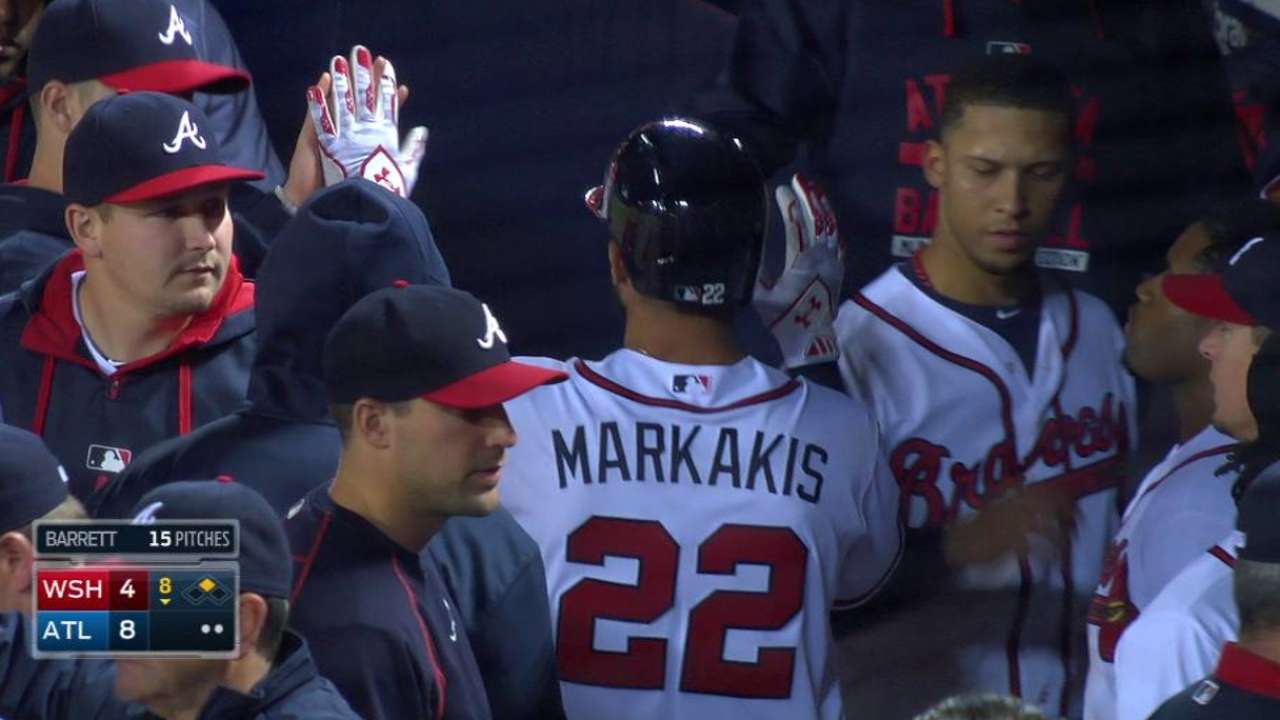 LOS ANGELES -- Juan Uribe and Chris Johnson were both in a good mood when they entered the Braves' clubhouse before Wednesday night's series finale at Dodger Stadium. Though he was experiencing the oddity of playing for the team he had competed against during the first two games of this series, Uribe was simply happy to be with a team that could give him more playing time than he had been getting with the Dodgers.
Johnson was simply thrilled to be reunited with the Braves teammates he had not seen much of since being placed on the disabled list on May 2 with multiple bone bruises in his left hand. But when he was activated on Wednesday, he had to face the fact that he will now be sharing the third base position with another right-handed hitting third baseman -- Uribe, who was acquired via the multi-player trade the Braves and Dodgers agreed upon Tuesday night.
"We'll see how it goes," Braves manager Fredi Gonzalez said, while not committing to how he will divvy up the playing time at third base.
Uribe was in the starting lineup for Wednesday's matchup against Zack Greinke. Uribe made it clear that he did not demand a trade when he recently met with Dodgers front office members to discuss his playing time. Still his time with Los Angeles might have been nearing an end because he would have become even more expendable when highly-regarded prospect Hector Olivera makes his expected arrival at the Major League level within the next month.
"I didn't feel bad about the trade," Uribe said. "I would have felt bad if they had traded me to a soccer team or a basketball team. But they traded me to another baseball team, so I'm happy."
Johnson batted .279 (12-for-43) with a .719 OPS in the 16 games he played before he was sidelined on May 2 because of multiple bone bruises in his left hand. He has hit .233 (7-for-30) against right-handed pitchers and .385 (5-for-13) against left-handed pitchers this year. Though, the sample size is small this trend matches up with what he did last year when he batted .395 (45-for-114) against lefties and .231 (108-for-468) against righties.
"I'm just excited to be back with the team, I missed a lot of these guys," said Johnson, who has not experienced any discomfort in his left hand.
Uribe has batted .298 with a .756 OPS against right-handers and .264 with a .756 OPS against left-handers since the start of the 2013 season. The 36-year-old veteran is still recognized as a skilled defensive asset.
Thus, Gonzalez might choose to primarily utilize Uribe as his third baseman against right-handed starting pitchers.
"I'm happy to still be playing baseball," Uribe said. "Anytime anybody wants you, it's a good thing."
The Braves also purchased left-handed reliever Donnie Veal's contract from Gwinnett on Wednesday. Veal filled one of the bullpen spots that was vacated when left-handers Eric Stults and Ian Thomas were included in the trade with the Dodgers.
Mark Bowman is a reporter for MLB.com. This story was not subject to the approval of Major League Baseball or its clubs.