In search of outfield depth, Angels acquire Nieuwenhuis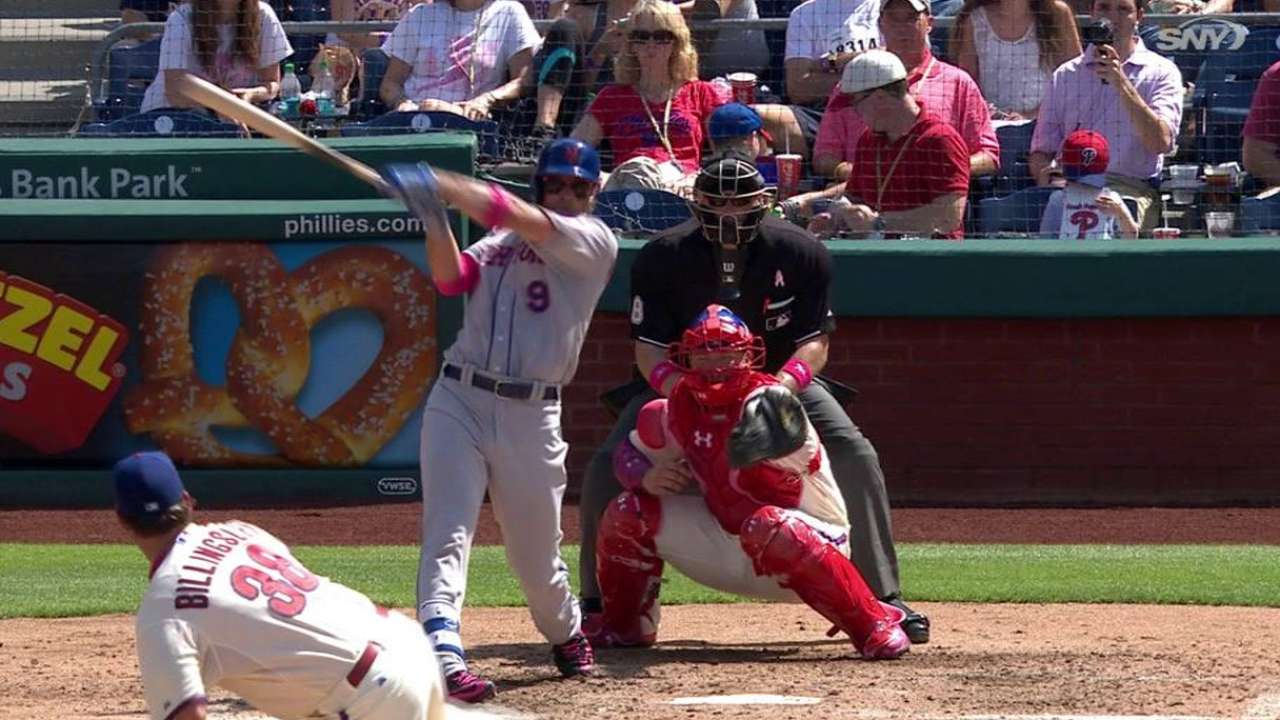 ANAHEIM -- Angels general manager Jerry Dipoto made it clear from the start.
"We're not looking for him to be a savior," he said of left-handed-hitting outfielder Kirk Nieuwenhuis, acquired from the Mets for cash considerations on Wednesday morning. "We're looking for him to be a piece of a club."
When Nieuwenhuis arrives, likely for Thursday's series opener against the Tigers, he'll join a club with statistically the worst offense in the Major Leagues. The Angels entered Wednesday with a .646 OPS that ranked 30th of 30 Major League clubs. Their OPS against right-handed pitching, .627, was even worse.
They need productive left-handed hitters in their lineup, and Dipoto will eventually add at least one and maybe two impact bats to help improve the Angels' offense.
But it's still too early.
"A lot of what has to happen with this team will have to happen with this group here," Dipoto said. "We're going to continue to scout the league, we're going to continue to look at ways we can get better. But as a general rule, these guys are all healthy, they all had really good Spring Trainings, and they know what they are in their careers. And at some point, that's going to start turning in the other direction. We're in the last week of May. This is not ordinarily the time to go access a new offensive group."
The Angels have considered the likes of Ben Revere, Adam Lind, Brandon Moss and Andre Ethier, to varying degrees. Michael Brantley is the ideal fit, but the Indians won't move him. Carlos Gonzalez is too pricey, and the Angels have only mild interest in Ben Zobrist, who was recently activated off the disabled list by the A's, sources have said.
The front office could eventually pluck from its starting-pitching depth to access a bat or two, but few teams are willing to trade significant players at this juncture, and the Angels themselves want the season to play out a little longer to get a better feel for where their needs lie.
Nieuwenhuis is a low-risk addition that could help in the short term.
He was designated for assignment last week and is out of options, but the Angels can send Marc Krauss to Triple-A -- where Efren Navarro currently plays - to maintain their depth of left-handed bats.
Nieuwenhuis, 27, can play all three outfield positions and posted an .855 OPS in 120 plate appearances against righties last season. The Santa Monica, Calif., native has posted a .230/.302/.374 slash line in 226 plate appearances in the big leagues the last four years and was hitting .265/.319/.512 in Triple-A in 2015.
Against righties, Nieuwenhuis will likely start in left field, with Matt Joyce serving as the designated hitter.
"There are a lot of ways he can fit," Dipoto said. "We don't' have that versatile, multi-position left-handed hitter in the outfield and maybe this guy can do it. We'll give him an opportunity."
Alden Gonzalez is a reporter for MLB.com. Read his blog, Gonzo and "The Show", follow him on Twitter @Alden_Gonzalez and listen to his podcast. This story was not subject to the approval of Major League Baseball or its clubs.