Thor powers Mets with mighty arm -- and bat
Syndergaard hurls 7 1/3 scoreless innings, belts massive first MLB homer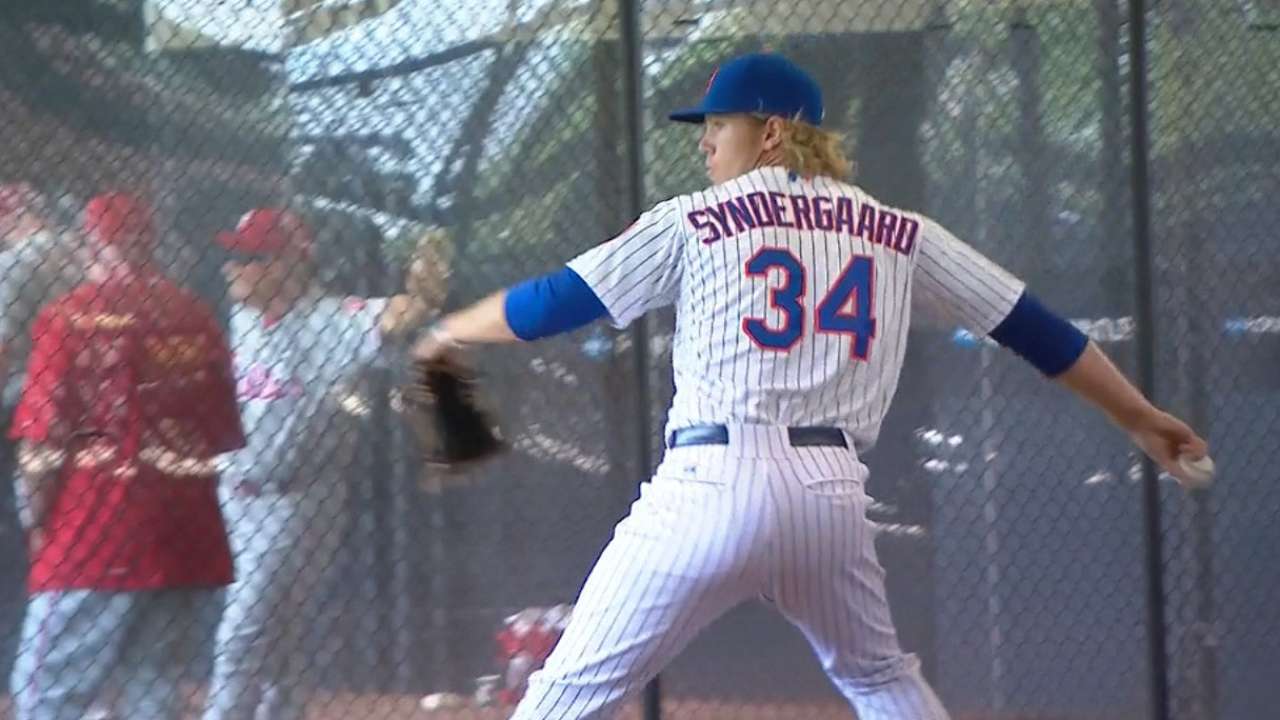 NEW YORK -- Well before Terry Collins turned 66 on Wednesday, Noah Syndergaard gave him the gift of promise. For many, that would have been enough. But then Collins' birthday came, and Syndergaard delivered on that promise in the form of a dominant two-way performance in the Mets' 7-0 win over the Phillies at Citi Field.
By that point, it was Collins who felt he owed his young pitcher something. So he sent Syndergaard out to start the eighth inning. After one out, Syndergaard was removed to the second standing ovation in as many home starts, an applause almost as mammoth as the home run he launched earlier in the game.
"I thought he deserved it," Collins said.
Did he. Syndergaard, the Mets' top prospect, struck out six over 7 1/3 shutout innings to earn his second big league win. But combine that with his performance at the plate -- three hits, including a mammoth solo home run to center field -- and the rookie's fourth career start becomes historic.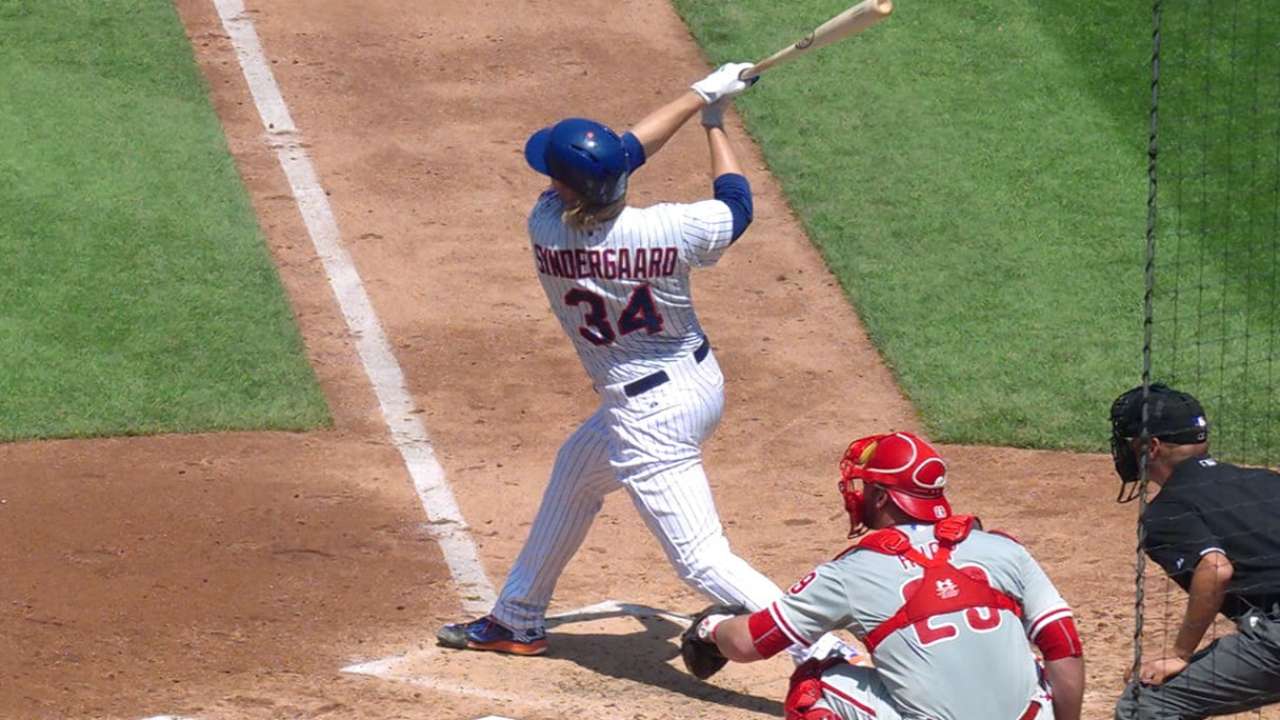 Not since Jason Jennings in 2001 has a pitcher finished with three hits, a home run and at least 7 1/3 scoreless innings pitched in the same game. In this light, Syndergaard's such performance Wednesday was just the third of its kind league-wide since the Mets' inception in 1962.
"Tremendous day for him," Collins said.
The day started with Syndergaard retiring seven of the first eight Phillies, then singling off Sean O'Sullivan in the second. In the fourth, he went up against O'Sullivan again and launched his first career homer -- a towering blast to center field that had a projected distance of 427 feet, as tracked by Statcast™. He singled again sharply in the sixth and finished the day without walking a batter. In between, Syndergaard reached 100 mph with his fastball and the seats beyond center with his bat.
Duda, you just HAD to show me up and hit 2, didn't you? What a day at the park. Thanks to all the weekday warrior fans for showing up! #LGM

— Noah Syndergaard (@Noahsyndergaard) May 27, 2015
"We had guys on the bench saying, 'I can't hit the ball that far,'" Collins said.
The Mets had been waiting for Syndergaard since acquiring him and Travis d'Arnaud for R.A. Dickey in 2012. Now his emergence has turned the Mets' rotation on its head. His elite potential is the main reason New York plans to begin experimenting next week with a six-man rotation -- an attempt to utilize the 22-year-old Syndergaard, but not too much.
But they may be tempted to let him loose. Syndergaard now owns a 2.55 ERA and 22 strikeouts in 24 2/3 innings over four starts since being promoted, clearing different hurdles each time out. Besides the obvious theatrics, Wednesday was also notable for being the first time Syndergaard completed seven innings, and the first time he worked through a third pass through a lineup unscathed. He also recorded outs with a two-seam fastball, a relatively new pitch for Syndergaard.
"The more you're out there, the more you know you belong here," Collins said.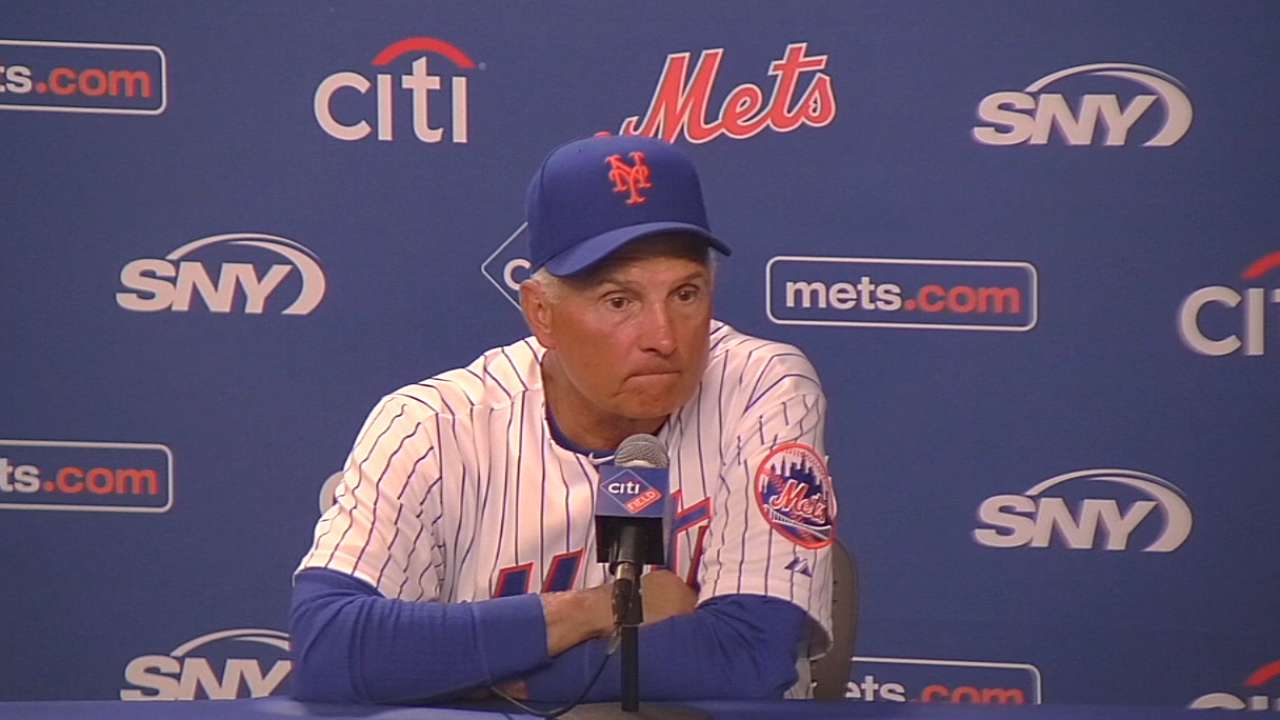 Collins also said after the game -- with a straight face -- that he could be tempted to use Syndergaard as a late-inning pinch-hitter on days he's not pitching. Mets pinch-hitters are hitting a combined .135 this season. On Wednesday, Syndergaard became the second Mets pitcher in two weeks -- joining Jacob deGrom on May 16 -- to collect three hits in a game.
"My main focus is on the mound," Syndergaard said. "Anything besides that is extra."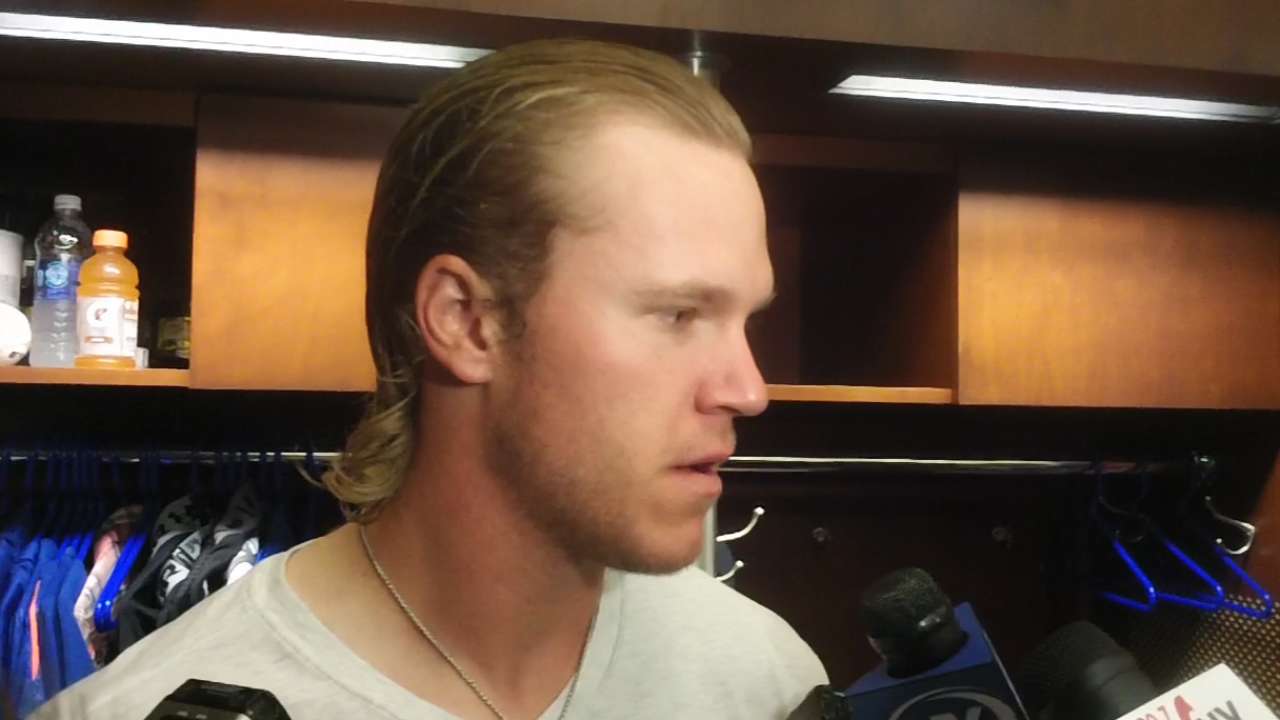 With the home run ball sitting atop his locker, Syndergaard was asked if he would offer it to Collins as a birthday gift. After Syndergaard hit his first professional home run earlier this month for Triple-A Las Vegas, he gave the ball to his mom for Mother's Day.
But there's another big Syndergaard day coming up. Noah's dad, Brad, has a birthday Thursday.
"It's got his name written all over it," Syndergaard said of the home run ball.
Joe Trezza is an associate reporter for MLB.com. This story was not subject to the approval of Major League Baseball or its clubs.