Bumgarner-Gomez issue a clash of styles
Brewers center fielder took exception to glare from Giants ace in Tuesday's game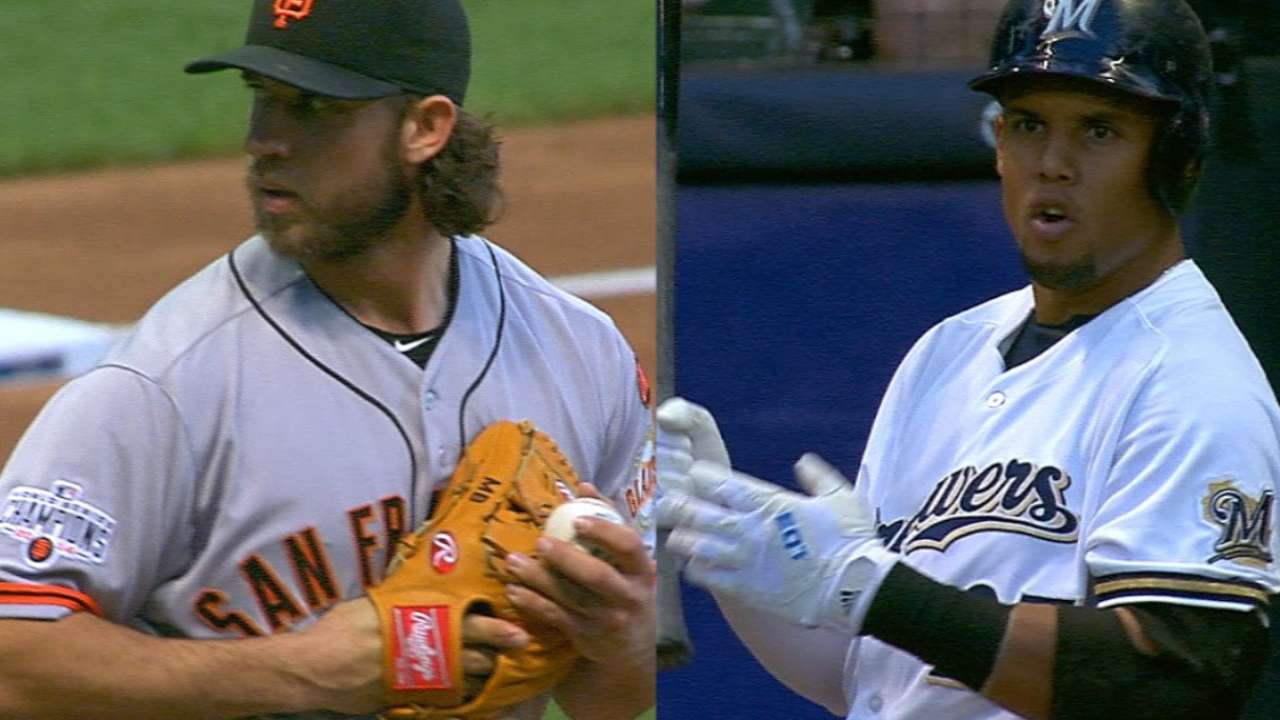 MILWAUKEE -- The Madison Bumgarner and Carlos Gomez dustup on Tuesday night was merely the latest collision of old school vs. new school in Major League Baseball, said Giants manager Bruce Bochy and Brewers manager Craig Counsell on Wednesday morning.
Some background: In the third inning of Tuesday's 6-3 Giants win, Gomez yelled at himself after fouling off a 0-1 fastball that split the middle of the strike zone. Bumgarner took issue and stared at Gomez, then delivered an inside fastball for ball 1. They stared at each other again before Gomez flew out on the next pitch.
After the game, Gomez was furious at Bumgarner for "looking at me like I'm an idiot."
"The thing about Bum, he's really a humble guy who respects the game," Bochy said. "There are times he feels like he's being shown up.
"That's kind of the old-school way. Now there's some antics, some showboating. I'm not saying that's what happened in this case. But you're going to have old-school pitchers who are going to take it personally."
Counsell had no problem with Bumgarner's reaction. Likewise, Counsell had no problem with Gomez letting out some angst.
"Carlos had a pitch he could hit, and he missed it, and he let a little frustration out. Nothing wrong with that," Counsell said. "I think there's a tendency to not -- the code says don't show emotion ever. I think we should celebrate a little more guys who play with emotion. I think it's what makes the game fun.
"I would never take away, never want to touch Carlos' joy and passion for the game. I think it's a big reason why he's the player he is. … It's OK to be frustrated. It's OK. That's all right. We're frustrated right now, and that's OK."
And if Bumgarner was upset about Gomez's show of emotion?
"The competitive stuff that happens between the lines, that's all good, too. That's fine," Counsell said. "If two guys have some words with each other, that's good, too. That's all right.
"Let's play the game. Let's get after each other. That's OK. We don't have to squash all that. I don't think we have to. I don't think we should try to, either. We should let that stuff happen. That's competing. That's what fans come to see is competing like that. If both guys want to take issue with it, I'll tell you what I think about it, but if they want to take issue with it because they're competing, let's go. That makes it more fun."
Adam McCalvy is a reporter for MLB.com. Follow him on Twitter @AdamMcCalvy, like him on Facebook and listen to his podcast. This story was not subject to the approval of Major League Baseball or its clubs.