Lyles confident in making delayed start Sunday
Rockies righty pushed back with injured toe; Hawkins nearing rehab assignment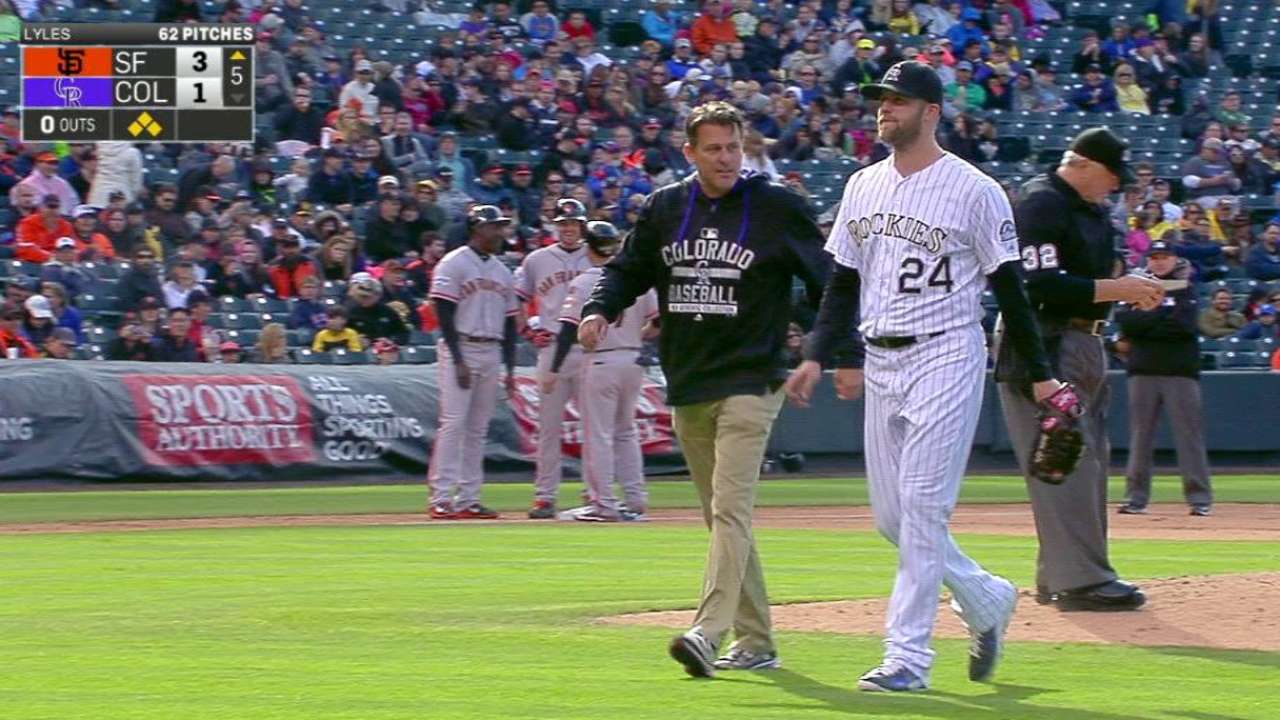 CINCINNATI -- Rockies right-hander Jordan Lyles, who suffered an injury to his left big toe during his last start, said he is set for his next start Sunday at Philadelphia -- two days later than originally scheduled.
Lyles (2-5, 5.10 ERA) needed the extra time after yet another freakish injury during his last start, a loss to the Giants. Lyles dominated the first three innings, suffered the injury after a Hunter Pence single in the fourth and aggravated it after Matt Duffy's RBI single two batters later. He faced three batters in the fifth and left having been charged with six runs, five earned.
Two starts prior, Lyles left after the first inning when the Angels' Albert Pujols's line drive smashed against the back of his pitching hand. Last season, Lyles missed two months when he suffered a broken left hand attempting a tag at home plate.
Lyles said he doesn't carry a what's-gonna-go-wrong-next feeling.
"That's not something we think about," Lyles said. "It's hard enough to get Major League lineups out, so why even add on to it?"
Rockies manager Walt Weiss said Lyles still has "a few more tests he has to pass, but so far so good."
Worth noting
• Righty reliever LaTroy Hawkins, who hasn't appeared in a Major League game since April 21 because of right biceps tendinitis and had a Minor League rehab assignment stopped because of a setback, threw a bullpen session Tuesday without pain. Hawkins reported feeling good Wednesday, and said he'll throw another session during this weekend's series in Philadelphia. If all goes well then, he'll begin another rehab assignment.
• Lefty Tyler Matzek continues to rework his fundamentals at Triple-A Albuquerque, where he is strictly working with coaches and not appearing in games. There is no timetable for game action, although player development director Zach Wilson said the club is confident the move will work. Matzek works with Albuquerque pitching coach Darryl Scott, director of pitching operations Mark Wiley and Minor League pitching coordinator Doug Linton.
"I'm not going to get into it too much, but a lot of it is getting Tyler back to the basics on all fronts, and once he's able to simplify things in those ways it'll get him back on a path for success," Wilson said. "Tyler has had success before. He's also had to fight through ups and downs.
"Any professional athlete is going to run into hurdles. But because of the nature of Tyler Matzek, he's going to be able to get through it. Nobody's worried about it. Certainly he's not."
Matzek walked 19 in 22 Major League innings over five starts before being sent down and gave up seven runs on one hit and seven walks in one inning of his lone Triple-A start before the Rockies decided to rebuild him.
Thomas Harding is a reporter for MLB.com. Follow him on Twitter @harding_at_mlb, and like his Facebook page. This story was not subject to the approval of Major League Baseball or its clubs.