Beimel relishes first save since 2009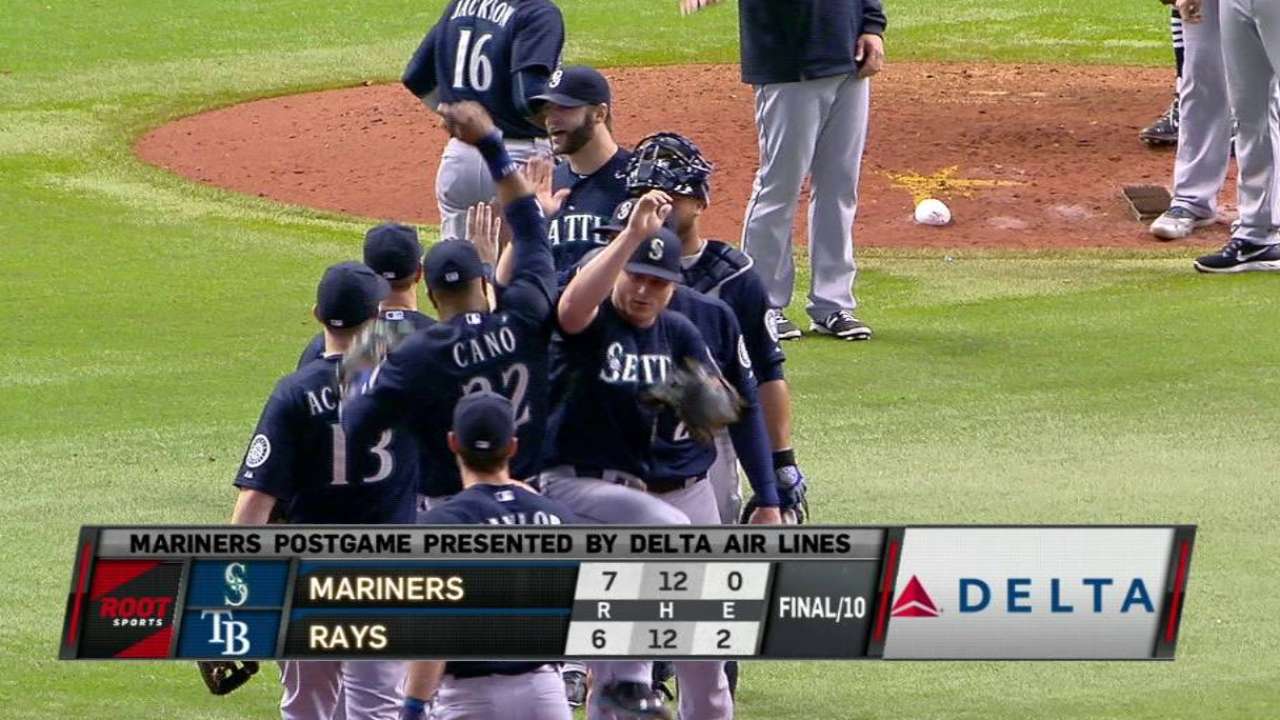 ST. PETERSBURG -- As a 13-year Major League veteran, Joe Beimel has been in a lot of situations in his baseball career. Just not a lot of save situations.
But Beimel, a lefty specialist, got the call in the bottom of the 10th inning in Tuesday's 7-6 victory for the Mariners over the Rays and mowed down three straight batters to notch his first save since 2009 while with the Nationals and the fifth in 632 relief appearances.
If you think a save situation isn't different for a reliever, don't try telling that to the 38-year-old from Pennsylvania.
"I was very amped," Beimel said. "With the second hitter, I actually had to step back a little bit and realize, 'Hey, you're in the game right now and still pitching. Don't let the adrenaline overtake you and control you.' If you use adrenaline, it's good. But if you let it run you and you're throwing pitches up there you're not supposed to be throwing, it's not a good thing.
"But since I am so old," he said with a grin, "I was able to use my wisdom in my favor."
How old is Beimel? His first save came in 2006 with the Dodgers in his sixth year in the big leagues when he pitched the final two frames in a 6-3 win over the Giants. Among those he retired were Omar Vizquel and Barry Bonds before getting Mike Matheny -- now the Cardinals manager -- for the final out.
After three outstanding seasons with the Dodgers, he signed with the Nationals and thought that might be his time to rack up some serious saves.
"I remember they said I was going to be the closer," he said. "I might have got one save, then blew one and I was out."
It turned out, he went another 216 Major League appearances before notching his next save. But Beimel has carved quite a career as a situational lefty. And on Tuesday, that situation turned out to be one he'll savor.
• Manager Lloyd McClendon said Tuesday's game was a classic example of how tough the job of a closer is in Major League Baseball.
"People think anybody can close a game out, but the last three outs of a game are very tough to get," McClendon said before Wednesday's series finale. "Evident yesterday. It was tough for us and they brought their closer in who hadn't given up anything and they lost the game. It's tough."
Fernando Rodney has a 6.98 ERA after blowing Tuesday's save in a three-run ninth, but McClendon is showing no signs of wavering in his use of the 38-year-old. He said Rodney's tough-minded ability to bounce back from rough outings is part of what makes him a good closer and changing that role can carry a huge impact.
"You start playing games with your bullpen and not showing confidence in your players, that's not good and that relationship won't last very long," he said. "I haven't done it here in Seattle, but there have been nights when I've pulled a closer. When I was asked about it I said, 'He's still my closer. Tonight he just didn't have his best stuff.' You recognize that right away. But I don't think I've had a night where Fernando didn't have his best stuff. He was throwing 96 yesterday."
• The Mariners will need to add a reliever soon as they've gone with a six-man bullpen after sending Danny Farquhar to Triple-A on Monday night. That will require a position-player move to open a spot on the 25-man roster following Austin Jackson's return on Tuesday.
"I think we're close," McClendon said of solving that issue. "I don't think it's [Thursday]. It may not even be the next day, but I think we're close."
Greg Johns is a reporter for MLB.com. Follow him on Twitter @GregJohnsMLB, read his Mariners Musings blog, and listen to his podcast. This story was not subject to the approval of Major League Baseball or its clubs.