Fielder back swinging hot bat
After frustrating season interrupted by injury, big hitter producing at plate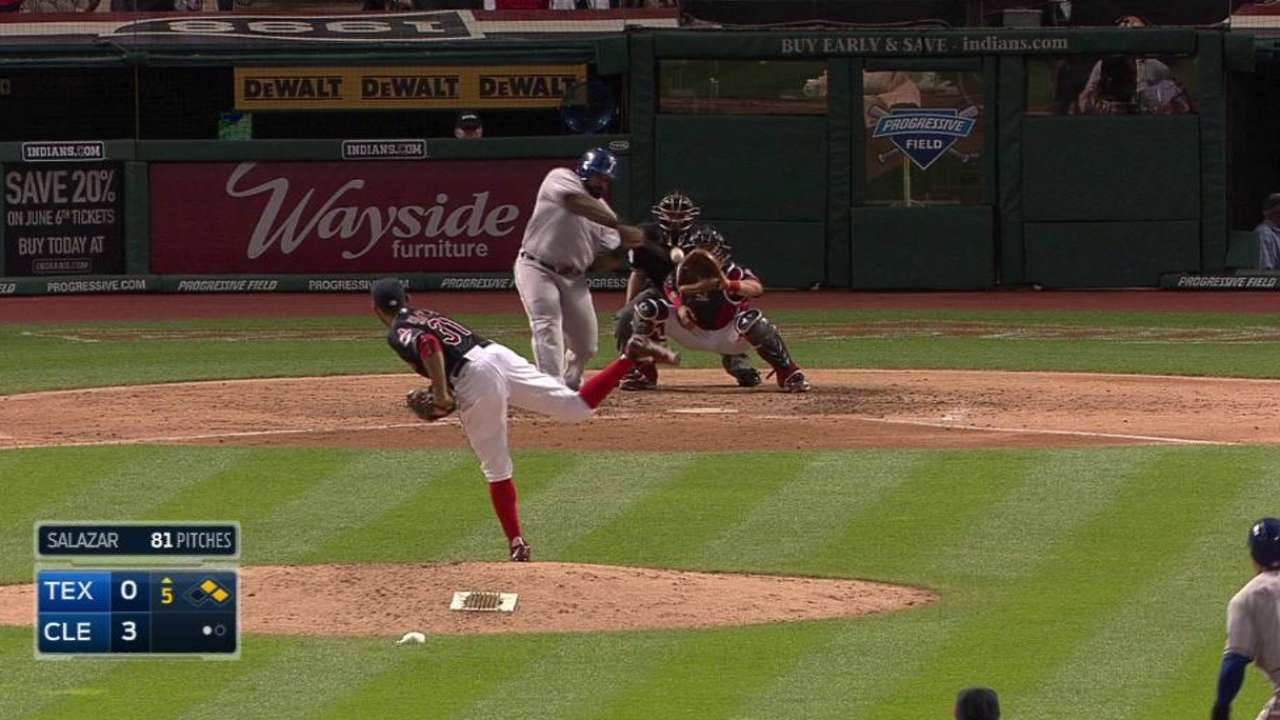 CLEVELAND -- Prince Fielder was born into baseball. His father, Cecil, played 13 years in the big leagues, with young Prince tagging along in the clubhouse and during batting practice. Since before Prince could even play, baseball was ingrained into his daily life.
So when he missed 120 games following surgery to repair a herniated disc in his neck, it put him in a position in which he'd never been in his life. It took him out of his comfort zone. Life without baseball is not a life that Fielder has ever been used to.
Fielder's manager, Jeff Banister, was also a child of the game. His father was a coach, and Banister estimates he's spent about four of his 51 years of life away from the game. He couldn't imagine what Fielder went through last season.
"It's the most comfortable place that you can be, because we've spent more of our time in this location, doing this, than anywhere," Banister said. "It's where we have the most fun. When that's taken away from you and it's no longer fun anymore and it's not taken away on your terms, then all of a sudden you start looking around thinking, 'I really do miss that. I really do love that. That's where I want to be.'"
So perhaps it's no surprise that we're seeing Fielder be the most aggressive hitter he's ever been. Fielder, who leads the Major Leagues in batting average -- and the American League by more than 20 points -- has cut his walk rate by more than half. He's swinging more than he ever has, often early in counts.
Think Fielder was itching to get back in the batter's box?
"It's more than an itch," Banister said. "It was forged inside of him a long time ago. This is where he loves to be. He's got his kids here, his family here. So, yeah, there is something to that. It's an emotional attachment that goes well beyond just the competitive nature of playing this game."
More often than not, a player cutting his walks as drastically as Fielder has could be a cause for concern. The boost in swings could be seen as a sign of a player pressing at the plate.
Not in this case.
This is a player, whose entire life has been baseball, simply getting back to the basics. See the ball, hit the ball. This is a player making up for lost time by hearing the crack of the bat as early and as often as he possibly can.
After the most frustrating season of Fielder's career, he's back to doing what he loves. He's back to having fun again. And who wouldn't be having fun playing the way Fielder is right now? Entering Wednesday, he hit safely in 14 of his past 15 games, batting .444 over that stretch. He's got 15 RBIs in his last in his past five games, the most in Rangers history, and his 38 ranks third in MLB.
Considering the time off, and the way Fielder is playing, it only makes sense to do one thing.
Swing away.
"I think when a hitter is in that zone of hitting well, the ball looks really big," Banister said. "Their spikes are feeling really comfortable in the dirt, and it does start with that foundation. When you're seeing the ball well, you're confident in the swing and you can plant those feet in the dirt, and it just relaxes everything."
August Fagerstrom is an associate reporter for MLB.com. This story was not subject to the approval of Major League Baseball or its clubs.