Pedroia takes no solace in two-homer day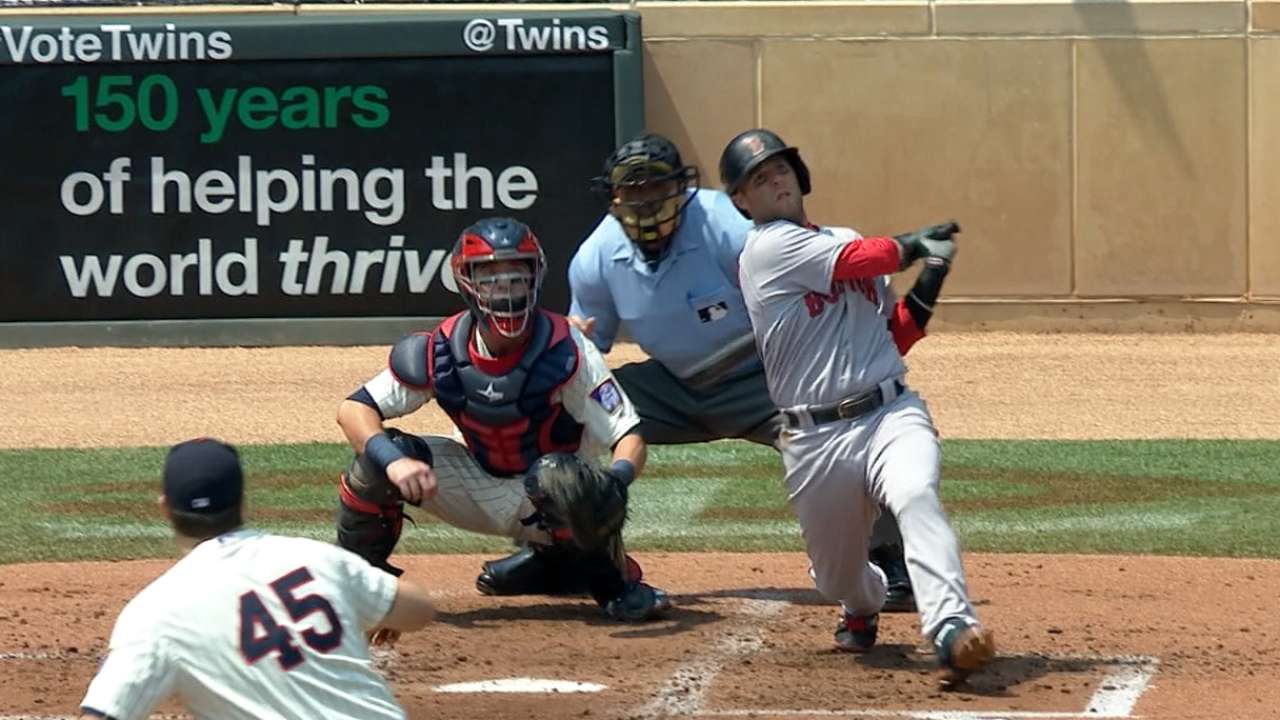 MINNEAPOLIS -- Dustin Pedroia took zero satisfaction in the fact that his two homers on Wednesday gave him seven for the season, equaling his total from 2014.
If it had come in a winning effort, maybe Pedroia would have taken some measure of pride in his power returning along with his health. But Pedroia is consumed by team results, and the Red Sox, who lost, 6-4 to the Twins, aren't playing well.
And it eats at their leader.
"It's not for a lack of effort," said Pedroia. "Guys are in the cage working. It's going to come. That's basically all I can say. This isn't football. You can't go out there and hit somebody. You've got to calm down, think the game and have a good at-bat. We have to start doing a better job."
Pedroia's pair of two-run homers accounted for Boston's entire scoring output on Wednesday. David Ortiz (.216) remains mired in a slump. Hanley Ramirez has one RBI in May. Pablo Sandoval is down to .265.
"If you've been consistent over your career, you are who you are," said Pedroia. "That's the way I view it and the way everybody views it. You just have to continue grinding and find a way."
The one saving grace for Pedroia and the Red Sox is this: Despite being 21-26 and in last place in the American League East, they are only four games out of first.
"We're four games out of first place, so I'm not upset," said Pedroia. "I'm upset about the way we're playing, but if you look at the big picture, we're right there. Everybody can say whatever they want about our team, but we're one click away from being a championship-caliber team. But right now, we're a last-place team. So hopefully it comes soon."
With Pedroia in the heart of the clubhouse, it's doubtful the Red Sox will get deflated.
"We haven't played good baseball at all, so when that happens, we'll build on that momentum and go," Pedroia said. "Nobody is going to quit and go home. I don't think that's an option."
Early in Wednesday's game, Pedroia almost looked like he was going to put the Red Sox on his back so that they could avoid a sweep. But it was not to be.
"Pedey today is the one boost for us, [the guy] who comes up every day, shows up ready to compete," said manager John Farrell.
Ian Browne is a reporter for MLB.com. Read his blog, Brownie Points, and follow him on Twitter @IanMBrowne. This story was not subject to the approval of Major League Baseball or its clubs.