Players shave heads to support Aviles' daughter
Shortstop overcome with appreciation as teammates pull together for Adriana, who has leukemia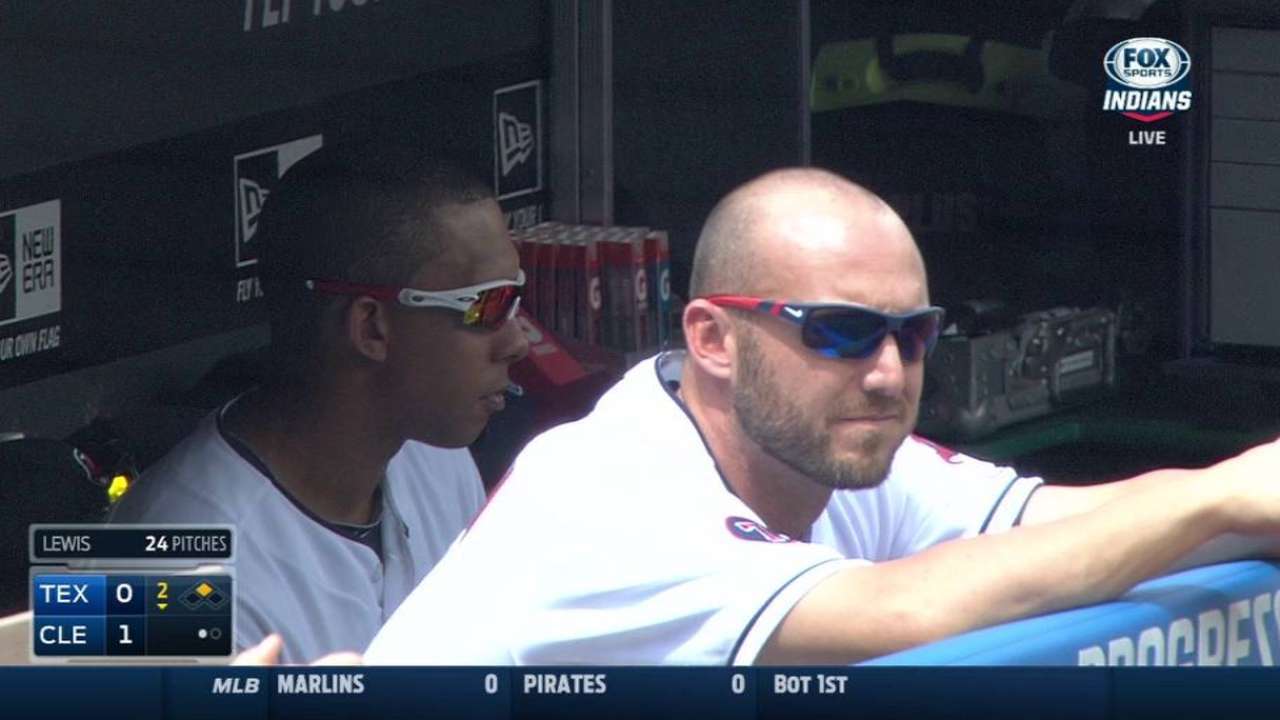 CLEVELAND -- It began with only a handful of players during the Indians' last road trip. Slowly, more and more members of Cleveland's team and staff began joining the cause, shaving their heads as a collective show of support for Mike Aviles' young daughter.
Earlier this month, Aviles' 4-year-old girl, Adriana, was diagnosed with leukemia and has a tough road ahead in battling the disease. Aviles said Adriana laughed at her dad when he buzzed his hair and said he looked funny. As more and more people have followed with closely cropped hair, Aviles has felt overwhelmed.
"It means a lot for me," Aviles said on Wednesday morning. "It goes without saying, everybody in here has families, and they know how it is. It's a tough time, but to know that my team, the coaching staff, everybody, is on my family's side and my little girl's side, it helps out a lot and makes me feel good."
Aviles learned that Adriana -- one of his three daughters -- had leukemia on May 7 during Cleveland's game in Kansas City, and the infielder missed the next nine days while on baseball's Family Medical Emergency List. Initially, his daughter was at the Cleveland Clinic, but she has since returned to his family's home to continue treatment.
With Adriana out of the hospital, Aviles has felt a little better about being back with his team.
"You want to be home the whole time," he said. "It kills me not to be home the entire time. At the same time, I know my wife is a great mom. She's doing a great job with her, so everything is good at home. I have to get back and do the things that help provide for the family. I've spent a lot of time on FaceTime, talking through there.
"It's definitely an interesting time. The way I see it is, she's going to fight, and I'll be right there with her. It's good to know that we have a lot of support on her side."
Indians second baseman Jason Kipnis said buzzing his hair was an easy decision.
"She's going to, unfortunately, be losing her hair soon here to [chemotherapy]," Kipnis said. "So, we all kind of wanted to join in, and it started with a couple and then spread throughout the whole clubhouse."
Some have gone with short buzzcuts, while others -- like pitching coach Mickey Callaway -- have gone entirely cleanshaven.
"I have two daughters," Callaway said. "I have a cousin that recently went through cancer, and her mom went through three bouts with cancer -- a cancer survivor three times. She has one lung. It's difficult for families to go through that, and we wanted Mike to know that we're part of his family."
Indians manager Terry Francona has enjoyed seeing the widespread support from Aviles' teammates.
"It's a bunch of guys that really care about their teammate," Francona said. "A lot of the guys probably don't even know Adriana, but because it's Mikey's daughter, she's important to all of us. I think it's a way to take something that's very serious and makes you step back and think, take it and turn it into something where, I guarantee you, when she sees pictures of all these guys, she's going to smile."
Aviles said Adriana has not fully grasped what Cleveland's players have done.
Right now, she just thinks her dad looks silly.
"She thinks it's funny. She doesn't understand it, but she knows that Daddy did it," Aviles said. "At first, she didn't like the way my head looked. The more she looks at it, she's like, 'I like it. It looks cool.' I'm like, 'All of Daddy's friends did it, too.' Little by little, she'll understand.
"It's something that, when she gets older, we can show her all of the cool things that everybody is on her side with."
Jordan Bastian is a reporter for MLB.com. Read his blog, Major League Bastian, follow him on Twitter @MLBastian and listen to his podcast. This story was not subject to the approval of Major League Baseball or its clubs.