Correa's mammoth blast among Tuesday's best in MiLB
Astros No. 1 prospect launches huge homer for Fresno; Velasquez fans eight for Hooks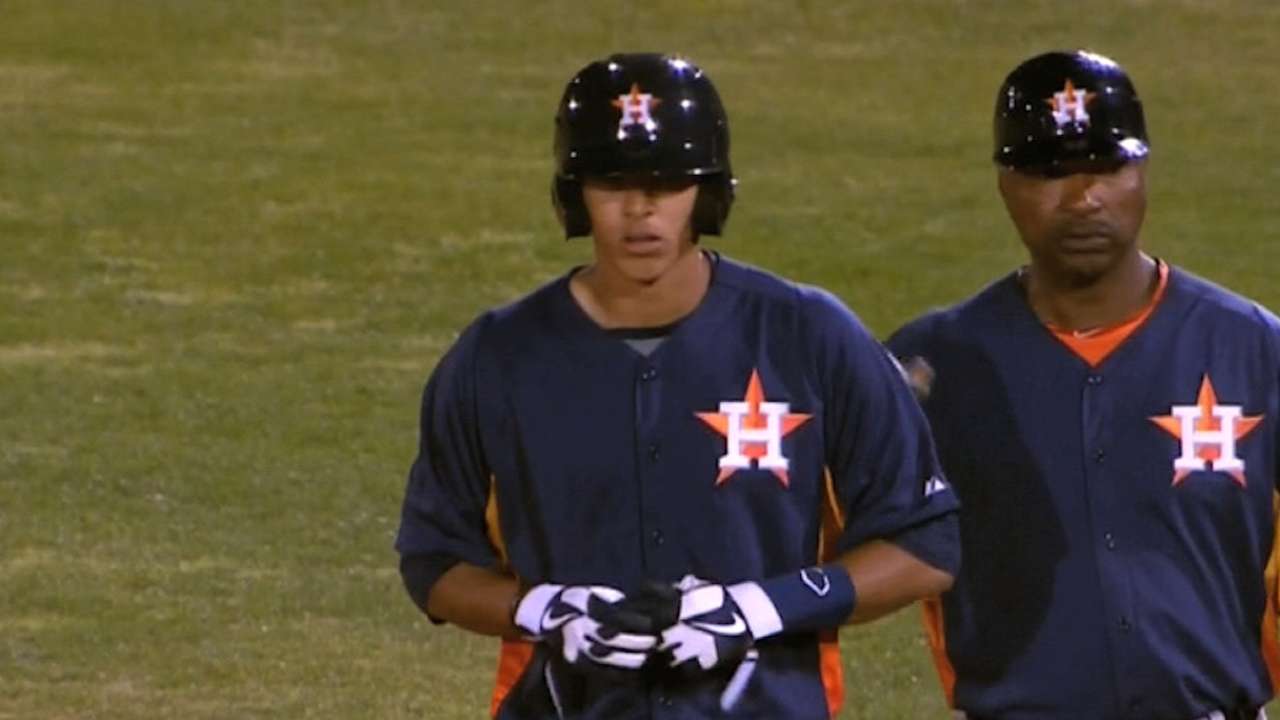 With Chicago Cubs phenom Kris Bryant reaching the threshold for rookie eligibility on Monday, MLB.com's Top 100 Prospects list received a makeover, with Astros top prospect Carlos Correa moving up into Bryant's vacated No. 2 spot.
The future Houston infielder then promptly showed why he deserves an elite ranking, blasting a 424-foot home run completely out of Fresno's Chukchansi Park as part of a 2-for-4 effort on Tuesday night. The 2012 No. 1 overall Draft pick now has three homers and eight RBIs since being promoted to Triple-A Fresno on May 12.
Correa's former teammate -- and Astros No. 4 prospect -- Vincent Velasquez was bumped to No. 78 overall after Bryant's Top 100 departure.
The righty has been rock solid for Double-A Corpus Christi since his season debut on May 8, and Tuesday was his most complete start of the year. Velasquez gave up just three hits and one walk against eight strikeouts in five shutout innings, and he is now 2-0 with a 1.40 ERA in four starts.
In all, the Astros have five prospects in the Top 100, including Corpus Christi pitcher Mark Appel (No. 28), Fresno outfielder Domingo Santana (No. 65) and Corpus Christi pitcher Michael Feliz (No. 92).
More standout performances from Top 100 prospects on Tuesday
Dodgers No. 1 prospect (No. 6 overall) Corey Seager is on fire for Triple-A Oklahoma City. One night after blasting two homers, the shortstop went 4-for-5 with two doubles, an RBI and a walk -- and he was robbed of a hit in his final at-bat. Seager is hitting .280/.323/.409 with two home runs and nine RBIs since his May 1 promotion.
Yankees No. 1 prospect (No. 21 overall) Luis Severino tied a career high with nine strikeouts for Double-A Trenton. The righty gave up three hits and two earned runs in five innings Tuesday, picking up his first win since April 19. On the year, Severino is 2-2 with a 3.32 ERA in eight starts.
Royals No. 1 prospect (No. 37 overall) Raul A. Mondesi hit a solo shot, his third home run in nine games since getting a late start to his season with Double-A Northwest Arkansas. The 19-year-old shortstop also has seven RBIs over that span.
Rangers No. 2 prospect (No. 40 overall) Jorge Alfaro is still cooking. The Double-A Frisco catcher homered for the second night in a row, and has now hit in five straight games. On the season, Alfaro has a .272/.340/.469 line with four jacks and 17 RBIs.
Mets No. 3 prospect (No. 61 overall) Steven Matz tossed seven shutout innings for the third time this season, giving up three hits and one walk against seven strikeouts. The southpaw has been dominant for Triple-A Las Vegas, going 6-2 with a 1.99 ERA and a 68-to-21 K/BB ratio.
Rangers No. 4 prospect (No. 75 overall) Jake Thompson has been inconsistent this season -- including a forgettable start on May 9, in which he gave up seven runs in two-thirds of an inning -- but he's shown some brilliant flashes, too, including Tuesday's performance. The Double-A Frisco righty recorded five strikeouts and gave up five hits in six innings of shutout ball, winning his second straight and running his record to 4-3 with a 4.63 ERA.
Other notable performances from around the Minor Leagues
Blue Jays No. 17 prospect D.J. Davis ran his hitting streak to 14 games with a solo home run. Tuesday's 2-for-4 performance for Class A Lansing was his fifth multihit game in that span, during which he's boosted his line from .233/.333/.369 to .283/.361/.409. Davis now has a pair of homers to go along with 17 RBIs on the year.
D-backs No. 14 prospect Stryker Trahan homered for the second straight day. The Class A Kane County catcher now has six on the season -- along with 22 RBIs -- and has hit in five straight contests. Trahan, who was hitting .094 on April 19, now boasts a .217 batting average with 22 RBIs.
Marlins No. 7 prospect Adam Conley blanked the opposition for the first time in eight starts this year, giving up just four hits in six innings. The lefty also struck out six batters and picked up his first W since May 9. Now 4-2 with a 3.09 ERA, Conley has struck out at least five in three straight contests.
Rangers No. 17 prospect Michael De Leon had his second four-hit game of the year for Class A Hickory. The 18-year-old shortstop hit his first home run on May 16 and has racked up seven of his 17 RBIs since.
Twins No. 11 prospect Stephen Gonsalves might not be fit for Class A any longer. The Cedar Rapids lefty dominated again on Tuesday, striking out a career-high 11 batters while giving up one unearned run in six innings. Gonsalves, who now has 66 strikeouts against 11 walks this year, fanned eight of the first nine men he faced and is now 5-1 with a 1.31 ERA.
White Sox No. 10 prospect Matt Davidson hit a homer for the second straight game. The Triple-A Charlotte slugger now has eight on the year, along with eight doubles and 29 RBIs. Before Memorial Day, Davidson had not homered since May 5.
Alex M. Smith is a reporter for MLB.com. This story was not subject to the approval of Major League Baseball or its clubs.