MLB.com Columnist
Lyle Spencer
Shields enjoys hitting, life in the NL
After 10 years in the AL, veteran righty is happy to swing the bat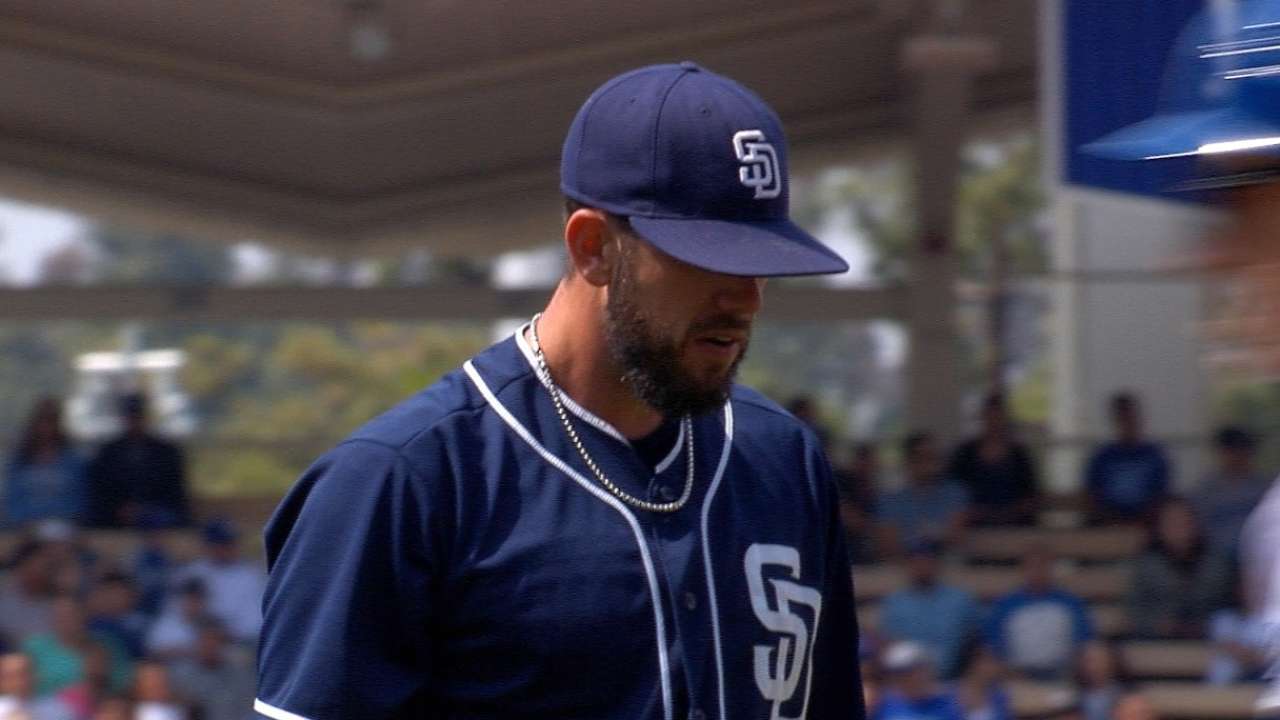 ANAHEIM -- After a decade with the Rays and Royals, James Shields finally found his way to the ideal place: the National League, courtesy of the Padres and a free-agent deal shaping up as one of the smartest of the offseason.
"I love hitting, man -- I absolutely love it," Shields said on Tuesday night, his Padres visiting the Angels under designated-hitter regulations. "Obviously, a lot of pitchers were hitters in high school. I played first base [at Hart High School in Santa Clarita, north of Los Angeles]. I wanted to be a hitter, but it worked out fine."
Signed by San Diego for four years and $73 million, he hits now every fifth day, unless it's in an American League park. Batting .167 this season in 24 at-bats, Shields is a .197 career hitter, with only 50 plate appearances in his 10 seasons as an elite AL starter. He hasn't gone deep, but in his most recent outing, at Dodger Stadium, he came close.
"I hit one right at the wall in left," Shields said, recalling an at-bat against lefty Paco Rodriguez. "I got jammed a little bit."
Shields watched the Giants' Madison Bumgarner take Dodgers ace Clayton Kershaw over the wall in left at AT&T Park in San Francisco, one of the highlights of the 2015 season. It never would have happened in the AL.
"That was impressive," Shields said, grinning as he added, "and that was a pretty good pitcher he hit it off. It's every pitcher's dream to hit a home run in the big leagues."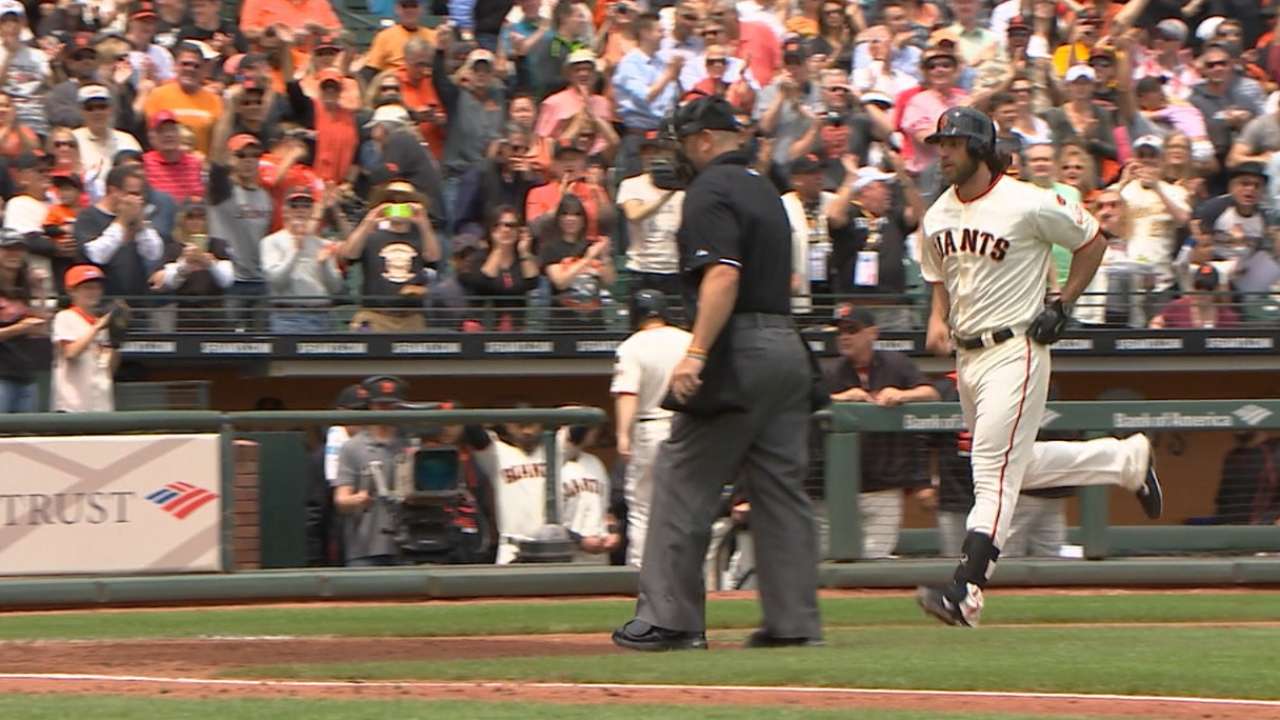 In the case of Jon Lester, the Cubs' $144 million free-agent import, the dream involves a base hit. He's 0-for-57 at the plate, with six years remaining in Chicago to find it.
Max Scherzer, corralled by the Nationals for seven years and $210 million, is a .168 career hitter, but he's no fan of pitchers in the batter's box after jamming a thumb while batting in April.
Scherzer's mishap and a more serious injury to Cardinals ace Adam Wainwright -- who is lost for the season to a torn Achilles suffered coming out of the batter's box -- led to cries for a universal DH. Scherzer supports the movement, but Wainwright, who has won a number of games with his bat, quickly knocked down the idea.
"I think the way the leagues are now is just fine," Shields said. "It gives guys who are DHs a chance to DH. I like the game in the National League, all the strategy involved. There are a lot of pitchers you have to be careful with, like Tim Hudson, [Zack] Greinke, Kershaw. And Bumgarner, obviously."
It would be wonderful, and not terribly outrageous, for Giants manager Bruce Bochy to use Bumgarner as his DH against a lefty in Interleague Play. As the NL Silver Slugger Award winner last season, the right-handed basher hit .258 with a .470 slugging percentage with four home runs in 66 at-bats.
Shields isn't expecting to be a DH option for Padres manager Bud Black, but his ability to swing the bat can give him an edge against pitchers who can't hit a lick.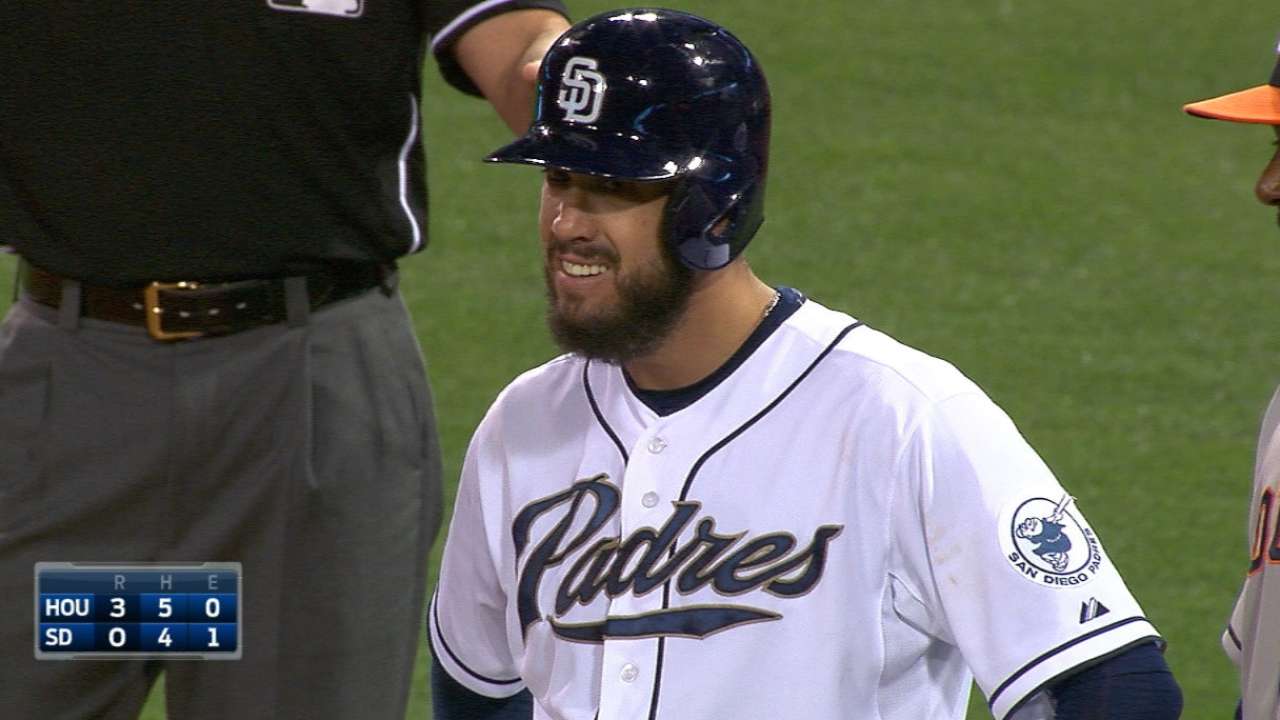 Shields is 6-0 in 10 starts for San Diego, forging a 3.75 ERA with an NL-high 82 strikeouts. He was 114-90 with a 3.72 ERA in 286 games in the AL, exceeding 200 innings and 160 strikeouts in eight consecutive seasons.
"He's been everything we could have hoped for," Black said. "He's done a great job on the mound, and he's great in the clubhouse. He's a true leader."
Reaching the open market after serving as the ace of a Royals team that took the champion Giants to a seventh World Series game, Shields fell in behind Lester and Scherzer among desired starters despite similar credentials.
Playing the waiting game, the Padres signed Shields on Feb. 11, with a team option for 2019 for $16 million or a $2 million buyout.
Struggling to find a winning groove, San Diego has the talent to break loose and become a factor in the NL West.
Recalling the late magical run of the 2011 Rays, Shields said, "I was on a team that was 10 1/2 games behind [on Sept. 6] and made the postseason. I told the guys from day one, it takes time for a new team to jell. As long as we stick together, we'll put it together and we'll be fine."
The message is clear: play with a purpose and swing with feeling -- even if you're a pitcher.
Lyle Spencer is a national reporter and columnist for MLB.com. Follow him on Twitter @LyleMSpencer. This story was not subject to the approval of Major League Baseball or its clubs.