MLB.com Columnist
Barry M. Bloom
Kemp's double may break him out of funk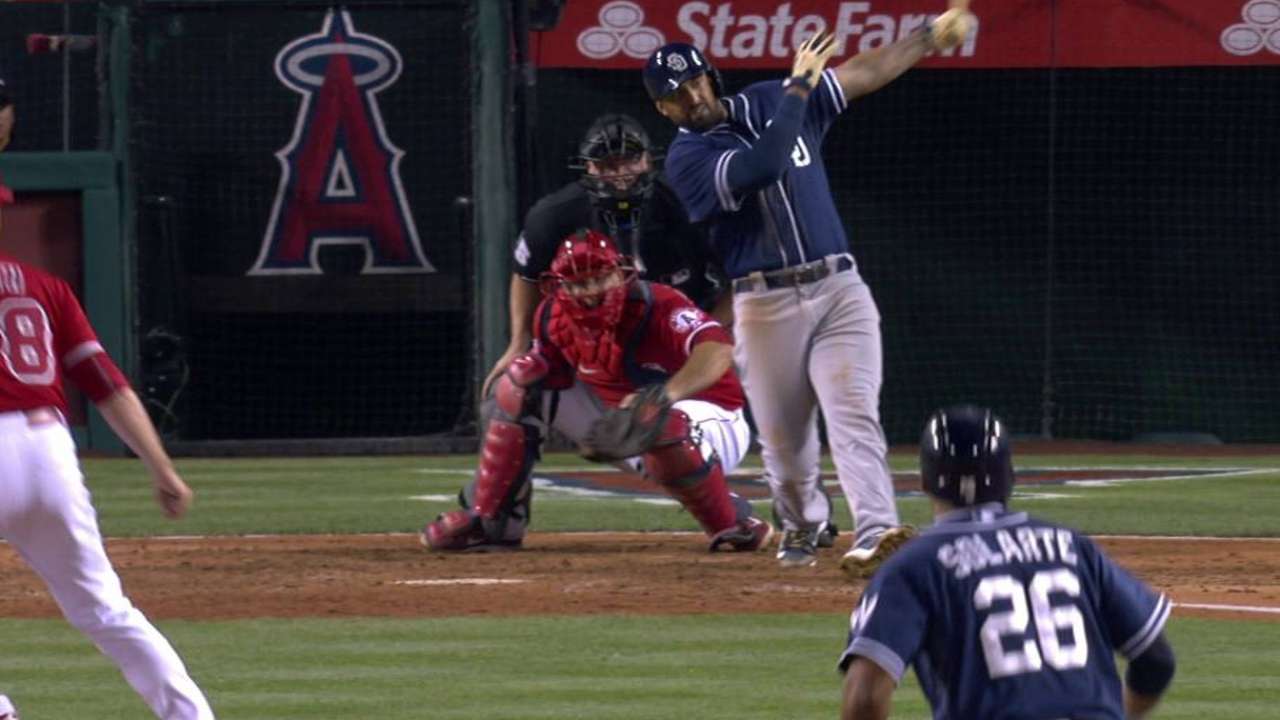 ANAHEIM -- Matt Kemp has had one of those months so far for the Padres that he's better off forgetting. But sometimes -- as Crosby, Stills & Nash once sang -- the darkest hour is always, always just before the dawn.
Trying to shake things up for both Kemp and his struggling club, manager Bud Black flipped the right-handed-hitting Kemp and Justin Upton in the batting order Tuesday night against the Angels at Angel Stadium, batting Upton third and Kemp fourth.
Of course, Kemp came up in the cleanup spot with the bases loaded in the 10th inning and helped win the game, 4-0, with a bases-clearing double into the left-field corner against Angels reliever Joe Smith. As he arrived at second base, Kemp gave an uncharacteristic handclap above his head and took a little skip.
"That was a big hit. We needed that," Kemp explained. "I felt like we needed to win that game right there. I was just excited that I could get that hit for the team and get us those runs."
Since offseason trades brought Upton and Kemp to San Diego, Kemp had batted third and Upton fourth. Why the change now?
"A couple of things," Black said. "It gets Justin up in the first inning and he's hitting the ball well. And I think it works both ways. It gives Matt a little bit of perspective, too. We just thought today was the day to give it a look to see if anything can spark our offense."
Kemp has been fighting himself since the beginning of May and is mired in a miserable slump. Including a single and the double in five at-bats on Tuesday night, Kemp is batting .185 (17-for-92) with two doubles, no homers and now nine RBIs in the month.
The sudden slump came just as Kemp looked like he was ready to have a great season after his first two months with the Padres. He had a torrid spring and finished April hitting .326 (30-for-92) with a homer, seven doubles, two triples and 16 RBIs. But the power hitter, with 183 career homers, has been anything but that. Kemp hasn't hit a homer since April 18 at Wrigley Field.
On account of the past 26 days, Kemp is batting .255 with the homer and 25 RBIs overall. Tuesday's RBIs were his first since May 17.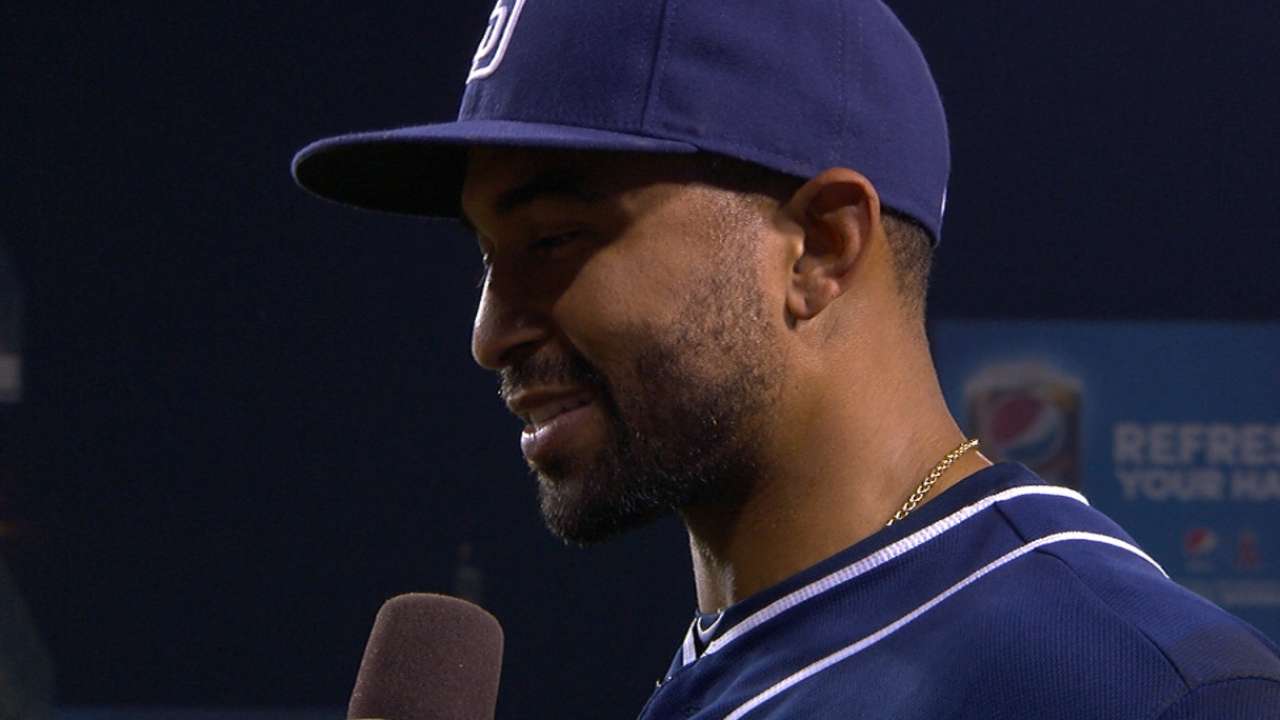 Considering Kemp's recent history of injuries, it's tempting to say that either his previously damaged left shoulder or left ankle is bothering him, but Black said that physically Kemp is fine. He's simply in a hitting funk.
"He's just in a rough patch, no doubt about it," Black said. "I think with him, when you break down the swing, the timing's off. He's not squaring up the ball they way he usually does. He might not be seeing the ball as great as he normally does. But he's grinding through this. He knows that his numbers will turn."
Kemp was acquired in a rare trade from the Dodgers this past December. And make no mistake about it, the Padres were looking for Kemp to show them the way. They still are.
"I told him that I want to hear his voice in the clubhouse," Black said.
Kemp has that type of talent and big personality and this certainly could be his team. The pressure to lead not only by design, but by example may be another facet in Kemp's doldrums at the plate, Black said.
"This is my take," Black said. "He places a great deal of responsibility for this team on himself, which is natural. He's with a new team, new teammates. There are his own expectations and those of others. I think he's worn that a little bit."
Black hasn't allowed it go unnoticed. He said he talks to Kemp every day, as is his usual routine with all of the players. But in recent weeks, as Kemp has struggled, there have been more than a few heart-to-heart conversations.
Black told Kemp not to put the team on his own shoulders. There are others to help carry the burden. When both Upton and Kemp arrived at the ballpark Tuesday, he apprised them of his plan to flip them in the batting order. No surprises. Kemp said he appreciates the candor.
"He just always tells me he has my back no matter what," Kemp said about his relationship with Black. "He has all of our backs, and that's what's good about him. He stays positive and we need that, especially when we're going through some tough times. I think this is a good moment for us. Hopefully we can carry it into tomorrow and win a few more games."
Kemp has had very high highs and very low lows, along with many injuries. Since hitting .324 with a National League-leading 39 homers and 126 RBIs in 2011, he's had a badly strained left hamstring, a damaged left shoulder and a severely sprained left ankle.
Thus far, that all seems to be behind Kemp. He just hasn't been able to pick it up offensively yet.
"You just have to continue to think positive and grind it out," Kemp said. "I mean, I feel like I can still hit. I feel like I'm a good hitter. Sometimes you go through those stretches when things just aren't going your way. I've hit that stretch. I feel like the earlier, the better. I got that out of the way and now I can start doing some things to help this team win."
Barry M. Bloom is a national reporter for MLB.com and writes an MLBlog, Boomskie on Baseball. Follow @boomskie on Twitter. This story was not subject to the approval of Major League Baseball or its clubs.