MLB.com Columnist
Lyle Spencer
Monday reflects on selection in 1965 Draft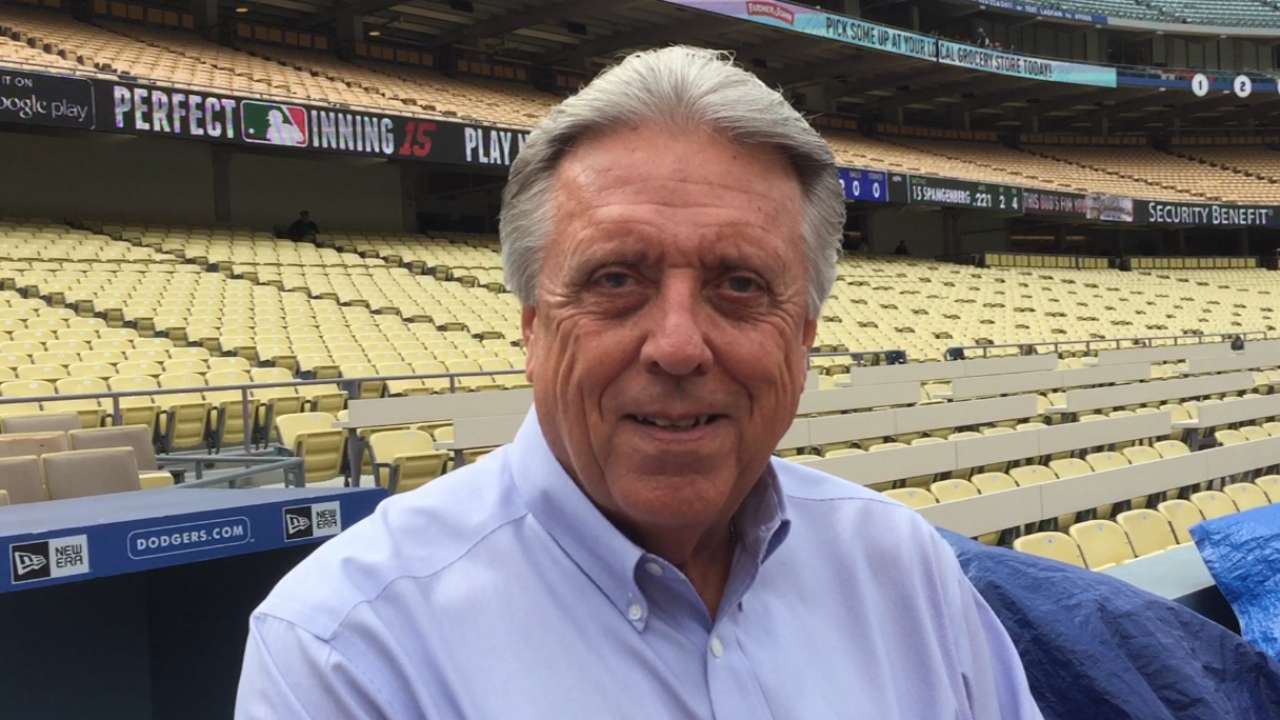 LOS ANGELES -- Rick Monday was a few days away from driving from Arizona State University to the 1965 College World Series championship in Omaha, Neb., when word arrived that he'd been taken by the Kansas City A's with the first overall pick in Major League Baseball's inaugural First-Year Player Draft.
Fifty years later, Monday reflected on the momentous events swirling around that 19-year-old kid. Two years earlier, his mother had promised a persistent scout named Tommy Lasorda that her son -- having just graduated from Santa Monica (Calif.) High School -- would sign with the Los Angeles Dodgers after attending college. The Draft altered those plans.
"We were in uniform in the stands at Rosenblatt Stadium the day of the Draft, waiting for another game to end," recalled Monday, now in his 23rd year as a Dodgers broadcaster after a stellar 19-year playing career. "Our guys were about to play the most important game of our lives, and here come a bunch of reporters. One of them said, 'Rick, you're the No. 1 pick by the A's.'
"Art Lilly, their scout, had told me, 'Hey, you're going to be the No. 1 pick.' But the timing of it was a little weird. I went 0-for-4, but we went on to beat Ohio State in the championship game."
That 2-1 victory came on June 12 after colorful A's owner Charlie O. Finley had flown to Omaha to pose for photos with his prize recruit. Monday jump-started ASU in the title game with a first-inning homer, and future A's teammate Sal Bando tripled and scored the winning run.
Bando, taken by the A's in the sixth round of the '65 Draft, was the Sun Devils' junior third baseman. Monday, a sophomore center fielder drawing comparisons to Mickey Mantle with his power and speed, joined him on the all-tournament team.
"We had six or seven guys off that team who played professional ball," Monday said. "After we won the championship, I flew to Phoenix and then home to Santa Monica. Charlie Finley and Art Lilly came to my mother's house, and it didn't take all that long to sign -- within two days."
Monday's $100,000 bonus was half of what the Angels had awarded outfielder Rick Reichardt as an amateur free agent a year before the Draft.
"It's been wonderful for the game in terms of competitive balance," Monday said. "But I've always been a proponent of not holding the Draft while there's still competition, of waiting until the College World Series is over.
"Having seen that empty look of bewilderment and confusion on teammates who weren't drafted that day ... it's something that has stayed with me."
The eventul days immediately following his selection also are vivid in his mind.
"I joined the big league club for two weeks and worked out with them," Monday said. "While I was taking batting practice at Yankee Stadium, Mickey Mantle was watching, and, man, I was nervous. He came over and introduced himself.
"I actually grew up not liking the Yankees. They were always on television, and I was kind of an underdog guy. But he was the No. 1 guy who could walk into a phone booth and come out with an 'S' on his chest."
As with so many No. 1 overall picks who would follow him, Monday felt the early burden of expectations. After a total of 199 Minor League games, he was 0-for-3 in his Major League debut against Boston on Sept. 3, 1966, and he was 0-for-15 when he collected his first hit, a double off Jim Palmer, on Sept. 22 in Kansas City.
Finishing the season 4-for-41 (.098), a more mature and confident Monday settled in as a regular in 1967. His first Major League homer came April 29 at Fenway Park, in the 15th inning against Jack McMahon, and he went on to hit .251 with 14 homers in 124 games.
When the A's moved to Oakland in 1968, Monday was flanked in the youthful outfield by Joe Rudi and Reggie Jackson. A fellow ASU product, Jackson was the second overall pick in '66 after the Mets selected catcher Steve Chilcott. Monday played four seasons in Oakland before he was dealt to the Cubs for Ken Holtzman.
On April 25, 1976, Monday -- a United States Marine Reserve -- became a national hero. He sprinted across the Dodger Stadium outfield to grab and carry to safety an American flag several protesters were trying to set on fire.
Video: 50 Moments: Monday saves flag
After producing a career-high 32 homers, Monday was traded to the Dodgers for Bill Buckner. Monday graced the Dodgers' outfield for his final eight seasons then retired in 1984 with a .264/.361/.443 career line in a pitcher's era, delivering 241 homers while compiling an impressive 125 OPS-plus.
Monday's most memorable moment as a player came in decisive Game 5 of the 1981 National League Championship Series on a freezing Oct. 19 afternoon in Montreal's Olympic Stadium.
In the ninth inning of a classic 1-1 duel between Fernando Valenzuela and the Expos' Steve Rogers, Monday unloaded a solo homer off Rogers. It sent the Dodgers on to a World Series that they claimed in six games from the Yankees. The blast rivals Kirk Gibson's 1988 Fall Classic homer off Oakland's Dennis Eckersley in impact.
"I felt like I was floating around the bases," Monday said.
Bob Welch got the final out and official save, but the man who saved the flag also saved a championship team that day, along with the great Fernando. Having felt destined to be a Dodger as a 17-year-old Santa Monica kid, Rick Monday had come full circle.
Lyle Spencer is a national reporter and columnist for MLB.com. Follow him on Twitter @LyleMSpencer. This story was not subject to the approval of Major League Baseball or its clubs.