Bradley seeking answers amid rocky stretch
Right-hander left 'frustrated' after allowing 6 runs in 3 2/3 innings
ST. LOUIS -- There was one word that Archie Bradley kept coming back to time and time again following his poor outing Tuesday night in the D-backs' 6-4 loss to the Cardinals at Busch Stadium.
Frustrating.
The right-hander allowed six runs and lasted just 3 2/3 innings, his third disappointing start since coming off the 15-day disabled list after he was struck in the face on April 28 by a line drive off the bat of Carlos Gonzalez.
In those three starts, he has allowed 14 runs in 10 2/3 innings. In the three starts before the injury, Bradley had a 1.45 ERA, but he insisted that it's not a factor.
"No, the injury is past," said Bradley, who is ranked as the D-backs' top prospect. "It's just bad baseball, it's bad pitching, it's bad pitches, it's bad sequences, it's just everything is not good right now and I know that. I don't feel sorry for myself. I don't think anyone else should. I've just got to get it fixed, I've got to get it fixed quick."
D-backs manager Chip Hale has said part of the issue is that Bradley, 22, is depending too much on his fastball and not using his curve or changeup enough.
"He was relying on the fastball early again and was not throwing enough strikes," Hale said. "The good hitters, like they are, ambushed him a couple of times. He's got to get control of those other pitches so he can use them. He can't just be a thrower in this league. You've got to be a pitcher."
Hale might be right about not using his other pitches enough, but it seems like it comes back to a lack of fastball command on Bradley's part. Not being able to throw the fastball for a strike puts him behind in the count, which makes it more difficult to then throw his secondary pitches.
"Tried to mix in the curveball as much as we could today, just to get them off the fastball," D-backs catcher Tuffy Gosewisch said. "Then after the first inning, we started throwing more changeups, just to give them a different look. We were trying to mix it up and really use the changeup as much as we could to get them off the fastball. The curveball wasn't [working] for a strike, so we couldn't use that a whole lot."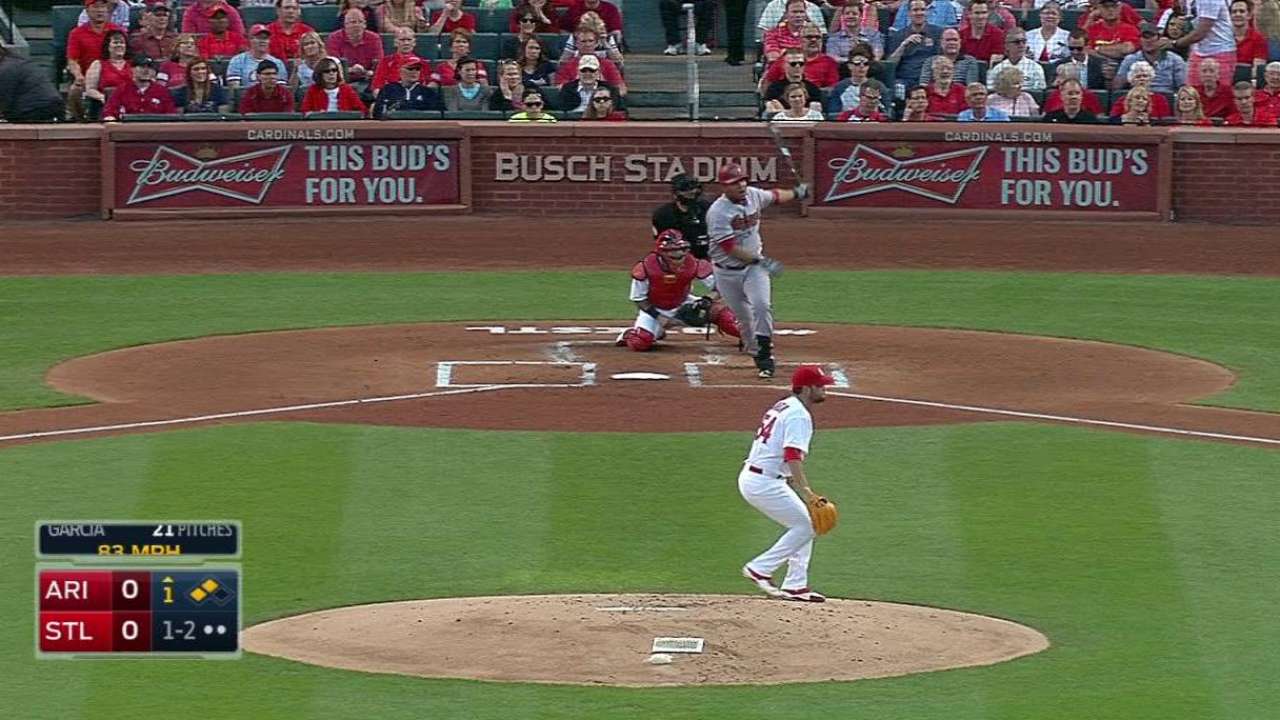 The D-backs gave Bradley a 2-0 lead in the first inning, but he allowed four runs in the bottom half of the frame, which started when Bradley walked the first two hitters.
"Same thing the last couple of starts," Bradley said. "Just put myself in bad counts, and it's frustrating because you can't compete when you do that. They give me two runs in the first and I go right out there and give four right back. It's frustrating to say the least."
Steve Gilbert is a reporter for MLB.com. Read his blog, Inside the D-backs, and follow him on Twitter @SteveGilbertMLB. This story was not subject to the approval of Major League Baseball or its clubs.