deGrom settles for no-decision after strong start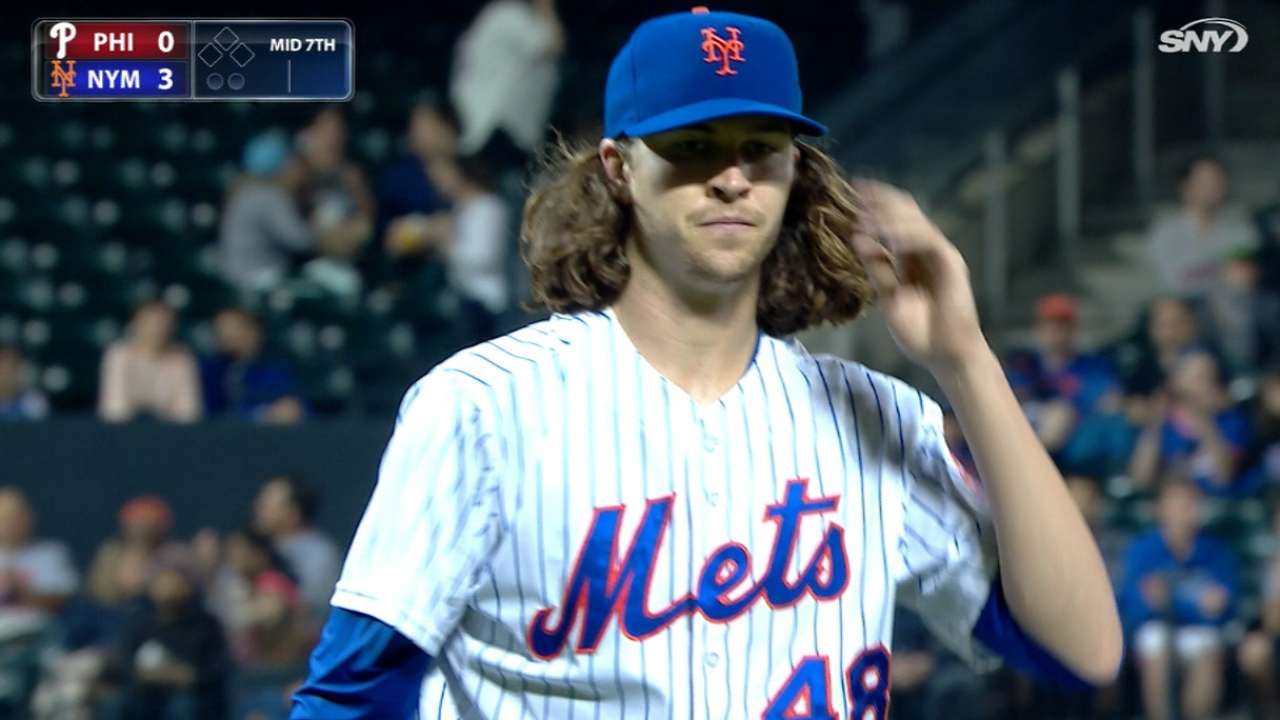 NEW YORK -- Jacob deGrom punched his hand into his glove, face full of frustration. He had spotted Mets manager Terry Collins making his way to the mound. After holding his first 25 batters to just four hits, how had two more come so quickly? And who thought three more Phillies hits would come so soon after he left the game?
"I felt like I was still making pitches," said deGrom, who didn't factor in the decision of the Mets' 5-4 win over the Phillies. "It's out of my control whether I stay in or not."
Collins pulled deGrom with one out in the eighth after 105 pitches and two consecutive singles, but with the righty still working on a shutout and leading by three runs. Four pitches later, the game was tied, and by the end of the inning, the Mets were behind courtesy of a bullpen carousel that squandered deGrom's second consecutive stellar outing.
"Going into that inning, I knew I probably only had three batters," said deGrom. "So I wanted to get them out. That's why I was frustrated."
Ben Revere's triple off reliever Hansel Robles allowed two of those three batters -- Carlos Ruiz and Cesar Hernandez -- to score. Freddy Galvis' RBI single a batter later scored Revere and ruined deGrom's chance for his sixth win. But even the slight muddying couldn't spoil another impressive final line from deGrom: 7 1/3 innings pitched, six hits, two earned runs, nine strikeouts and zero walks.
"It's very unfortunate giving up the runs there and him not coming up with the win," said catcher Kevin Plawecki. "But he threw a heck of a ballgame. He threw everything really well and located his pitches really well."
deGrom's outing came without any postgame talk of discomfort or faulty mechanics. The slight hip and shoulder ailments of the recent past are healed, and the arm-slot adjustments made with pitching coach Dan Warthen are being implemented. After allowing four runs in five innings to the Cubs on May 11, deGrom has limited opponents to three runs in 21 1/3 innings. He's struck out 26 against one walk in that span.
"I give the credit to both Jake and Danny for taking the extra time to find out what the answers were," Collins said. "We're seeing the results."
Collins said he saw signs that deGrom was losing strength during the Ruiz and Hernandez at-bats by missing with his location. But deGrom knew his leash was short to start the eighth inning. Long-term health is paramount these days, and the 105 pitches were a season high for deGrom.
With the Mets going to a six-man rotation next time through, each pitcher will experience extra days of rest. Collins said that could lead to slightly increased individual-game pitch counts for young starters like deGrom, Matt Harvey and Noah Syndergaard.
That could lead to deGrom having more say in finishing late innings he begins.
Joe Trezza is an associate reporter for MLB.com. This story was not subject to the approval of Major League Baseball or its clubs.